<!TODAY'S TEXT STARTS HERE!>

30 Second Wine Tasting Tip:
Keeping up with new wine names


A generation ago, the average wine enthusiast didn't need to know the names of more than a half-dozen French wine regions to have a pretty good grasp on what was available in the marketplace: Bordeaux and Burgundy, of course, with Chablis as a subcategory of the latter. Champagne ... Beaujolais ... and the more well-traveled wine lover probably knew that the most popular red sold by the glass or pitcher in sidewalk cafes was Cotes-du-Rhone.

"The hillsides of the Rhone," the rolling, scenic agricultural region near historic Avignon that marks the edge of Provence (the countryside depicted in Peter Mayle's popular books), is a land of sunlight and herbs that show up in its food and, at least metaphorically, in its wines. And while the big-name Rhone wines like Chateauneuf-du-Pape and Hermitage may win the greatest respect (and command the highest prices), the river of good, everyday and affordable wine from the region is well worth our attention.

The simplest, basic wine is dubbed simply "Cotes-du-Rhone," and it is usually a light and fruity red intended for early drinking, not unlike Beaujolais. (White Cotes-du-Rhone is also made, but it is relatively uncommon, so let's talk about the reds, which may be made from any of the 13 grape varieties permitted in Chateauneuf-du-Pape but most often are based on Grenache and sometimes Syrah.)

Cotes-du-Rhone Villages is a step up in quality, made from grapes grown in and around specific towns traditionally known for their better wines, and held to a higher standard by regulations that limit the poundage of grapes that may be coaxed from a vineyard acre and that set minimum standards for the wine's alcoholic content and other technical criteria.

Finally, standing out from the rest, a number of specific villages in Cotes-du-Rhone are permitted to use the local name on the label; and this number has increased in the past 10 years or so, adding a few more geographical words to the glossary that serious wine lovers should memorize in our quest for the next good glass.

The first Cotes-du-Rhone villages to achieve this "appellation" status were Gigondas and then Vacqueyras, both of which now enjoy a reputation as good, somewhat less expensive alternatives to Chateauneuf-du-Pape. Recently, two more Rhone villages have started to draw a lot of attention: Cairanne and Rasteau. Both of these villages can produce standout wines, with Rasteau making some remarkably sturdy and tannic reds that require long aging and that almost remind me of Hermitage; the Cairannes I've tasted are more accessible when young but show real elegance and balance that distinguishes them from "simple" Cotes-du-Rhone.

Have you tried these or other wines from named Cotes-du-Rhone villages? I would be interested to hear your reactions to them. Drop me an E-mail note at wine@wineloverspage.com if you would like to talk about it. I regret that the growing circulation of the "Wine Advisor" makes it difficult for me to reply individually to every note, but I'll answer as many as I can; and please be assured that all your input helps me do a better job of writing about wine.

We hope you'll invite your wine-loving friends to register for their own free weekly copy at http://www.wineloverspage.com/wineadvisor.

30 Second Tasting Notes:
From the Cotes du Rhone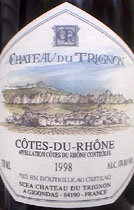 Chateau du Trignon 1998 Côtes du Rhône ($9.99)
Slightly hazy ruby red, with grapey, peppery fruit aromas and a fresh and jammy flavor full of big, ripe fruit and fragrant, freshly ground black pepper. A simple, gulpable quaff, not a fancy wine but a delicious one, full of the sunshine of Provence. U.S. importer: Kermit Lynch Wine Merchant, Berkeley, Calif. (Aug. 19, 2000)

Domaine Brusset 1998 Côtes du Rhône Villages Cairanne ($13.99)
Dark ruby color, with fresh red-fruit and mineral aromas, clean and appealing; apple-skin and cherry-berry on the nose and palate, with crisp fruit flavors and delicate black pepper well balanced with fresh-fruit acidity. Excellent wine, a match for some bottles that sell for double the price. U.S. importer: New Castle Imports, Myrtle Beach, S.C. (Aug. 19, 2000)

FOOD MATCH: Both these wines made an extremely good match with grilled lamb-leg steaks marinated before cooking in another Cotes-du-Rhone with lots of garlic and black pepper.


Domaine de Beaurenard 1998 Côtes du Rhône Villages Rasteau ($14.99)
Inky blackish-garnet color. Fragrant black pepper aromas over perfumed fruit. Big, chewy and tannic, black fruit and "garrigues," the herbal scent of Provence. There's more than enough fruit to carry it now, but the hulking tannins call for cellar time. U.S. importer: New Castle Imports Inc., Myrtle Beach, S.C. (Aug. 9, 2000)

FOOD MATCH: Good with the assertive flavors of a pork and summer-vegetable couscous.


Chateau du Trignon 1998 Côtes du Rhône Villages Rasteau ($17.99)
Very dark garnet, with black-fruit aromas and distinct mineral notes. Full and tart flavor, quite tannic indeed. A big wine, not as intractible as the 1998 Gourt de Mautens Rasteau that inspired so much discussion, but definitely in need of gentle aging. U.S. importer: Kermit Lynch Wine Merchant, Berkeley, Calif. (July 29, 2000)

FOOD MATCH: A spicy Cuban-style dish of pork braised with onions brings this youthful wine around.


Wine Lovers' Voting Booth
Best 'undiscovered' wine region?

The canny wine drinker is always looking for the Not Yet Discovered, the country or region whose quality is ahead of its fame (and pricing!) Where do you think smart wine buyers ought to be focusing their attention before it gets too famous, sought-after, and expensive? This week's Wine Lovers' Voting Booth seeks your opinion, offering a list of 22 countries or regions that our volunteer advisory panel considers likely candidates, plus the usual "other" if you spot one that we've missed. I hope you'll drop by and cast your vote at http://www.wineloverspage.com/votebooth.

30 Second Advertising Partner:
California Wine Club

Since 1990, the California Wine Club, http://www.cawineclub.com, has been introducing its members to some of California's greatest wines and the small, family wineries that make them. Club members enjoy a monthly armchair tour and tasting of California wine country. As a member, you'll pour wines you won't normally find in your local wine shop or store: Two bottles of super premium wine each month, plus the club's lively and fun eight-page newsletter, Uncorked.

30 Second Administrivia

This free weekly E-mail publication is distributed to subscribers every Monday. Previous editions are archived on The Wine Lovers' Page. See www.wineloverspage.com/wineadvisor/thelist.shtml.

You are on the subscription list because you registered during a visit to Robin Garr's Wine Lovers' Page. If for any reason you no longer want to receive this publication, simply send a short E-mail to 'wine@wineloverspage.com' asking to be unsubscribed (and, if you wish, offering us any suggestions you may have as to how we could have served you better), and we'll remove your name from the list. We do not use this list for any other purpose and will never give or sell your name or E-mail to anyone.

If your E-mail program is having trouble handling the images in this edition, feel free to request that we switch you from the HTML to TEXT edition ... or vice versa. Please contact us in the same way if your E-mail address changes. And of course we welcome feedback, suggestions, and ideas for future columns. Send us E-mail at wine@wineloverspage.com.

All the wine-tasting reports posted here are consumer-oriented. In order to maintain objectivity and avoid conflicts of interest, I purchase all the wines I rate at my own expense in retail stores and accept no samples, gifts or other gratuities from the wine industry.

More time for wine?

You don't need to wait for Mondays to read about wine! Drop in any time on Robin Garr's Wine Lovers' Page, where we add new tasting notes several times each week and frequently expand our selection of wine-appreciation articles, tips and tutorials.

If you'd like to talk about wine online with fellow wine enthusiasts around the world, we'd be delighted to have you join the interactive, international forums in our Wine Lovers' Discussion Group.

Vol. 2, No. 31, Aug. 21, 2000

<!TODAY'S TEXT ENDS HERE!>

Subscribe (free) to The 30 Second Wine Advisor