<!TODAY'S TEXT STARTS HERE!>

30 Second Wine Tasting Tip:
Today's puzzle: Bad flavors in good wines

In the sometimes slightly wacky world of wine evaluation, it is entirely possible for a wine taster to say, "This wine tastes like $#@%!" ... and mean it as a compliment.

Let's take a look today at bad flavors in good wines, and specifically brettanomyces ("Breh-TAN-oh-MY-sees" or just plain "brett" for short). Brett is a wild yeast that's sometimes found on grapeskins and that can get into wine barrels, where it resides and grows and can be almost impossible to remove. When brett appears in a wine, it creates earthy organic aromas and flavors that don't sound appetizing. The aroma of brett-afflicted wines may range from leathery to mousey, wet-fur, or "barnyard" aromas like chicken manure or horse sweat. Some tasters also find a twangy metallic quality in the aftertaste of bretty wines. In short, it's no coincidence that many wine scientists refer to wines with brett as "afflicted" or "infected."

Brett is often found in red Rhone wines and Burgundies, where no less a luminary than Voltaire once commented, apparently favorably, that Burgundy smells like "merde." Chateau Beaucastel and Domaine Tempier, both from Southern France, are two well-known names that almost invariably show brett, but it is not unknown in wines from other parts of the world, even California, where the noted (and expensive) Dominus is known for it. (And, in a slightly different category, the style of Belgian beers called "lambic" also rely on brett for their unusual character; it's reported that some of the most famous lambic breweries dare not sweep the cobwebs from their production rooms for fear of banishing the native yeast.)

Brett is controversial because some wine lovers enjoy a touch of it in wines and feel that it adds complexity, while others consider any trace of it a significant flaw. And just to make things a little more complicated, wines made from certain grapes - most notably Mourvedre - may show a similar-only-different earthiness that's easy to mistake for brett.

Personally, I can take a little of it, as long as that "barnyard" quality forms an elusive overtone that evokes country lanes on damp summer nights; but when it gets excessive (the country lane leads into a working chicken farm), it's a little too much for me!

Have you ever encountered a wine that made you think of barnyards or worse? Is a little brett just right for you or way too much? If you've got an opinion to share, drop me a note at wine@wine-lovers-page.com. I regret that the growing circulation of the "Wine Advisor" makes it difficult for me to reply individually to every note, but I'll answer as many as I can; and please be assured that all your input helps me do a better job. Please feel free to get in touch if you'd like to comment on our topics and tasting notes, suggest a topic for a future bulletin, or just talk about wine.

If you're enjoying The 30 Second Wine Advisor, we hope you'll tell your wine-loving friends to register for their own free weekly copy at http://www.wine-lovers-page.com/wineadvisor.

30 Second Tasting Notes
A great Bordeaux with a whiff of brett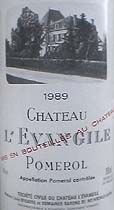 Chateau l'Evangile 1989 Pomerol ($70 in 1996)
With my focus on affordable wines of value, I rarely report on items at this price level ... but the celebration of our tenth wedding anniversary last week justified opening the last of a small stash of this luxury item made in our anniversary year. Dark garnet in color, becoming amber at the edge, it shows ripe and intense black fruit aromas, but after 10 years an earthiness that I earlier described as "light, pleasant leathery notes" has now evolved into distinct "barnyard" and "horsey" aromas that signal the presence of the wild yeast brettanomyces. Ripe and juicy fruit flavors are consistent with the nose, with crisp acidity, little evidence of remaining tannins, and pleasant but substantial "barnyard" elements lingering in the finish. U.S. importer: Classic Wine Imports Inc., Boston. (Aug. 11, 1999)

FOOD MATCH: Fine with a classic Bordeaux accompaniment, lamb chops pan-grilled with rosemary and garlic.


Wine Lovers' Voting Booth:
Rate your wine-tasting skill!

This week's topic in our Wine Lovers' Voting Booth invites you to take a frank and honest look at your personal wine-tasting skills: "How would you rate your own ability to taste and evaluate wine, compared to the average of other people you taste with or other notes you read?" If you'd like to add your opinion to the list, we hope you'll drop by.

30 Second Wine Link

My pals at The Gang of Pour, a loose-knit group of wine-loving friends and acquaintances based in the Detroit area, gather periodically to explore and enjoy fine wines in an informal setting that treats the topic with jovial irreverence. Their Website, needless to say, comes with an attitude that would set traditional wine snobs reeling. It's also beautifully designed and literate, rich with content including wine-travel and tasting reports.

30 Second Advertising Partner

The Mid-Atlantic Wine Auction Company, a Delaware company incorporated in 1998, boasts more than 100 years collective retail expertise in the buying and selling of fine wines.

30 Second Administrivia

This free weekly E-mail publication is distributed to subscribers every Monday. Previous editions are archived on The Wine Lovers' Page. See www.wine-lovers-page.com/wineadvisor/thelist.shtml.

You are on the subscription list because our records indicate that you registered during a visit to Robin Garr's Wine Lovers' Page. If for any reason you don't want to receive this publication, simply send E-mail to 'wine@wine-lovers-page.com' and we'll remove your name from the list. We do not use this list for any other purpose and will never give or sell your name or E-mail to anyone.

If your E-mail program is having trouble handling the images in this edition, feel free to request that we switch you from the HTML to TEXT edition ... or vice versa. We welcome feedback, suggestions, and ideas for future columns. Send us E-mail at wine@wine-lovers-page.com.

All the wine-tasting reports posted here are consumer-oriented. In order to maintain objectivity and avoid conflicts of interest, I purchase all the wines I rate at my own expense in retail stores and accept no samples, gifts or other gratuities from the wine industry.

More time for wine?

You don't need to wait for Mondays to read about wine! Drop in any time on Robin Garr's Wine Lovers' Page, where we add new tasting notes several times each week and frequently expand our selection of wine-appreciation articles, tips and tutorials.

If you'd like to talk about wine online with fellow wine enthusiasts around the world, we'd be delighted to have you visit the interactive forums in our Wine Lovers' Discussion Group. If you're from another part of the world and don't feel entirely comfortable chatting in English, visit our International Forum and introduce yourself in the language of your choice. <!TODAY'S TEXT ENDS HERE!>