<!TODAY'S TEXT STARTS HERE!>

30 Second Wine Tasting Tip:
Getting to know Sherry


In contrast with the custom for most other fine wines, you will rarely if ever see a vintage year on a bottle of Sherry.

That's because quality Sherry is made by a most unusual process in which - in contrast with the practice for most table wines - the fruits of many vintages are mixed together to age over time, so any given bottle is a blend of many years' harvests, gaining complexity and flavor interest from the contributions of many vintages that range from recently harvested grapes to at least a few drops of much older wines.

The process is called solera, and it is virtually unique to the ancient fortified wines from Jerez ("Sherry") de Frontera in Spain and to some of the wines of Madeira, which share some elements of Sherry's heritage and style.

The solera works like this: Each producer maintains scores or even hundreds of wooden casks containing Sherries from many vintages. Following careful formulas set down by the wine makers, workers over many years blend old wines and new. They will draw out measured amounts of wine from the older barrels for bottling and sale, then replace it with wines from the next-older casks, topping them off in turn from younger casks and so on up the line until they reach the recent wine of the new year.

Traditionally, a solera would often be stacked in a pyramid with the oldest wines on the bottom level ("suelo," or "floor," which yields the word "solera") and younger wines higher up. Nowadays, most commercial wineries simply place the various barrels where there's room, relying on careful record-keeping (or the computer) to keep track of their locations. Some first-rate soleras may extend back a century or more, although most modern commercial Sherries aren't nearly that old.

Sherry is so utterly different from the dry table wines that most of us fancy that some wine lovers have a hard time warming up to it. They come in a variety of styles: Fino is delicate and bone-dry, fermented with an unusual natural wild yeast called flor, and Amontillado is dry but heavier, "fortified" with brandy. (For more on Amontillado, see the Feb. 21, 2000 edition of The 30 Second Wine Advisor, A cask of Amontillado.) Olorosos are more full-bodied still, and may be dry but are often sweetened and sold as "Cream" Sherry. Special Sherries made from Moscatel and Pedro Ximenez grapes are the sweetest and heaviest of all, so syrupy that they can literally be enjoyed over ice cream.

With a legendary history that goes back to the ancient Phoenicians and a modern history with its roots in Elizabethan times (you'll recall that Shakespeare's Falstaff was enamored of "Sherris sack"), Sherry is a wine that deserves more attention ... and, because it's not currently sought-after by collectors, you can still find it at deliciously affordable prices.

For more information about Sherry, I recommend the English-language pages of the wine region's official governing body, the Consejo Regulador of the Denominations of Origin: http://www.sherry.org/envhp01.html.

What's your opinion about Sherry? Drop me an E-mail note at wine@wineloverspage.com if you would like to talk about it. I regret that the growing circulation of the "Wine Advisor" makes it difficult for me to reply individually to every note, but I'll answer as many as I can; and please be assured that all your input helps me do a better job of writing about wine.

We hope you'll invite your wine-loving friends to register for their own free weekly copy at http://www.wineloverspage.com/wineadvisor.

30 Second Tasting Notes:
Two fine Sherries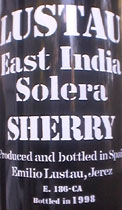 Lustau East India Solera Sherry ($16.99)
Clear, very dark mahogany color, with ripe and full aromas of prunes, walnuts and brown sugar. Intensely sweet in flavor, "stone" fruit with a tart, lemony acidic "grip" to provide structure. This wine is made by an idiosyncratic process (even for Sherry) that the wine maker likens to the sun and heat that casks of Sherry received when transported in casks on shipboard on the old India clippers; the process resembles that for Madeira, and this wine somewhat resembles a sweet Malmsey (Madeira) in its combination of sugary sweetness and piercing acidity. It's an unusual Sherry and a very enjoyable dessert wine. U.S. importer: Europvin USA, Emeryville, Calif. (Aug. 11, 2000)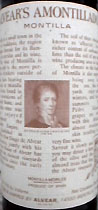 Alvear's Amontillado Montilla ($8.99)
Although this is technically not a Sherry but a Montilla (because it comes from the city of that name rather than Jerez, the home of Sherry), even the most skilled connoisseur would be hard-pressed to discern any difference. After all, it was Montilla, not Jerez, that gave its name to "Amontillado," meaning "In the style or fashion of Montilla." Clear bright amber in color, it breathes light, appealing nutlike scents that evoke pecans first, then English walnuts. Full-bodied and quite dry, it shows only a faint fresh-fruit sweetness cloaked by zingy acidity. Nutty and delicate stone-fruit flavors follow the nose and persist in a long, clean finish. U.S. importer: Cutting Edge Selections Inc., Cincinnati. (Aug. 13, 2000)

FOOD MATCH: Sherries aren't often served as dinner wines. Sweet styles like the East India Solera are best enjoyed by themselves after dinner; dryer styles like Amontillado (and Fino) are traditional aperitifs, served for sipping before the meal. That being said, the Alvear's Amontillado went nicely with a light snack of extra-sharp Cheddar cheese and hazelnuts.


30 Second Advertising Partner:
California Wine Club

Since 1990, the California Wine Club, http://www.cawineclub.com, has been introducing its members to some of California's greatest wines and the small, family wineries that make them. Club members enjoy a monthly armchair tour and tasting of California wine country. As a member, you'll pour wines you won't normally find in your local wine shop or store: Two bottles of super premium wine each month, plus the club's lively and fun eight-page newsletter, Uncorked.

30 Second Administrivia

This free weekly E-mail publication is distributed to subscribers every Monday. Previous editions are archived on The Wine Lovers' Page. See www.wineloverspage.com/wineadvisor/thelist.shtml.

You are on the subscription list because you registered during a visit to Robin Garr's Wine Lovers' Page. If for any reason you no longer want to receive this publication, simply send a short E-mail to 'wine@wineloverspage.com' asking to be unsubscribed (and, if you wish, offering us any suggestions you may have as to how we could have served you better), and we'll remove your name from the list. We do not use this list for any other purpose and will never give or sell your name or E-mail to anyone.

If your E-mail program is having trouble handling the images in this edition, feel free to request that we switch you from the HTML to TEXT edition ... or vice versa. Please contact us in the same way if your E-mail address changes. And of course we welcome feedback, suggestions, and ideas for future columns. Send us E-mail at wine@wineloverspage.com.

All the wine-tasting reports posted here are consumer-oriented. In order to maintain objectivity and avoid conflicts of interest, I purchase all the wines I rate at my own expense in retail stores and accept no samples, gifts or other gratuities from the wine industry.

More time for wine?

You don't need to wait for Mondays to read about wine! Drop in any time on Robin Garr's Wine Lovers' Page, where we add new tasting notes several times each week and frequently expand our selection of wine-appreciation articles, tips and tutorials.

If you'd like to talk about wine online with fellow wine enthusiasts around the world, we'd be delighted to have you join the interactive, international forums in our Wine Lovers' Discussion Group.

Vol. 2, No. 30, Aug. 14, 2000

<!TODAY'S TEXT ENDS HERE!>

Subscribe (free) to The 30 Second Wine Advisor