<!TODAY'S TEXT STARTS HERE!>

30 Second Wine Tasting Tip:
Square shoulders and sloped shoulders: Tradition!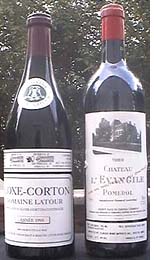 A reader's recent question about the shapes of wine bottles started me thinking about how very traditional the wine industry is. Once a winery starts doing something a certain way, it's not likely to change it.
Nowhere is this more evident than in the shape of the wine bottles of Burgundy and Bordeaux. As many of you have surely noticed, a very large proportion of all wine bottles come in one or the other of two basic shapes. Let's call one "slope-shouldered" (the style traditionally used in Burgundy) and the other "square-shouldered" (the shape that's been preferred for centuries in Bordeaux).
The way I've always heard the story, the slope-shouldered Burgundy form is older, and it was one of the first shapes that glass-blowers mastered when they started making bottles in mass production. Interestingly, this technology - and the discovery that plugs of cork made an effective way to put an airtight stopper in the bottle - led to the first real possibility of keeping wine for long-term aging, because the cylindrical bottles could be stacked easily, and the cork-stoppered glass bottle allowed the wine to be kept airtight for a much longer time than had been possible in casks and barrels.
Burgundy, one of the premier wine regions in France, soon adopted the newfangled bottles. Later on, someone in Bordeaux came up with the idea of putting a "shoulder" on the bottle, partly to distinguish its wines from Burgundy but mostly to provide a way to trap sediment in the bottle when the wine was being poured. Since old Burgundies "throw" sediment too, it would have made sense for the Burgundians to go over to the new bottle shape, but I suspect the idea of imitating their rivals didn't suit them.
Other wine regions weren't so competitive. In modern times, the Italians, for example, enthusiastically adopted the "Bordeaux-style" bottle for Chianti, replacing the old wicker-wrapped jugs as a way of marketing this tasty wine with a more upscale image.
And if you'll look at wine bottles from around the world, you'll notice something interesting: Wineries in California, Australia, South America, South Africa and just about any other places that make "French-style" wines, will almost invariably put Cabernet Sauvignon and Merlot -- the "Bordeaux" grapes -- into square-shouldered bottles, while Pinot Noir and Chardonnay -- the "Burgundy" grapes -- are usually sold in the slope-shouldered style.
If you know something about bottle-making history or if you'd just like to comment on this week's topic, feel free to write me at wine@wine-lovers-page.com. Thanks to the many readers who sent in comments on last week's topic about the cost of everyday wine. I regret that the numbers of replies and my travel schedule made it impossible to reply individually as I like to do, but I will summarize the responses in a coming edition. And, as always, don't hesitate to get in touch if you'd like to comment on our topics and tasting notes, suggest a topic for a future bulletin, or just talk about wine.
If you're enjoying The 30 Second Wine Advisor, we hope you'll tell your wine-loving friends to register for their own free weekly copy at http://www.wine-lovers-page.com/wineadvisor.
30 Second Tasting Notes
Square-shouldered Australian red

D'Arenberg 1996 The Ironstone Pressings McLaren Vale (Australia) Grenache/65%-Shiraz/35% ($19.99)
Inky dark reddish-purple, with grapey, jammy fruit aromas framed by hulking oak, almost as woody as the sawdust-laden atmosphere in a sawmill. Full and juicy black fruit flavors, so forward it almost seems sweet, with crisp acidity for balance. Oak, fruit and lemony acidity jockey for dominance in a long finish, with oak taking the lead at the wire. U.S. importer: Old Bridge Cellars, San Francisco. (Aug. 6, 1999)

FOOD MATCH: A hearty frittata filled with Italian sausage and potatoes stands up to the oak and makes a fair match.


30 Second Wine Link

As I mentioned when we talked about German wines in the July 26 edition, my favorite German wine region is the Mosel, and my favorite Mosel region is the Saar, a scenic valley where the Riesling grape makes wines as delicate as wildflowers yet as sturdy as steel. And one of my favorite Saar wine makers is Peter Jordan, a gregarious and friendly Bavarian who's put down roots, literally, in the village of Wiltingen in the Saar. His wines aren't exported to the U.S., sadly, but if you ever spot a bottle of Jordan & Jordan Riesling, do not hesitate to grab it. The Jordan & Jordan Website, www.saarwein.com, contains a large amount of advanced information about vine growing and wine making; much of it is in German, but a good part is also in English, and he's working to have more of it translated.

30 Second Advertising Partner

The high-end sibling of the California Wine Club, the Connoisseurs' Series bills itself as "an exciting club" designed for people who want to enjoy only the highest-rated, most exclusive wines. Every month, the club ships two bottles of hard-to-find, ultra-premium wines directly to participants' homes.

30 Second Administrivia

This free weekly E-mail publication is usually distributed to subscribers every Monday. (This week's edition, as announced last week, is delayed because I was traveling.) Previous editions are archived on The Wine Lovers' Page. See www.wine-lovers-page.com/wineadvisor/thelist.shtml.

You are on the subscription list because our records indicate that you registered during a visit to Robin Garr's Wine Lovers' Page. If for any reason you don't want to receive this publication, simply send E-mail to 'wine@wine-lovers-page.com' and we'll remove your name from the list. We do not use this list for any other purpose and will never give or sell your name or E-mail to anyone.

If your E-mail program is having trouble handling the images in this edition, feel free to request that we switch you from the HTML to TEXT edition ... or vice versa. We welcome feedback, suggestions, and ideas for future columns. Send us E-mail at wine@wine-lovers-page.com.

All the wine-tasting reports posted here are consumer-oriented. In order to maintain objectivity and avoid conflicts of interest, I purchase all the wines I rate at my own expense in retail stores and accept no samples, gifts or other gratuities from the wine industry.

More time for wine?

You don't need to wait for Mondays to read about wine! Drop in any time on Robin Garr's Wine Lovers' Page, where we add new tasting notes several times each week and frequently expand our selection of wine-appreciation articles, tips and tutorials.

If you'd like to talk about wine online with fellow wine enthusiasts around the world, we'd be delighted to have you visit the interactive forums in our Wine Lovers' Discussion Group. If you're from another part of the world and don't feel entirely comfortable chatting in English, visit our International Forum and introduce yourself in the language of your choice. <!TODAY'S TEXT ENDS HERE!>