<!TODAY'S TEXT STARTS HERE!>

30 Second Wine Tasting Tip:
Wine and summer's veggie bounty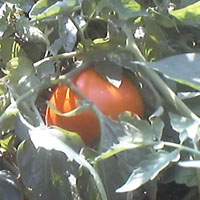 Wine was designed to go with meat, poultry or fish, which makes menu planning somewhat tough for wine-loving vegetarians.

But when summer's bounty yields an overload of fresh, delicious vegetables from the garden, even the most ardent carnivore occasionally enjoys a meatless dinner ... and looks around for a wine to match.

My comments about last week's featured wine, Domaine du Pou'jol 1999 Coteaux du Languedoc, and its affinity for the Middle Eastern eggplant dip called baba ganouj, prompted several readers to ask me to dig deeper into the challenge of matching wine and meatless fare.

As I note in my online article, "Red Wine With Beans?" (http://www.wineloverspage.com/veggie.shtml), it's a good starting point to match red wines with heartier fare like bean dishes, hearty cheese entrees and pasta or tortillas with tomato-based sauces; while serving white wines with lighter entrees featuring green vegetables, from salads to spinach to the ever-present zucchini (or as our British friends say, courgettes).

Now that our backyard garden is going into overdrive, we've opted for a few meatless meals based on its bounty and that of local farmer's markets; and I have noted a second advantage to fresh-vegetable meals: Delicious when steamed, quickly stir-fried or cooked on the outdoor grill, they don't require much time in the heat of the kitchen. Here are a few matches I've recently enjoyed.

EGGPLANT: The earthy flavors of this attractive, dark-purple vegetable (which the British call "aubergine") make it a natural with Pinot Noir or peppery Rhone and Rhone-style wines based on Syrah (Australian Shiraz) or Grenache.

TOMATOES: Botanically, I'm told, the tomato is actually not a vegetable but a fruit, and their fresh, juicy tart-sweet flavors make them just about everybody's garden favorite. It's no coincidence that the Italians love them, or that they make an exceptional match with acidic Italian red wines like Chianti.

BASIL: Nominally a herb, it becomes a green vegetable in its own right at this time of year. Mashed into a paste with olive oil and garlic to make the Genoese specialty pesto, it works amazingly well with tart Italian reds; it's also a natural with a crisp, grassy Sauvignon Blanc.

GREEN PEPPERS: Grill-roasted until their skins char black, peeled and served with no more adornment than olive oil, these tender beauties sing with Sauvignon Blanc or a not-too-oaky Chardonnay.

ZUCCHINI AND SUMMER SQUASH: Steamed or stir-fried and tossed with a little butter, they meet their match with a light, slightly sweet white like a Riesling or Chenin Blanc. Add tomatoes and you can move up to Beaujolais or a light Italian red.

Tell us about your wine-and-vegetable favorites! Send me E-mail at wine@wineloverspage.com. I regret that the growing circulation of the "Wine Advisor" makes it difficult for me to reply individually to every note, but I'll answer as many as I can; and please be assured that all your input helps me do a better job of writing about wine.

We hope you'll invite your wine-loving friends to register for their own free weekly copy at http://www.wineloverspage.com/wineadvisor.

30 Second Tasting Notes:
A veggie-friendly red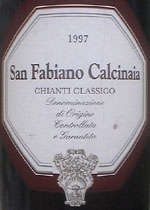 San Fabiano Calcinaia 1997 Chianti Classico ($16.99)
Inky dark-garnet in color, this sturdy wine breathes ripe black cherries and a pleasant whiff of black coffee. Full, extracted black-fruit flavors are structured with tart acidity. Soft but perceptible tannic astringency suggests some aging time is warranted, but ripe fruit and perfect balance make it a treat today. Plums and sour cherries linger in a long finish. U.S. importer: Dufour & Co., North Bergen, N.J. (Aug. 5, 2000)

FOOD MATCH: Chianti's tangy acidity makes it a natural with tomato dishes, from traditional red-sauced Southern Italian pastas to the light summery joy of caprese, fresh, juicy tomatoes topped with mozzarella and fresh basil. It's also a boon companion with pesto.


For notes on three more specific wine and vegetable-dinner matches, see my wine tasting report, http://www.wineloverspage.com/wines/wt080700.shtml.

Wine Lovers' Voting Booth:
Favorite Gewürztraminer?

Gewürztraminer, the powerfully aromatic pink-skinned grape whose name incorporates "Gewürz," the German word for "spice," is a relatively minor player on the world wine scene ... but almost everyone who tastes it likes it for its open, perfumed aromas that often evoke grapefruit, peaches, roses and Asian litchee nuts. The most respected Gewürztraminers surely come from Alsace in France, but it does well around the world.

This week, in the first of what we hope will be an occasional series of Voting Booth questions about specific grape varieties, we ask, "What two countries or regions produce your favorite Gewürztraminer?" I hope you'll drop by the Voting Booth, http://www.wineloverspage.com/votebooth, to express your opinion.

30 Second Advertising Partner:
California Wine Club

Since 1990, the California Wine Club, http://www.cawineclub.com, has been introducing its members to some of California's greatest wines and the small, family wineries that make them. Club members enjoy a monthly armchair tour and tasting of California wine country. As a member, you'll pour wines you won't normally find in your local wine shop or store: Two bottles of super premium wine each month, plus the club's lively and fun eight-page newsletter, Uncorked.

30 Second Administrivia

This free weekly E-mail publication is distributed to subscribers every Monday. Previous editions are archived on The Wine Lovers' Page. See www.wineloverspage.com/wineadvisor/thelist.shtml.

You are on the subscription list because you registered during a visit to Robin Garr's Wine Lovers' Page. If for any reason you no longer want to receive this publication, simply send a short E-mail to 'wine@wineloverspage.com' asking to be unsubscribed (and, if you wish, offering us any suggestions you may have as to how we could have served you better), and we'll remove your name from the list. We do not use this list for any other purpose and will never give or sell your name or E-mail to anyone.

If your E-mail program is having trouble handling the images in this edition, feel free to request that we switch you from the HTML to TEXT edition ... or vice versa. Please contact us in the same way if your E-mail address changes. And of course we welcome feedback, suggestions, and ideas for future columns. Send us E-mail at wine@wineloverspage.com.

All the wine-tasting reports posted here are consumer-oriented. In order to maintain objectivity and avoid conflicts of interest, I purchase all the wines I rate at my own expense in retail stores and accept no samples, gifts or other gratuities from the wine industry.

More time for wine?

You don't need to wait for Mondays to read about wine! Drop in any time on Robin Garr's Wine Lovers' Page, where we add new tasting notes several times each week and frequently expand our selection of wine-appreciation articles, tips and tutorials.

If you'd like to talk about wine online with fellow wine enthusiasts around the world, we'd be delighted to have you join the interactive, international forums in our Wine Lovers' Discussion Group.

Vol. 2, No. 29, Aug. 7, 2000

<!TODAY'S TEXT ENDS HERE!>

Subscribe (free) to The 30 Second Wine Advisor