<!TODAY'S TEXT STARTS HERE!>

Publication delay next week!

Because of a travel commitment next week, I won't be able to distribute The 30 Second Wine Advisor on Monday. Watch for it on Thursday (Aug. 12). Also, I regret that part of last week's distribution may have been lost due to an apparent E-mail glitch. If you didn't get the July 26 report on German wine, I apologize. This edition is available at www.wine-lovers-page.com/wineadvisor/tswa0726.shtml.

30 Second Wine Tasting Tip:
The cost of everyday wine

How much should you pay for a good cheap wine?

Perhsps surprisingly, there is no simple answer to this simple question. Wine prices vary considerably around the world, depending on such variables as shipping costs, local taxes, currency exchange rates and even the competitive situation in the local market.

Also, the increasing demand for premium-level wines has driven substantial inflation. As recently as the early 1980s, U.S. retailers used to say that anything over $6 a bottle was a hard sell. Nowadays, if you're looking for anything more interesting than "jug wine," it's almost impossible to find quality for $5 a bottle, and the break point between interesting wine and "plonk" is getting dangerously close to $10.

In my wine buying, I consistently seek wines "of value" -- wines that taste more expensive than they are, whatever their actual price. In practice, most of the wines I report here will fall in the $8 to $15 category, and I try to stay as close to $10 as possible for everyday drinking. But if I have reason to believe that a wine is very good, I'll occasionally go for a $20 or $25 bottle. Anything above that, though, is strictly limited to major holidays and celebratory events like anniversaries and birthdays.

Ultimately, much depends on your personal priorities and the nature of your interest in wine. If I were simply buying wine as a beverage with dinner and didn't consider it a hobby, I'd try to identify a few good, affordable "house" wines and buy them by the case. But both as a wine writer and as a wine hobbyist, I enjoy trying something different just about every day; and with that as my priority, I'm afraid the under-$10 niche becomes exhausted quickly.

What's your personal wine-price target range for everyday enjoyment? If you'd like to participate in an informal survey, send me E-mail at wine@wine-lovers-page.com. (If you're outside the U.S., please feel free to report in your own currency.) And, as always, don't hesitate to get in touch if you'd like to comment on our topics and tasting notes, suggest a topic for a future bulletin, or just talk about wine.

If you're enjoying The 30 Second Wine Advisor, we hope you'll tell your wine-loving friends to register for their own free weekly copy at http://www.wine-lovers-page.com/wineadvisor.

30 Second Tasting Notes
A surprisingly good cheap wine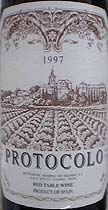 Dominio de Eguren 1997 Protocolo (Spain) Red Table Wine ($5.99)
At US$6, this generic Spanish red from a respected Rioja producer may be one of the cheapest "good" wines currently available. Very dark reddish-purple in color, it offers a ripe, fresh strawberry aroma leading into bright and juicy berry fruit flavors backed by lemon-squirt acidity and a whiff of fragrant black pepper. Quaffable and quenching, it may not be a "classy" wine, but it shows structure and balance surprising for the price. U.S. importer: Associated Wine Distributors, American Canyon, Calif. (July 25, 1999)

FOOD MATCH: A spicy multi-ethnic risotto of Thai sausage and collard greens goes surprisingly well with this simple, hearty red.


Wine Lovers' Voting Booth

Our Voting Booth feature on The Wine Lovers' Page looks at the world of wine appreciation from a completely different direction this week, as we ask, does your spouse or partner share your wine "obsession"? I hope you'll drop by, choose the answer that best fits your case, and then see how other wine lovers around the world have responded.

30 Second Wine Link

Lawrence Gipe and Mara Hochman produce The Wine Diary, described as "A journal for the casual browser and the dedicated enthusiast." Each issue focuses on a specific wine region, with information about the wineries, the producers, and thoughtful tasting notes. A must-bookmark site!

30 Second Advertising Partner

K&L Wine Merchants of San Francisco boasts an excellent reputation for selection, service and price. K&L will ship wine online to any destination where the law allows, and also runs a wine-of-the-month club.

30 Second Administrivia

This free weekly E-mail publication is distributed to subscribers every Monday. Previous editions are archived on The Wine Lovers' Page. See www.wine-lovers-page.com/wineadvisor/thelist.shtml.

You are on the subscription list because our records indicate that you registered during a visit to Robin Garr's Wine Lovers' Page. If for any reason you don't want to receive this publication, simply send E-mail to 'wine@wine-lovers-page.com' and we'll remove your name from the list. We do not use this list for any other purpose and will never give or sell your name or E-mail to anyone.

If your E-mail program is having trouble handling the images in this edition, feel free to request that we switch you from the HTML to TEXT edition ... or vice versa. We welcome feedback, suggestions, and ideas for future columns. Send us E-mail at wine@wine-lovers-page.com.

All the wine-tasting reports posted here are consumer-oriented. In order to maintain objectivity and avoid conflicts of interest, I purchase all the wines I rate at my own expense in retail stores and accept no samples, gifts or other gratuities from the wine industry.

More time for wine?

You don't need to wait for Mondays to read about wine! Drop in any time on Robin Garr's Wine Lovers' Page, where we add new tasting notes several times each week and frequently expand our selection of wine-appreciation articles, tips and tutorials.

If you'd like to talk about wine online with fellow wine enthusiasts around the world, we'd be delighted to have you visit the interactive forums in our Wine Lovers' Discussion Group. If you're from another part of the world and don't feel entirely comfortable chatting in English, visit our International Forum and introduce yourself in the language of your choice. <!TODAY'S TEXT ENDS HERE!>