<!TODAY'S TEXT STARTS HERE!>

Administrative note:
Sorry about the duplicate mailings!


As many of you reported by E-mail, our mailing system apparently went berserk last week and sent some of you as many as three duplicate copies of The 30 Second Wine Advisor. Obviously, this was not intentional, and we sincerely hope it won't happen again. Meanwhile, I apologize for "spamming" your mailboxes, however inadvertent it might have been.

30 Second Wine Tasting Tip:
Why the "capsule" got the lead out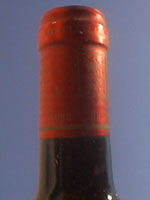 When we open a bottle of wine, most of us casually trim away or peel and remove the sheath around the neck of the bottle before we pull the cork, without thinking much about it.

This sheath (called the "capsule" in French and English) is intended primarily to give the bottle a finished appearance, although it also protects the cork from possible damage.

It might surprise you to know, though, that this seemingly innocuous item was the subject of considerable controversy in recent years. For many generations, wineries routinely used a thin metallic lead foil to make the capsule, choosing lead because it is soft and malleable, producing a thin sheath that hugs the shape of the bottle neck but is easy to peel off and remove.

But lead is seriously poisonous, and as attention was drawn to the dangers of lead in the environment - including lead-based paint in old houses and lead compounds as additives in gasoline - the beady eye of governmental regulators soon fell on the wine-bottle capsule.

In the U.S., the Federal Drug Administration, which governs food-and-beverage safety, reported in 1991 that it intended to ban the use of lead foil on wine bottles, based on studies showing that the foil could contaminate wine poured from the bottle. "The wraps may leave lead residues on the outside rim that are mixed with the wine when it is poured," the FDA announced. "The studies showed that lead levels generally were higher in wines with the lead foil wraps, after pouring, than in wines packaged without lead foil wraps."

Although some observers questioned the validity of the studies because they were conducted on wines poured from bottles that had not been wiped clean after the capsule was removed - a worst-case scenario that wouldn't be likely in the real world - the threat of lead poisoning is serious enough that the industry quickly abandoned lead capsules. By the time that the FDA formally banned lead foil capsules in 1996, they were gone from the market. Most commercial wines nowadays are fitted with capsules made from colored or clear plastic, foils made from metals other than lead, or occasionally sealing wax or no capsule at all.

There is really nothing to fear. But if you have older wines in your collection from vintages preceding the early 1990s, it would be prudent to give the bottle neck a good wipe with a clean cloth before pouring. As a matter of fact, that's not a bad idea no matter what kind of wine you're pouring!

Do you have thoughts or comments on this week's topic? Send me E-mail at wine@wineloverspage.com. I regret that the growing circulation of the "Wine Advisor" makes it difficult for me to reply individually to every note, but I'll answer as many as I can; and please be assured that all your input helps me do a better job of writing about wine.

We hope you'll invite your wine-loving friends to register for their own free weekly copy at http://www.wineloverspage.com/wineadvisor.

30 Second Tasting Notes:
California Malbec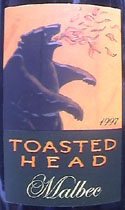 Toasted Head 1997 Dunnigan Hills Malbec ($15.99)
Outside Argentina and France's Cahors region, Malbec is more often used as a bit player in the Bordeaux blend of grapes than as a standalone variety; even here, this hearty red from R.H. Phillips Vineyard (www.rhphillips.com) actually has 12 percent Cabernet Sauvignon mixed in. "Toasted Head," the winery's line of wines aged in trademark oak barrels, is made noteworthy, they say, because not only the oak barrel staves but their heads or ends are "toasted" or lightly charred to add flavor. Unlike many New World wines, though, Toasted Head isn't so oaky that the wood overwhelms the fruit. This wine is a very dark ruby in color, with spicy oak and plummy fruit aromas and flavors in balance. Bright fruit flavors and tart acidity team up to make a full-bodied wine that's warm and fresh. (July 22, 2000)

FOOD MATCH: Excellent with a hickory-smoked pork loin served in corn tortillas with mild green chiles.


Wine Lovers' Voting Booth:
Favorite alcoholic drink other than wine?

From time to time, even the most ardent wine lover chooses to drink something other than wine. This week we ask about those occasions when you choose an alternative alcoholic beverage: "Other than wine, what is your alcoholic beverage of choice?" I invite you to visit http://www.wineloverspage.com/votebooth to cast your "vote."

Wine Lovers' Page Job Opening:
Advertising Account Executive

Wine Lovers' Page is seeking a qualified, competent executive to assume primary responsibility for our advertising sales program.

The successful candidate will generate advertising revenue through direct contact with wine-related advertisers and agencies. Responsibilities will include new business development and ongoing client contact and account management; maintaining active contact with new and existing advertising partners; managing accounts and increasing sales. Candidates must have experience in advertising sales and Internet media, and a strong interest in, knowledge of, and passion for, fine wine and its enjoyment. For more information, E-mail a brief introduction and salary/commission expectations to rgarr@wineloverspage.com.

30 Second Advertising Partner:
California Wine Club

Since 1990, the California Wine Club, http://www.cawineclub.com, has been introducing its members to some of California's greatest wines and the small, family wineries that make them. Club members enjoy a monthly armchair tour and tasting of California wine country. As a member, you'll pour wines you won't normally find in your local wine shop or store: Two bottles of super premium wine each month, plus the club's lively and fun eight-page newsletter, Uncorked.

30 Second Administrivia

This free weekly E-mail publication is distributed to subscribers every Monday. Previous editions are archived on The Wine Lovers' Page. See www.wineloverspage.com/wineadvisor/thelist.shtml.

You are on the subscription list because you registered during a visit to Robin Garr's Wine Lovers' Page. If for any reason you no longer want to receive this publication, simply send a short E-mail to 'wine@wineloverspage.com' asking to be unsubscribed (and, if you wish, offering us any suggestions you may have as to how we could have served you better), and we'll remove your name from the list. We do not use this list for any other purpose and will never give or sell your name or E-mail to anyone.

If your E-mail program is having trouble handling the images in this edition, feel free to request that we switch you from the HTML to TEXT edition ... or vice versa. Please contact us in the same way if your E-mail address changes. And of course we welcome feedback, suggestions, and ideas for future columns. Send us E-mail at wine@wineloverspage.com.

All the wine-tasting reports posted here are consumer-oriented. In order to maintain objectivity and avoid conflicts of interest, I purchase all the wines I rate at my own expense in retail stores and accept no samples, gifts or other gratuities from the wine industry.

More time for wine?

You don't need to wait for Mondays to read about wine! Drop in any time on Robin Garr's Wine Lovers' Page, where we add new tasting notes several times each week and frequently expand our selection of wine-appreciation articles, tips and tutorials.

If you'd like to talk about wine online with fellow wine enthusiasts around the world, we'd be delighted to have you visit the interactive forums in our Wine Lovers' Discussion Group. If you're from another part of the world and don't feel entirely comfortable chatting in English, visit our International Forum and introduce yourself in the language of your choice.

Vol. 2, No. 27, July 24, 2000

<!TODAY'S TEXT ENDS HERE!>

Subscribe (free) to The 30 Second Wine Advisor