<!TODAY'S TEXT STARTS HERE!>

30 Second Wine Tasting Tip:
To breathe or not to breathe

As a general rule, I consider the practice of giving wine time to "breathe" before it's served to be somewhat overrated.

The idea behind it is simple: Wines that need aging may be shy on aroma and flavor when they're first opened, a characteristic that's sometimes described in winespeak as "closed" or "tight." Give them a little exposure to air, the theory goes, and you're providing a rough-and-ready substitute for the more gentle oxidation that occurs with fine wines as they age in the cellar.

While there's some truth in this, it's worth remembering that it only applies to certain wines. Most wines are fresh and fruity and ready to go as soon as they're put in the bottle, and letting these wines breathe risks missing out on their first blush of freshness. Worse still is the risk you take in breathing an older wine that's fully mature, as some older wines - like some older people - become fragile with age and may give up their spirit very quickly after the cork is pulled.

So I recommend breathing only for young, tannic wines, typically reds (or, even more so, youthful Vintage Ports), as a way to ease the initial "closed" quality or harshness from tannins. But if you do it at all, don't simply pull the cork, which exposes only a tiny circle of wine the size of a dime in the bottleneck to the air. Rather, pour a glass, and do it briskly so the wine gets a good exposure to the atmosphere. Then leave it for an hour or two, and you may find that the wine "opens up" before dinner.

Another approach, of course, is simply to open the wine at the time you serve it, take it as it comes, but if you find it shy, harsh and astringent, push back your glass and enjoy it after dinner, when it's had time to breathe.

The pair of Italian reds that I opened the other night -- hearty Conero Rosso table wines from the Adriatic region called "The Marches," made from the Montepulciano grape -- offered a stunning example of breathing. One was fresh and fruity right out of the bottle, while the other seemed faint and thin. An hour later, however, the first wine was turning a little dull, while the second was only beginning to come into its own, showing structure and character that simply hadn't been present at dinner time. (See my notes below.)

If you've had any interesting experiences with "breathing" wines, I'd enjoy hearing about them. Please drop me a note at wine@wine-lovers-page.com. And, as always, don't hesitate to get in touch if you'd like to comment on our topics and tasting notes, suggest a topic for a future bulletin, or just talk about wine.

If you're enjoying The 30 Second Wine Advisor, we hope you'll tell your wine-loving friends to register for their own free weekly copy at http://www.wine-lovers-page.com/wineadvisor.

30 Second Tasting Notes
'Breathing' two from Rosso Conero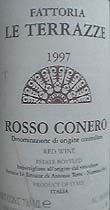 Fattoria Le Terrazze 1997 Rosso Conero ($10.99)
Inky dark garnet in color, almost blackish-purple. Spicy oak and fresh if simple black fruit in the aroma carry over intact on the palate, ripe and juicy, backed by lemon-squirt acidity. Good, typical Italian red table wine. U.S. importer: Vintner Select, Cincinnati. (July 17, 1999)

FOOD MATCH: A thick pan-grilled T-bone is fine with both wines, and a touch of the Marchese alla porchetta flavors - fennel and garlic - in the pan-reduction sauce elevates the match from good to joyous.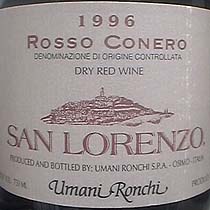 Umani Ronchi 1996 San Lorenzo Rosso Conero ($12.99)
Dark garnet, with rather shy black-fruit aromas at first, becoming much more giving with time; after an hour or more in the glass, it opens up to show anise and spicy aromas, delicate and appealing. Tart, somewhat tannic and a bit closed at first, the flavor also opens up with time to reveal layered complexity. A strong argument for giving some young wines time to breathe. U.S. importer: Martin Scott Wines Ltd., Lake Success, N.Y. (July 17, 1999)


Wine Lovers' Voting Booth

We've just rolled out a new subject on our biweekly Wine Lovers' Voting Booth. While it's perhaps most applicable to wine enthusiasts who buy wine by the case (or more) for cellaring, anyone who buys wine for any purpose is certainly welcome to participate. The question seeks to determine whether -- and under what circumstances -- you would be willing to invest in a specific wine without tasting it first. If this topic tweaks your fancy, please click the link above and drop by to cast your vote.

30 Second Wine Link

Sometimes your neighbors are the last people you meet. I only recently discovered "Dr. Bacchus," a pseudonymous wine lover who lives in Lexington, Ky., just down the pike from me in the Bluegrass. His periodic articles about wine are idiosyncratic, stylish and fun. You'll find them on his Dr. Bacchus Page.

30 Second Advertising Partner

The Wine Lovers' Page is proud to count K&L Wine Merchants of San Francisco among its advertising partners. Boasting an excellent reputation for selection, service and price, K&L will ship wine online to any destination where the law allows, by specific order or through its monthly wine club.

30 Second Administrivia

This free weekly E-mail publication is distributed to subscribers every Monday. Remember, we have indexed our growing archive of previous editions on The Wine Lovers' Page at www.wine-lovers-page.com/wineadvisor/thelist.shtml.

You are on the subscription list because our records indicate that you registered for it during a visit to Robin Garr's Wine Lovers' Page. If for any reason you don't want to receive this publication, simply send E-mail to 'wine@wine-lovers-page.com' and we'll remove your name from the list.

If your E-mail program is having trouble handling the images in this edition, feel free to request that we switch you from the HTML to TEXT edition ... or vice versa. We also welcome feedback, suggestions, and ideas for future columns. Send us E-mail at wine@wine-lovers-page.com.

All the wine-tasting reports posted here are consumer-oriented. In order to maintain objectivity and avoid conflicts of interest, I purchase all the wines I rate at my own expense in retail stores and accept no samples, gifts or other gratuities from the wine industry.

More time for wine?

You don't need to wait for Mondays to read about wine! Drop in any time on Robin Garr's Wine Lovers' Page, where we add new tasting notes several times each week and frequently expand our selection of wine-appreciation articles, tips and tutorials.

If you'd like to talk about wine online with fellow wine enthusiasts around the world, we'd be delighted to have you visit the interactive forums in our Wine Lovers' Discussion Group. If you're from another part of the world and don't feel entirely comfortable chatting in English, visit our International Forum and introduce yourself in the language of your choice. <!TODAY'S TEXT ENDS HERE!>