<!TODAY'S TEXT STARTS HERE!>

30 Second Wine Tasting Tip:
Seeking a match for vegetarian fare

Who's not a vegetarian, at least every now and then? While full-time vegetarianism may be a commitment that it's tough for wine lovers to make -- the natural affinity between wine and meat, poultry or seafood is so good that it would be hard for me to give up -- I suspect that most of us enjoy an occasional meatless meal, whether it's for the sake of cutting calories and fat or just for the change of pace.

But what do you do when it's time to choose the wine and suddenly realize that the old truism about "red wine with red meat, white wine with white meat" in no way applies?

I put this question to a practical test one night last month, when the first harvest of fresh young beets from our garden inspired a cool, meatless dinner with a taste of the Pacific Rim.

It was a simple but hearty meal with a lot of earthy flavors: I simmered a few small, tender beets, peeled and diced them into smallish cubes, then whacked an 8-ounce block of firm tofu into similar dice. A 2-tablespoon dab of miso (Japanese soybean paste) simmered in 1/4 cup of the strained beet-cooking water made a quick sauce, and we quickly heated a 4-ounce batch of soba (Japanese buckwheat noodles) in the rest of the beet water, cooled the noodles and tossed the ingredients together, topping them with a bit of chopped parsley and cilantro leaves.

Clueless about a wine match, I experimented with both a cheap Italian red and a California Sauvignon Blanc (details below). Somewhat to my surprise, the red was the better match, its natural earthiness and fruit making a natural marriage with the beet and miso and buckwheat flavors. the acidity of the Sauvignon Blanc came across as almost unpleasantly sour when taken with the food.

If you'd like to read more about matching wine with vegetarian fare, you might enjoy my article, "Red wine with beans?" on The Wine Lovers' Page. And as always, if you've played around with matching wine and meatless menus, I'd love to hear about what you learned. Drop me a note at wine@wine-lovers-page.com. And, as always, don't hesitate to drop us a line if you'd like to comment on our topics and tasting notes, suggest a topic for a future bulletin, or just talk about wine.

If you're enjoying The 30 Second Wine Advisor, we hope you'll tell your wine-loving friends to register for their own free weekly copy at http://www.wine-lovers-page.com/wineadvisor.

30 Second Tasting Notes
Red wine and beets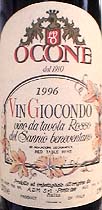 Ocone 1996 Vin Giocondo Vino da Tavola Rosso del Sannio Beneventano ($7.99)
Clear garnet, with spicy black-fruit and pepper aromas with a whiff of caramel. Ripe, juicy and tart, simple but fresh and clean. Lemony acidity provides structure and serves it well at the table. U.S. importer: Vin di Vino Ltd., Chicago. (June 21, 1999)

FOOD MATCH: It makes a surprisingly good match with a vegetarian dish of beets and tofu over soba (buckwheat) noodles; the earthy flavors of the food play in harmony with the "rustic" and fruity red wine.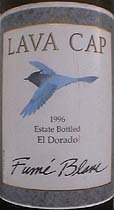 Lava Cap 1996 El Dorado (California) Fumé Blanc ($11.99)
Clear straw color, with a light lemon-lime scent and a delicate, pleasing touch of hazelnut. Full, fruity flavors follow the nose, crisp and long. (June 21, 1999)

FOOD MATCH: Although the wine is fine, it doesn't work with the dish, an unexpected result since I'd normally think of a crisp white as a reasonable choice with meatless fare. In this case, though, the strong flavors of the beets and miso overwhelm the white and bring up its acidity, yielding a tart, sour impression that's not present when the wine is sipped alone.


'Wine Advisor' archives now online!

Time flies, and The 30 Second Wine Advisor marks six months of publication with this week's issue. To make it easy for you to browse past editions, I've put up an online index for easy reference. You'll find it at www.wine-lovers-page.com/wineadvisor/thelist.shtml.

30 Second Wine Link

Attorney and wine lover Donald Ray Burger operates his excellent Wine page as a labor of love. Not extensive but intelligent and readable, it features commentary on Champagne and sparkling wines, party wines, Port, places to buy wines, and links to wine sites on the Web.

30 Second Advertising Partner

Robert Parker's Wine Advisor & Cellar Manager is the first and only software developed in conjunction with Robert Parker and derived from his newsletter, The Wine Advocate. It combines an extensive database of wine information with a unique Visual Cellar Manager. You'll find it at http://www.winetech.com.
30 Second Administrivia

This free weekly E-mail publication is distributed to subscribers every Monday. Previous editions are archived on The Wine Lovers' Page at www.wine-lovers-page.com/wineadvisor/thelist.shtml.

You are on the subscription list because our records indicate that you registered for it during a visit to Robin Garr's Wine Lovers' Page. If for any reason you don't want to receive this publication, simply send E-mail to 'wine@wine-lovers-page.com' and we'll remove your name from the list.

If your E-mail program is having trouble handling the images in this edition, feel free to request that we switch you from the HTML to TEXT edition ... or vice versa. We also welcome feedback, suggestions, and ideas for future columns. Send us E-mail at wine@wine-lovers-page.com.

All the wine-tasting reports posted here are consumer-oriented. In order to maintain objectivity and avoid conflicts of interest, I purchase all the wines I rate at my own expense in retail stores and accept no samples, gifts or other gratuities from the wine industry.

More time for wine?

You don't need to wait for Mondays to read about wine! Drop in any time on Robin Garr's Wine Lovers' Page, where we add new tasting notes several times each week and frequently expand our selection of wine-appreciation articles, tips and tutorials.

If you'd like to talk about wine online with fellow wine enthusiasts around the world, we'd be delighted to have you visit the interactive forums in our Wine Lovers' Discussion Group. If you're from another part of the world and don't feel entirely comfortable chatting in English, visit our International Forum and introduce yourself in the language of your choice. <!TODAY'S TEXT ENDS HERE!>