<!TODAY'S TEXT STARTS HERE!>

30 Second Wine Tasting Tip:
A taste of Portugal


Say "Portugal" to most wine lovers and they'll think of Port, the great fortified dessert wine.

But Portuguese wine is much more than Port, a fact that escapes many wine lovers. This smallish nation just west of Spain ranks ninth among world wine-producing nations but stands near the top in individual wine consumption, suggesting that much of its table wine stays home.

The good news is that, given relatively low demand, Portuguese wines are generally inexpensive and often represent good value. Made from mostly unfamiliar grape varieties, many of them are simple and sometimes less than elegant, but they just about always go well with food.

These wines are worth discovering, and to help you navigate the Portugal section in your local wine shop, here's a quick overview of a few common words and terms:

DOURO, named for the valley of the river by this name in northern Portugal, is the home of Port but also makes fine, hearty dry reds including the Quinta do Côtto reviewed below.

DÃO, south of Douro, is another famous district that also produces big dry reds.

VINHO VERDE, from the north, is a delicious, light and crackling white that's perfect for summer sipping.

VINHO TINTO means "red wine."

ALMEIRIM, RIBATEJO and ALENTEJO, relatively close to Lisbon, are emerging districts currently best known for simple, quaffable table wines.

GARRAFEIRA appears on the label of a wine that has been aged in wood and in bottles for a required time before sale, akin to the Spanish "Reserva."

What's your opinion about Portuguese wines? If you have suggestions or tips, send me E-mail at wine@wineloverspage.com. I regret that the growing circulation of the "Wine Advisor" makes it difficult for me to reply individually to every note, but I'll answer as many as I can; and please be assured that all your input helps me do a better job of writing about wine.

We hope you'll invite your wine-loving friends to register for their own free weekly copy at http://www.wineloverspage.com/wineadvisor.

30 Second Tasting Notes:
Three Portuguese reds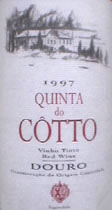 Quinta do Côtto 1997 Douro Vinho Tinto ($12.99)
Inky dark-purple color, with ripe black fruit aromas shaded by an earthy hint of leather. Big, brawny flavors, plummy fruit and tart acidity in good balance. A bit "rustic," to be sure, but a good mouthful of wine and a good table wine that seems to have affinity with a wide range of food. U.S. importer: World Shippers & Importers, Philadelphia. (July 4, 2000)


Caves Velhos Almeirim Garrafeira ($10.99)
Light blueberry and spicy oak aromas. Fresh and juicy on the palate, a bit lightweight. You might call it "Beaujolais-style," but frankly, I'd just as soon have a Beaujolais. U.S. importer: World Shippers & Importers, Philadelphia. (July 4, 2000)

FOOD MATCH: Both the above went reasonably well with a simple cinnamon-scented rice pilaf with chicken, toasted almonds and pine nuts.

Tâmara 1998 Vinho Regional Ribatejo Vinho Tinto ($5.99)
Clear, dark cherry-red, with blueberries and odd, not unpleasant damp-laundry aromas. Soft and juicy fruit flavor at first, but a lemony acidic snap builds in the finish. Simple, fresh, a decent food wine. U.S. importer: Kysela Pere et Fils Ltd., Winchester, Va. (July 5, 2000)

FOOD MATCH: Fares well with pork chops.

30 Second Follow-up:
"Legs" - a myth exposed

Jim LaMar, "WebDrone" of the excellent Professional Friends of Wine website, http://www.winepros.org, gently chides me for a reference in last week's article about the possible influence of glycerin and sugar on the "legs" or "tears" that drip down the inside of the wine glass.

In an E-mail exchange, Jim said, "Although for years I made the same mistaken reference to glycerin, a Canadian chemist who attended a tasting I moderated pulled me aside and enlightened me to both the Gibbs-Marangoni effect and the complete absence of glycerin in wine. Glycerol (an alcohol), yes; glycerin (a pharmaceutical syrup), no. The way you have worded this could also imply that sugar has something to do with legs, which it doesn't. Sugar may add body, but "legs" or "tears" in wine are strictly a chemical property of alcohol and water in the same solution. Take for example, Quady Electra: high residual sugar, low alcohol, no legs."

Jim has an excellent article on legs - and two other "wine myths," too - at http://www.winepros.org/Aftertaste/wrath4.htm. He also points out two other good articles on the topic: http://www.chem.com.au/fun1.htm, and http://www.wineeducation.org/text/legs.html.

While I'm on the subject, I should also mention that I have rarely had so much E-mail on a subject than last week. Although it wasn't possible for me to respond personally to each of the 100-plus readers who got in touch to share their thoughts on "legs," I'd like to thank you all.

Wine Lovers' Voting Booth:
Are you a "terroirist"?

In wine parlance, the French word "terroir" - literally "soil" or "earth" - reflects the theory that the soil in which the grapes are grown creates an environment in which grapes are imbued with certain characteristics that influence the taste of the wine. However, "anti-terroirists" argue that fruit is fruit and that differences among wines are more the result of wine-making intervention than the geography in which the grapes are grown.

This leads to the burning question that we examine in this week's Voting Booth: "Do you believe that "terroir" is a significant element in the taste of wine?" I hope you'll drop by the Wine Lovers' Voting Booth, http://www.wineloverspage.com/votebooth, and add your opinion to the tally.

30 Second Advertising Partner:
Robert Parker's Wine Advisor & Cellar Manager

Robert Parker's Wine Advisor & Cellar Manager, http://www.winetech.com, is the first and only software developed in conjunction with Robert Parker and derived from his newsletter, The Wine Advocate. It combines both a database of wine information and a cellar manager to keep track of your collection.
30 Second Administrivia

This free weekly E-mail publication is distributed to subscribers every Monday. Previous editions are archived on The Wine Lovers' Page. See www.wineloverspage.com/wineadvisor/thelist.shtml.

You are on the subscription list because you registered during a visit to Robin Garr's Wine Lovers' Page. If for any reason you no longer want to receive this publication, simply send a short E-mail to 'wine@wineloverspage.com' asking to be unsubscribed (and, if you wish, offering us any suggestions you may have as to how we could have served you better), and we'll remove your name from the list. We do not use this list for any other purpose and will never give or sell your name or E-mail to anyone.

If your E-mail program is having trouble handling the images in this edition, feel free to request that we switch you from the HTML to TEXT edition ... or vice versa. Please contact us in the same way if your E-mail address changes. And of course we welcome feedback, suggestions, and ideas for future columns. Send us E-mail at wine@wineloverspage.com.

All the wine-tasting reports posted here are consumer-oriented. In order to maintain objectivity and avoid conflicts of interest, I purchase all the wines I rate at my own expense in retail stores and accept no samples, gifts or other gratuities from the wine industry.

More time for wine?

You don't need to wait for Mondays to read about wine! Drop in any time on Robin Garr's Wine Lovers' Page, where we add new tasting notes several times each week and frequently expand our selection of wine-appreciation articles, tips and tutorials.

If you'd like to talk about wine online with fellow wine enthusiasts around the world, we'd be delighted to have you visit the interactive forums in our Wine Lovers' Discussion Group. If you're from another part of the world and don't feel entirely comfortable chatting in English, visit our International Forum and introduce yourself in the language of your choice.

Vol. 2, No. 25, July 10, 2000

<!TODAY'S TEXT ENDS HERE!>

Subscribe (free) to The 30 Second Wine Advisor