<!TODAY'S TEXT STARTS HERE!>

30 Second Wine Tasting Tip:
Zinfandel: More of a mystery than ever

Independence Day weekend in the United States seems as good a time as any to talk about Zinfandel, a grape that's quintessentially American even if - like most American citizens - its roots are almost certainly found in Europe.

The origins of this grape are shrouded in mystery and considerable legend. For many years, the standard story held that Count Agoston Haraszthy -- a notable and colorful figure in Northern California during Gold Rush days and indisputably a key figure in the development of the Napa Valley wine country -- brought this rare grape to the U.S. from his native Hungary some time after 1849.

As it turns out, however, very little research was needed to show that Zinfandel (or, sometimes, "Zinfindal" or even "Zeinfindall") was widely planted as a table grape in the Eastern U.S. decades before Haraszthy set foot in Napa, turning up on exhibit in a horticultural fair in Massachusetts as early as 1834.

Then wine sleuths noticed that Primitivo, a traditional grape from Apulia in the "boot heel" of Southern Italy, looked a great deal like Zinfandel and produced a somewhat similar fruity red wine. Sure enough, DNA studies at the University of California at Davis show that Zinfandel and Primitivo are identical! So, is Zinfandel Italian? Not likely. Zinfandel apparently was known in the U.S. before Primitivo grew in Italy. Did Zin make its way back to the old country, or do both grapes simply share a common ancestor? This is the latest path of inquiry, and scientists thought they might have found Zin's parent in Plavac Mali, a wine grape of Dalmatia in Croatia. Once more, though, the mystery deepens, as DNA testing indicates that Plavac Mali is a cousin, not a parent.

It's most likely that a rare vine grows someplace in the Balkans, an anonymous ancestor that gave birth to Zinfandel, an immigrant grape that came through New England on its way to become California's trademark wine, a grape that produces big, fruity and memorable wines with characteristic "bramble fruit" (blackberry and raspberry) aromas and flavors. (It's also used to make a modest blushing pink wine, White Zinfandel, that's popular in the bargain bins, but Zinfandel's amazing fruit simply doesn't come through when it's subjected to this treatment. I say stick to the red.)

Does Zinfandel benefit from aging? This question is a great way to start an argument among wine fanciers. In my experience, the best examples can be cellared for years, and given sufficient time will evolve into a subtle, complex wine not unlike an older Cabernet. But Zin is so good when it's young and ripe and full of exuberant fruit, I don't see much point in aging it.

What do you think of Zinfandel? If you're outside the U.S., do you ever see this American wine? Drop me a note at wine@wine-lovers-page.com. And, as always, don't hesitate to drop us a line if you'd like to comment on our topics and tasting notes, suggest a topic for a future bulletin, or just talk about wine.

If you're enjoying The 30 Second Wine Advisor, we hope you'll tell your wine-loving friends to register for their own free weekly copy at http://www.wine-lovers-page.com/wineadvisor.

30 Second Tasting Notes
A basic, benchmark Zin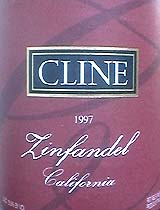 Cline 1997 California Zinfandel ($8.99)
Clear, dark reddish-purple, with jammy blackberry fruit aromas and a touch of a green, herbaceous scent. Big and ripe, "bramble" fruit and oak, fruity and perhaps just a touch of fresh-fruit sweetness. Simple, straightforward, a wine to drink up soon, but it definitely gives a budget-priced example of what Zinfandel is all about. (July 4, 1999)

FOOD MATCH: Perfect with hickory-smoked baby back pork ribs, sizzling from the grill for a Fourth of July picnic feast.


30 Second Wine Link

Mike Davies, a wine-loving British friend who spends part of his year in the St.-Emilion region of Bordeaux, has put together a remarkable, non-commercial guide to the region, Emilion Electrique. Whether you're planning a visit or simply enjoy vicarious travel, you'll find much to enjoy on Mike's new site. (Note: The navigation feature requires Java.)

Wine Lovers' Voting Booth

Do you keep your wine on a simple rack, use a temperature-controlled cellar, or something in between? Whatever your wine-storage strategy - even if you don't keep wine at all - I hope you'll drop by our Wine Lovers' Voting Booth feature this week and cast your "vote," to help us paint an interesting if non-scientific picture of wine lovers around the world.

30 Second Advertising Partner

Chateau Haut-Brion (haut-brion.com), one of the five declared "first growths" in the 1855 Classification of the Medoc, offers an educational (no wine sales) Website that's well worth a visit.

30 Second Administrivia

This free weekly E-mail publication is distributed to subscribers every Monday. The information it contains will later be archived online. Last week's edition is now available for your review.

You are on the subscription list because our records indicate that you registered for it during a visit to Robin Garr's Wine Lovers' Page. If for any reason you don't want to receive this publication, simply send E-mail to 'wine@wine-lovers-page.com' and we'll remove your name from the list.

If your E-mail program is having trouble handling the images in this edition, feel free to request that we switch you from the HTML to TEXT edition ... or vice versa. We also welcome feedback, suggestions, and ideas for future columns. Send us E-mail at wine@wine-lovers-page.com.

All the wine-tasting reports posted here are consumer-oriented. In order to maintain objectivity and avoid conflicts of interest, I purchase all the wines I rate at my own expense in retail stores and accept no samples, gifts or other gratuities from the wine industry.

More time for wine?

You don't need to wait for Mondays to read about wine! Drop in any time on Robin Garr's Wine Lovers' Page, where we add new tasting notes several times each week and frequently expand our selection of wine-appreciation articles, tips and tutorials.

If you'd like to talk about wine online with fellow wine enthusiasts around the world, we'd be delighted to have you visit the interactive forums in our Wine Lovers' Discussion Group. If you're from another part of the world and don't feel entirely comfortable chatting in English, visit our International Forum and introduce yourself in the language of your choice. <!TODAY'S TEXT ENDS HERE!>