<!TODAY'S TEXT STARTS HERE!>

30 Second Wine Tasting Tip:
Does vintage really make a difference?

There's a certain mystique about judging wine on the basis of its vintage - the year in which its grapes are grown. Unfortunately, this can be one of the issues that makes some people decide wine appreciation is too complicated to be worth the effort. On the other hand, learning about this kind of nuance - like keeping up with statistics in your favorite sport - adds an element of interest to wine that's not found in other beverages.

One thing's for sure: Vintage variations demonstrate that wine really begins with farming. Vine growers are farmers, and like all their kin, they pray for good weather. Hard freezes in the springtime can kill the blossoms that produce the grapes; a terrible winter freeze can actually kill the grapevines. Hailstorms can batter the vines and, at worst, destroy an entire year's crop. You don't want too much rain during the growing season, which can induce rot in the grapes and, at the end of the season, puff up the grapes with water, diluting their juice. If the summer is too cool, the grapes may not ripen fully at all. If it's too hot, the grapes may not thrive, or they may become so overripe that they produce weird and one-dimensional wines. A perfect vintage demands a season in which the weather consistently breaks to the farmer's advantage, and that doesn't happen every year!

In modern times, wine making technology has made it easier for wine makers to make palatable wines in vintages that would have utterly disastrous in our grandparents' time. But vintage remains important, and part of the fun of wine appreciation as a hobby is learning to taste the differences between a wine from a great vintage and one from a year that's only so-so.

Don't make the mistake of rejecting every wine from a so-called "poor" vintage, or assuming that you can't go wrong with any wine from a great one. Even off years - like 1987 or 1992 in Bordeaux or 1989 in Napa - can produce good wines, and they may offer especially good value. We have some basic vintage charts on The Wine Lovers' Page, designed by Pim van Ravesteijn, at www.wine-lovers-page.com/vintage. Another invaluable vintage guide is Hugh Johnson's little Pocket Encyclopedia of Wine, which is updated annually and contains literally thousands of individual wine listings giving his vintage ratings and advising which are ready to drink.

What are your vintage experiences? Have you found vintage a reliable guide, or have you had good luck mining the "lesser" years? Drop me a note at wine@wine-lovers-page.com. And, as always, don't hesitate to drop us a line if you'd like to comment on our topics and tasting notes, suggest a topic for a future bulletin, or just talk about wine.

If you're enjoying The 30 Second Wine Advisor, we hope you'll tell your wine-loving friends to register for their own free weekly copy at http://www.wine-lovers-page.com/wineadvisor.

30 Second Tasting Notes
A good year for Chianti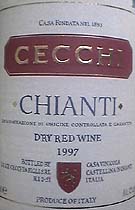 Cecchi 1997 Chianti ($6.99)
Weather was almost perfect for the 1997 vintage in Tuscany, the northern Italian home of Chianti, and as these wines start arriving on the market in quantity, my experience so far has been good - even with relatively modest, mass-market labels like this one. Clear dark-ruby in color, it shows fresh if simple fruit and spicy oak aromas and fresh, juicy and crisp fruit flavors. Simple but appealing, it's a good quaff and a good table wine at a budget-range price. U.S. importer: Excelsior Wines & Spirits, Farmington, Conn. (June 15, 1999)

FOOD MATCH: A light summer rendition of beef stew, using sirloin chunks and fresh garden vegetables and herbs, made a natural match for this simple quaffing wine.

30 Second Wine Link

New to the Web but not new to wine tasting is Marcel's Wine Page, a content-rich and very simple and direct Website that lives up to its motto, "No bells, no whistles, just wine." Highly recommended!

I'd also like to set the record straight about Roland Marandino's TableWine, which I recommended in a recent edition. I had been under the erroneous impression that this was a commercial site, but Roland assures me that he presents his excellent page entirely out of love for wine.

Wine Lovers' Voting Booth

We're gathering simple demographics of our wine-loving online community in the current survey. If you don't object to (anonymously) entering your age bracket and gender, we hope you'll click to our Voting Booth feature and fill in the blanks!

30 Second Advertising Partner

Robert Parker's Wine Advisor & Cellar Manager is the first and only software developed in conjunction with Robert Parker and derived from his newsletter, The Wine Advocate. It combines an extensive database of wine information with a unique Visual Cellar Manager. You'll find it at http://www.winetech.com.

30 Second Administrivia

This free weekly E-mail publication is distributed to subscribers every Monday. The information it contains will later be archived online. Last week's edition is now available for your review.

You are on the subscription list because our records indicate that you registered for it during a visit to Robin Garr's Wine Lovers' Page. If for any reason you don't want to receive this publication, simply send E-mail to 'wine@wine-lovers-page.com' and we'll remove your name from the list.

If your E-mail program is having trouble handling the images in this edition, feel free to request that we switch you from the HTML to TEXT edition ... or vice versa. We also welcome feedback, suggestions, and ideas for future columns. Send us E-mail at wine@wine-lovers-page.com.

All the wine-tasting reports posted here are consumer-oriented. In order to maintain objectivity and avoid conflicts of interest, I purchase all the wines I rate at my own expense in retail stores and accept no samples, gifts or other gratuities from the wine industry.

More time for wine?

You don't need to wait for Mondays to read about wine! Drop in any time on Robin Garr's Wine Lovers' Page, where we add new tasting notes several times each week and frequently expand our selection of wine-appreciation articles, tips and tutorials.

If you'd like to talk about wine online with fellow wine enthusiasts around the world, we'd be delighted to have you visit the interactive forums in our Wine Lovers' Discussion Group. If you're from another part of the world and don't feel entirely comfortable chatting in English, visit our International Forum and introduce yourself in the language of your choice. <!TODAY'S TEXT ENDS HERE!>