<!TODAY'S TEXT STARTS HERE!>

30 Second Wine Tasting Tip:
The small chill: Defining "room temperature"

White wines should be served chilled and red wines at room temperature. This is one of the most basic of the many "rules" about wine, and like most of the rules, it usually makes good sense.

Experience shows us that most red wines seem dank and flavorless if they're served ice cold, opening up at warmer temperatures to display their aromas and flavors. Whites, in contrast, seem crisp and refreshing when they're served with a chill; many of them seem bland and almost cloying if they get too warm. (Very fine whites shouldn't be served too cold, but that's a story for another day.)

But what's "room temperature"? Speaking as a resident of the Southern U.S., summer room temperature in my house can easily reach into the lower '80s F (27C) even when the air-conditioner is running; but I remember a trip to Scotland one fine autumn when my host's rooms must have hovered around a brisk 18C (65F).

When summer brings its sultry heat, I submit that there's no harm in placing your red wine in the refrigerator for a short stay before dinner. Don't leave it too long -- 20 to 40 minutes on the refrigerator shelf is about right for most reds, up to possibly an hour for light and fruity styles like Beaujolais. An hour in a typical home refrigerator should bring your wine down to the natural temperature of an underground cellar (54F or 12C), which may be just a little too cold for most reds; but don't worry if you miss the mark. It doesn't take long for it to come back up again, and the wine won't be damaged.

If you try this, let me know what you think! Drop me a note at wine@wine-lovers-page.com. And, as always, don't hesitate to drop us a line if you'd like to comment on our topics and tasting notes, suggest a topic for a future bulletin, or just talk about wine.

If you're enjoying The 30 Second Wine Advisor, we hope you'll tell your wine-loving friends to register for their own free weekly copy at http://www.wine-lovers-page.com/wineadvisor.

30 Second Tasting Notes
Three reds to serve cool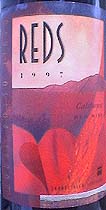 Laurel Glen 1997 REDS California Table Wine ($7.99)
Very dark garnet, almost blackish-purple. Ripe red-fruit scent with fragrant black pepper, perfumed floral notes and a sweet hint of leather; simpler on the palate than the nose, red fruit built on lemon-squirt acidity, fresh, juicy and tart. Like a Beaujolais, this one adds refreshment with a good chill. Don't serve it ice cold, but up to an hour in the refrigerator before dinner does it no harm on a hot summer day. (June 20, 1999)

FOOD MATCH: Just right with a rare T-bone served sizzling from the grill.


Antinori 1996 Badia a Passignano Chianti Classico ($14.49)
Dark ruby in color with an orange glint. Aromatic "tar" and "smoke" entwine with ripe black-cherry fruit aromas. Flavors are consistent with the nose, tart cherries with hints of black coffee and dark chocolate with a good acidic balance. An excellent food wine, and a very slight chill -- 30 minutes in the fridge -- adds enjoyment on a hot summer night. U.S. importer: Remy Amerique Inc., NYC. (June 19, 1999)

FOOD MATCH: Perfect with a Ligurian classic, linguine with pesto over green beans and new potatoes.

Mas Igneus 1997 Barranc dels Closos Priorat ($11.99)
Clear, dark ruby, with spicy cherry-berry fruit and burnt-sugar aromas. Warm, plummy fruit, black pepper and oak flavors, full fruit and alcoholic heat, almost a Bourbon-like quality. Big, raw, a little coarse; definitely smoother after 40 minutes in the refrigerator to impart a cellar-temperature chill. U.S. importer: Cutting Edge Selections Inc., Cincinnati. (June 15, 1999)

FOOD MATCH: Lamb chops. Rare red meat definitely helps bring the wine into perspective.

30 Second Wine Link

You don't have to be Canadian to enjoy Peter Curran's and Ted Richards's Winetasters Society of Toronto page. It's got meeting and tasting information for locals, and clear, comprehensible tasting notes for the rest of us.

30 Second Advertising Partner

One of my favorite New York City wine shops is Garnet Wines & Liquors, where you can almost always find something of interest at a reasonable price. Garnet's Website resembles the bricks-and-mortar store both in its selection and in its good, no-nonsense wine commentary by Robert Callahan, one of the most knowledgeable wine experts I know.

30 Second Administrivia

This free weekly E-mail publication is distributed to subscribers every Monday. The information it contains will later be archived online. Last week's edition is now available for your review.

You are on the subscription list because our records indicate that you registered for it during a visit to Robin Garr's Wine Lovers' Page. If for any reason you don't want to receive this publication, simply send E-mail to 'wine@wine-lovers-page.com' and we'll remove your name from the list.

If your E-mail program is having trouble handling the images in this edition, feel free to request that we switch you from the HTML to TEXT edition ... or vice versa. We also welcome feedback, suggestions, and ideas for future columns. Send us E-mail at wine@wine-lovers-page.com.

All the wine-tasting reports posted here are consumer-oriented. In order to maintain objectivity and avoid conflicts of interest, I purchase all the wines I rate at my own expense in retail stores and accept no samples, gifts or other gratuities from the wine industry.

More time for wine?

You don't need to wait for Mondays to read about wine! Drop in any time on Robin Garr's Wine Lovers' Page, where we add new tasting notes several times each week and frequently expand our selection of wine-appreciation articles, tips and tutorials.

If you'd like to talk about wine online with fellow wine enthusiasts around the world, we'd be delighted to have you visit the interactive forums in our Wine Lovers' Discussion Group. If you're from another part of the world and don't feel entirely comfortable chatting in English, visit our International Forum and introduce yourself in the language of your choice. <!TODAY'S TEXT ENDS HERE!>