<!TODAY'S TEXT STARTS HERE!>

30 Second Wine Tasting Tip:
"Sharpshooter" takes aim on vineyards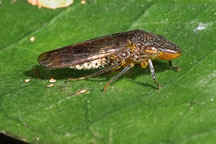 Unless you live in California or grow your own grapevines, you might assume that a glassy-winged sharpshooter is just a weird villain from a science-fiction comic strip.

It's a villain, all right, but this 1/2-inch-long insect is far from fiction. The glassy-winged sharpshooter, native to the Southern U.S., is now spreading through California from south to north. Already entrenched in Golden State vineyard regions from the Mexican border to Santa Barbara and the Central Valley, it sent shudders through the quality wine industry last week with its first appearance in the San Francisco Bay area: An adult was trapped in Livermore, and clusters of sharpshooter eggs turned up at nurseries in Sonoma.

What does this mean to wine lovers like you and me? It's an extremely serious concern. The glassy-winged sharpshooter is a carrier of the bacteria that cause the devastating Pierce's Disease, a botanical affliction that can wipe out entire vineyards within a year or two and that has no known cure. Uncontrolled spread of Pierce's could literally destroy the agricultural economy of entire wine regions, and it has already taken a heavy toll in Southern California's Temecula area.

Pierce's disease is nothing new. It has been a threat to California vineyards for more than a century and has been causing problems in Napa and the Santa Cruz Mountains regions for the past generation, where intensive efforts to fight it off with pesticides (or even organic farming techniques) have generally controlled its spread via the smaller and less wide-ranging blue-green sharpshooter. But the emergence of the glassy-winged species (Homalodisca coagulata) kicks the issue up a notch. It is seen as such a threat that California Governor Gray Davis has allocated about $15 million to fight it in 1999 and 2000, and the U.S. Congress recently OK'd a $7.14 million crop-insurance plan.

Moreover, the arrival of the pest in California's wine-rich North Coast is prompting state agricultural authorities to consider a ban on shipping wine grapes from one region to another, a move that could have direct consequences on the many wineries that make wines in one region from grapes grown in another.

Nor should vine growers around the world assume that this is just a California problem. Just as the root louse phylloxera spread to France 140 years ago and almost wiped out the vineyards of Europe, it doesn't take much imagination to come up with a scenario in which a few sharpshooters find their way across the oceans to wine-growing regions around the world.

If you would like to learn more about this threat, here's a link to the University of California's Online Media Kit about the glassy-winged sharpshooter and Pierce's disease: http://danr.ucop.edu/news/MediaKit/GWSS.shtml.

Do you have a comment or opinion about this issue that you would like to share? If you would like to talk about it in more detail, please feel free to join in the chat on our Wine Lovers' Discussion Group, or send me a note by E-mail to wine@wineloverspage.com. I regret that the growing circulation of the "Wine Advisor" makes it difficult for me to reply individually to every note, but I'll answer as many as I can; and please be assured that all your input helps me do a better job of writing about wine.

We hope you'll invite your wine-loving friends to register for their own free weekly copy at http://www.wineloverspage.com/wineadvisor.

30 Second Tasting Notes:
German wines for summertime

German wines ought to be wildly popular in the U.S. They are light, low in alcohol and fruity, with a delicate sweetness that's crisp like fresh fruit, not sticky like candy. What's not to like, especially in a nation that guzzles soft drinks with lunch and doses its iced tea with spoonsful of sugar? But, perhaps because of their long names and dense labels, German wines gather dust on wine shop shelves. With the lazy, hazy days of summer upon us, I'd say it's time for another look at German wines. Here's a good one. For a couple more, see "A German Trio," http://www.wineloverspage.com/wines/wt061800.shtml.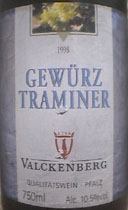 Valckenberg 1998 Pfalz Gewurztraminer ($8.99)
A relatively simple label (by German standards) adorns this aromatic wine, listing in order the maker, the vintage, the region and the grape. A clear, pale brass-colored wine, its characteristic Gewurztraminer aroma blends fresh pink grapefruit with subtle apricot and musky scents. Soft and fresh flavors evoke kiwis and strawberries and mint; light fresh-fruit sweetness is structured with soft acidity, and a slight bitter-almond flavor appears in the lingering aftertaste. U.S. importer: Valckenberg International Inc., Tulsa, Okla. (June 15, 2000)

FOOD MATCH: This spicy wine went very well with pork medallions in a goulash-style paprika and sour cream sauce.


A 30 Second "Golden Oldie:"
Cooling red wine

One of the most basic rules about wine is that white wines are usually served cold while red wines are served at room temperature. This is based on long experience: Whites seem refreshing when they're cold, but most people find reds dank and unpleasant that way.

But what's "room temperature"? If it's warm indoors even with the air-conditioner running, there is no harm in placing your red wine in the refrigerator for a short stay before dinner. Don't leave it too long -- 20 to 40 minutes on the refrigerator shelf is about right for most reds, up to possibly an hour for light and fruity styles like Beaujolais.

(This "oldie" is summarized from "The 30 Second Wine Advisor" of June 21, 1999. Happy Summer Solstice!)

30 Second Advertising Partner:
Wine.com

ALL THE CULTURE AND GREAT WINE - WITHOUT THE JET LAG Let wine.com help you explore wines from countries and regions around the globe. From a variety of monthly wine clubs, to our fun and unique variety of personalized wine labels, wine.com has everything you need to enjoy the world of wine! And, now with 15% off your next order, there's no reason to put off your next trip through the world of wine. Click on: www.wine.com/comarket/fowkristi.

30 Second Administrivia

This free weekly E-mail publication is distributed to subscribers every Monday. Previous editions are archived on The Wine Lovers' Page. See www.wineloverspage.com/wineadvisor/thelist.shtml.

You are on the subscription list because you registered during a visit to Robin Garr's Wine Lovers' Page. If for any reason you no longer want to receive this publication, simply send a short E-mail to 'wine@wineloverspage.com' asking to be unsubscribed (and, if you wish, offering us any suggestions you may have as to how we could have served you better), and we'll remove your name from the list. We do not use this list for any other purpose and will never give or sell your name or E-mail to anyone.

If your E-mail program is having trouble handling the images in this edition, feel free to request that we switch you from the HTML to TEXT edition ... or vice versa. Please contact us in the same way if your E-mail address changes. And of course we welcome feedback, suggestions, and ideas for future columns. Send us E-mail at wine@wineloverspage.com.

All the wine-tasting reports posted here are consumer-oriented. In order to maintain objectivity and avoid conflicts of interest, I purchase all the wines I rate at my own expense in retail stores and accept no samples, gifts or other gratuities from the wine industry.

More time for wine?

You don't need to wait for Mondays to read about wine! Drop in any time on Robin Garr's Wine Lovers' Page, where we add new tasting notes several times each week and frequently expand our selection of wine-appreciation articles, tips and tutorials.

If you'd like to talk about wine online with fellow wine enthusiasts around the world, we'd be delighted to have you visit the interactive forums in our Wine Lovers' Discussion Group. If you're from another part of the world and don't feel entirely comfortable chatting in English, visit our International Forum and introduce yourself in the language of your choice.

Vol. 2, No. 22, June 19, 2000

<!TODAY'S TEXT ENDS HERE!>

Subscribe (free) to The 30 Second Wine Advisor