<!TODAY'S TEXT STARTS HERE!>

30 Second Wine Tasting Tip:
Madeira: A wine for the long haul

One of the wine questions I hear most often usually comes from some of the happiest people ... and sadly, it doesn't have an easy answer.

James O'Grady's recent query offers a good example: "I want to purchase a nice wine that will age for 25 years," he wrote. "I am getting married this summer and I want to buy a bottle we can drink on our 25th anniversary. Obviously I would like it to taste better then then now. Any suggestions?"

Perhaps surprisingly, this isn't as easy an assignment as you might think. The vast majority of the world's wines are meant for immediate consumption, not for aging; and most of the rare beauties that will hold out for 25 years require very specialized storage at a constant 55F (13C) -- too cold for air conditioning but too warm for a refrigerator -- in order to show their best after all that time. Even the greatest Bordeaux from the finest vintages stand little chance of surviving that long at room temperature.

The two most durable wines I know of are Vintage Port and Madeira, both of which are fortified with brandy, which makes them both strong and long-lived.

Madeira in particular is almost indestructible, having been developed to survive, and even improve, during long ocean voyages from its island source off North Africa to thirsty markets in East India and the New World. Strong and warming, Madeira ranges from very sweet (Malmsey) to medium sweet (Bual) to rather dry (Verdelho and Sercial), with burnt-sugar, earthy and caramel flavors, always with a firm, even steely acidity; and it will almost literally last forever, even under very poor storage conditions. What's more, Madeira remains surprisingly affordable for an ageworthy wine, generally ranging from $20 to $35 for a recently produced bottle sold in the U.S.

So if you're looking for a wine to hold for a celebration in the distant future and you don't own a wine "cellar," you can hardly do better than a Madeira for a wine that's likely to last.

I'm particularly interested in gathering your stories on this topic. If you've tried to hold a wine for the long haul under less-than-optimal conditions, either successfully or not, I hope you'll get in touch with me at wine@wine-lovers-page.com and tell me about it. And, as always, don't hesitate to drop us a line if you'd like to comment on our topics and tasting notes, suggest a topic for a future bulletin, or just talk about wine.

If you're enjoying The 30 Second Wine Advisor, we hope you'll tell your wine-loving friends to register for their own free weekly copy at http://www.wine-lovers-page.com/wineadvisor.

30 Second Tasting Notes
A fine Madeira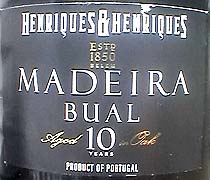 Henriques & Henriques non-vintage Bual 10 Years Madeira ($32.99)
Clear, dark copper-amber. Rich aromas of "stone" fruit, plums and prunes, citrus and odd but appealing earthy nuances, truffles and wild mushrooms and the leafy, not-quite-dank character that wine tasters call "forest floor." Sweet and tart, full and strong, piercing acidity making a sturdy structure for warm stewed-fruit flavors with earthy notes. U.S. importer: Europvin USA, Emeryville, Calif. (June 13, 1999)

FOOD MATCH: After-dinner sipping. Try it with nuts and cheese.


"The Cellar Builder"

You start out buying a bottle of wine for dinner, then a case to work through, and before you know it you're starting to collect wine. Then you begin reading wine accessory catalogs, shaking your head at the prices of free-standing cellar units. If you're at this stage in your evolution as a wine fancier, you might enjoy a new article that we've added this week on The Wine Lovers' Page. Mike Bassman, a New York City wine fancier, offers his tips - and those of our Wine Lovers' Discussion Group - on selecting, buying, installing and using a commercial wine cellar in his article, Buying a Stand-Alone Wine Cellar. Please be assured that this is not a commercial sales pitch but the personal views of Mike and other group participants based on their experiences as consumers.

30 Second Wine Link

Roland Marandino's TableWine page keeps its commercial element low-key, while offering much good wine content in the form of tasting notes and feature articles, dedicated to the discussion of affordable wines in the $10 to $20 range.

30 Second Advertising Partner

The high-end sibling of the California Wine Club, the Connoisseurs' Series bills itself as "an exciting club" designed for people who want to enjoy only the highest-rated, most exclusive wines. Every month, the club ships two bottles of hard-to-find, ultra-premium wines directly to participants' homes.

30 Second Administrivia

This free weekly E-mail publication is distributed to subscribers every Monday. The information it contains will later be archived online. Last week's edition is now available for your review.

You are on the subscription list because our records indicate that you registered for it during a visit to Robin Garr's Wine Lovers' Page. If for any reason you don't want to receive this publication, simply send E-mail to 'wine@wine-lovers-page.com' and we'll remove your name from the list.

If your E-mail program is having trouble handling the images in this edition, feel free to request that we switch you from the HTML to TEXT edition ... or vice versa. We also welcome feedback, suggestions, and ideas for future columns. Send us E-mail at wine@wine-lovers-page.com.

All the wine-tasting reports posted here are consumer-oriented. In order to maintain objectivity and avoid conflicts of interest, I purchase all the wines I rate at my own expense in retail stores and accept no samples, gifts or other gratuities from the wine industry.

More time for wine?

You don't need to wait for Mondays to read about wine! Drop in any time on Robin Garr's Wine Lovers' Page, where we add new tasting notes several times each week and frequently expand our selection of wine-appreciation articles, tips and tutorials.

If you'd like to talk about wine online with fellow wine enthusiasts around the world, we'd be delighted to have you visit the interactive forums in our Wine Lovers' Discussion Group. If you're from another part of the world and don't feel entirely comfortable chatting in English, visit our International Forum and introduce yourself in the language of your choice. <!TODAY'S TEXT ENDS HERE!>