<!TODAY'S TEXT STARTS HERE!>

30 Second Wine Tasting Tip:
A CAPital wine-bottle closure?


Would you pay $135 for a bottle of wine closed with a screw cap in place of the traditional cork?

PlumpJack Winery, a boutique operation in California's Napa Valley, is betting that at least a few well-heeled wine lovers will do so. The firm announced last week that about half of the its 1997 Reserve Cabernet (to be released this autumn) will be equipped with metal screw caps, a closure long associated only with inexpensive "jug wines" in the U.S. The other half will be stoppered with traditional natural cork ... and get this: The bottles with corks will sell for $125, or $10 less than PlumpJack will ask for the bottles with screw caps. (The reason, the winery says, is that it will cost extra to have the special bottles made.)

As we reported last November in "Farewell to the Cork," http://www.wineloverspage.com/wineadvisor/tswa1101.shtml, a lot of people in the wine industry would love to replace corks with screw caps, beer-bottle style crown caps, or synthetic corks made from inert plastic. Natural cork is often afflicted by a fungus that, on contact with wine, produces a chemical called 2,4,6-tricloroanisole (TCA), which ruins the wine with a dank, moldy aroma of wet cardboard, a damp basement or mushrooms. What's more, wine is the only common beverage that requires a special tool and a certain amount of experience to open.

Why not eliminate these problems by eliminating the cork? The conventional wisdom has been that consumers love real corks in fine wines because of the tradition. But a number of wineries are already challenging the wisdom with synthetic corks; a few, especially in Australia, are experimenting with screw caps; and now comes PlumpJack, winning a lot of publicity (including a segment on CNN last week) with its bold move.

Not very many people will taste PlumpJack Reserve Cabernet: Its entire production is only about two dozen 225-liter barrels, enough to make only about 7,200 bottles of wine.

But it could be a straw in the wind. Based on what I've heard from wine makers and winery owners, if it becomes clear that consumers approve, it wouldn't take much of a nudge to push the wine industry to abandon the natural cork forever.

What's your opinion? We've devoted this week's Wine Lovers' Voting Booth to this topic, and I hope you'll click to the polls and cast your vote on the burning question: "Screwcap or cork?" If you would like to talk about it in more detail, please feel free to join in the chat on our Wine Lovers' Discussion Group, or send me a note by E-mail to wine@wineloverspage.com. I regret that the growing circulation of the "Wine Advisor" makes it difficult for me to reply individually to every note, but I'll answer as many as I can; and please be assured that all your input helps me do a better job of writing about wine.

We hope you'll invite your wine-loving friends to register for their own free weekly copy at http://www.wineloverspage.com/wineadvisor.

30 Second Tasting Notes:
Green chilies in your wine?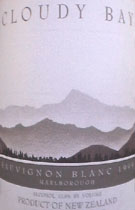 Sauvignon Blancs from New Zealand, especially its Marlborough region, have been getting a lot of attention from wine lovers in recent years because their unique character boldly celebrates a style that producers of wines from this grape in most other parts of the world consciously seek to avoid: Intense "green," "herbaceous" flavors that remind some tasters of green chile peppers and others of, well, the cat-litter box.

Perhaps the primary beneficiary of this trend is Cloudy Bay, the first New Zealand winery to win international publicity for its Sauvignon Blanc, and that as a result has seen demand turn it into a hard-to-find item whose price tag has increased at my local retailer from around $14 for the 1995 vintage to $20 with the newly arrived 1999.

Still, many wine lovers will pay for it, and gladly, too, particularly since the 1999 vintage saw a general return to that wacky Marlborough style after an exceptionally warm 1998 that saw most wineries produce fatter, fruitier Sauvignons without the usual "greenness."

Here's my report on the 1999 Cloudy Bay, and on a widely available competitor that offers some of the same character for a significantly lower price:

Cloudy Bay 1999 Marlborough Sauvignon Blanc ($19.99)
Pale brass color, with a clean and appealing aroma of fresh jalapeñoes. Its full flavor is crisp and fresh, juicy white-fruit flavors and delicious green chile peppers without the heat. U.S. importer: Cliquot Inc., NYC. (June 10, 1999)

Villa Maria 1999 Private Bin Marlborough Sauvignon Blanc ($11.99)
Light greenish-gold in color, its aromas offer strong green chilies and an aromatic edge that suggests alcohol or new oak. Ripe and tart, herbaceous flavors follow this nose; it's very good but in a "blind" side-by-side tasting shows neither the balance nor the intensity of the Cloudy Bay. U.S. importer: Vineyard Brands Inc., Birmingham, Ala. (June 10, 1999)

FOOD MATCH: Both wines went very well with a dinner created specifically to address their characteristic flavors: Veal chops pan-grilled with a lightly spicy velouté sauce flavored with jalapeño and chipotle peppers, and rice steamed with lemon and ginger.


30 Second Advertising Partner:
Wine.com

This Father's Day, get him something he really wants ... wine!

Whether it's a wine as classic as he is, or one as rare as he is, Wine.com has the perfect match for Dad. Choose from a wide selection of everyday wines or splurge with a rare wine. Even better, send him a gift pack, like the "Classic Duet" - a California Merlot and a delicious Russian River Valley Chardonnay for only $39. And now, with free shipping on orders of $25 or more, there's even more reason to get him a gift from Wine.com.

Remember, Father's Day is Saturday, so you'll want to order in time to get it there. Click Wine.com now for the details.
30 Second Administrivia

This free weekly E-mail publication is distributed to subscribers every Monday. Previous editions are archived on The Wine Lovers' Page. See www.wineloverspage.com/wineadvisor/thelist.shtml.

You are on the subscription list because you registered during a visit to Robin Garr's Wine Lovers' Page. If for any reason you no longer want to receive this publication, simply send a short E-mail to 'wine@wineloverspage.com' asking to be unsubscribed (and, if you wish, offering us any suggestions you may have as to how we could have served you better), and we'll remove your name from the list. We do not use this list for any other purpose and will never give or sell your name or E-mail to anyone.

If your E-mail program is having trouble handling the images in this edition, feel free to request that we switch you from the HTML to TEXT edition ... or vice versa. Please contact us in the same way if your E-mail address changes. And of course we welcome feedback, suggestions, and ideas for future columns. Send us E-mail at wine@wineloverspage.com.

All the wine-tasting reports posted here are consumer-oriented. In order to maintain objectivity and avoid conflicts of interest, I purchase all the wines I rate at my own expense in retail stores and accept no samples, gifts or other gratuities from the wine industry.

More time for wine?

You don't need to wait for Mondays to read about wine! Drop in any time on Robin Garr's Wine Lovers' Page, where we add new tasting notes several times each week and frequently expand our selection of wine-appreciation articles, tips and tutorials.

If you'd like to talk about wine online with fellow wine enthusiasts around the world, we'd be delighted to have you visit the interactive forums in our Wine Lovers' Discussion Group. If you're from another part of the world and don't feel entirely comfortable chatting in English, visit our International Forum and introduce yourself in the language of your choice.

Vol. 2, No. 21, June 12, 2000

<!TODAY'S TEXT ENDS HERE!>

Subscribe (free) to The 30 Second Wine Advisor