<!TODAY'S TEXT STARTS HERE!>

30 Second Wine Tasting Tip:
The restaurant "ritual"

Does the wine-pouring ritual at a fancy restaurant make you nervous? A lot of people find it daunting, or at least touched with the sense of awkwardness one feels when attending an unfamiliar religious observance and not knowing exactly when to stand, sit or kneel.

Relax! It's really all based on common-sense traditions, and the simple fact is that the diner is under absolutely no obligation to do anything in particular but sit and wait for the wine to be poured.

Let's go through it step-by-step: After you've chosen your wine (and it's certainly appropriate to ask the wine waiter or sommelier for advice -- that's why he's there), the server will bring out the bottle and show you the label. This is simply to ensure that you're getting the exact wine you ordered. Should it be a different wine, different vintage, or in any way not what you ordered, simply say so, and it should be replaced with the correct bottle. (Or, at a minimum, the waiter will explain why he brought a substitute - but he should really have asked you first.)

Then the waiter will pull the cork. The bottle should never be brought to the table already opened. In older days, by all accounts, culinary chicanery was commonplace, and the tradition of opening the bottle in your sight was established as a way to prove that no one substituted "lesser" wine for the contents of your bottle when it was out of your sight.

Once he's removed the cork, he'll offer it to you for inspection. This worries a lot of people, who fear that they're expected to perform in some way. All you really have to do is put it down, out of the way. If you want to pick it up, sniff it, look at it knowingly, put it in your pocket as a souvenir, feel free. In theory, you might be able to get a hint of the wine's condition if the cork is soft, crumbly, wet or smells funny, but you'll learn nothing here that won't become evident in the glass. Also, in older times, you could double-check the maker's name on the cork to ensure that the wine bottle wasn't re-filled with other wine and the original cork replaced with a substitute.

The waiter then pours a small taste into your glass. Swirl it, sniff it, nod and smile -- if you like it -- and he'll then pour around the table, returning to fill your glass last.

In the unlikely event that you feel something is wrong with the wine -- particularly if it has that dank, musty, "wet cardboard" or "damp basement" aroma that indicates it was afflicted by a bad cork -- you have the right to send the wine back and request a replacement. In practice, however, this is rarely a problem in modern times. (We'll have articles both on "corked" wines and on returning wine in future issues.)

That's all there is to it! It takes longer to explain than it takes to endure at the table. Most important, bear in mind that the purpose of the "ritual" isn't to embarrass you or show you up as a non-expert; it's really all just tradition, based on giving you, the diner, every opportunity to make sure that you get the wine ordered and that it's good.

I've heard lots of funny "cork ritual" stories, including the legendary tale of the fellow who ate the cork. If you've got a good story or tip about restaurant wine service, I hope you'll write me at wine@wine-lovers-page.com and tell me about it. And, as always, please don't hesitate to drop us a line if you'd like to comment on our topics and tasting notes, suggest a topic for a future bulletin, or just talk about wine.

If you're enjoying The 30 Second Wine Advisor, we hope you'll tell your wine-loving friends to register for their free weekly copy at http://www.wine-lovers-page.com/wineadvisor.

30 Second Tasting Notes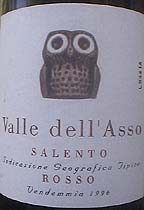 Valle dell'Asso 1996 Salento Rosso ($6.99)
From last week's tasty but pricey tasting (the $19 Martilde "Zaffo" Bonarda), let's turn to a much less expensive bottle to demonstrate the happy reality that it is possible, though not always easy, to find interesting table wines for $8 or less. This hearty table red from Southern Italy shows an attractive dark-garnet color in the glass. Plummy red-fruit flavors on the nose and palate are juicy and tart, making for a well-balanced wine that's fine at the table. U.S. importer: Vintner Select, Cincinnati. (May 29, 1999)

FOOD MATCH: Works well with a variety of grilled shish-kebabs.


30 Second Wine Link

For a change of pace today, I'd like to offer a link to a popular feature within our own Wine Lovers' Page. If you enjoy talking with others about wine, we think our Wine Lovers' Discussion Group is the home of some of the most interesting wine talk on the 'net. Whether you're a novice or expert or somewhere in between, you're welcome in the "WLDG," and I hope you'll all take a moment to drop by for a visit.

30 Second Advertising Partner

The Mid-Atlantic Wine Auction Company, a Delaware company incorporated in 1998, boasts more than 100 years collective retail expertise in the buying and selling of fine wines.

30 Second Administrivia

This free weekly E-mail publication is distributed to subscribers every Monday. The information it contains will later be archived online. Last week's edition is now available for your review.

You are on the subscription list because our records indicate that you registered for it during a visit to Robin Garr's Wine Lovers' Page. If for any reason you don't want to receive this publication, simply send E-mail to 'wine@wine-lovers-page.com' and we'll remove your name from the list.

If your E-mail program is having trouble handling the images in this edition, feel free to request that we switch you from the HTML to TEXT edition ... or vice versa. We also welcome feedback, suggestions, and ideas for future columns. Send us E-mail at wine@wine-lovers-page.com.

All the wine-tasting reports posted here are consumer-oriented. In order to maintain objectivity and avoid conflicts of interest, I purchase all the wines I rate at my own expense in retail stores and accept no samples, gifts or other gratuities from the wine industry.

More time for wine?

You don't need to wait for Mondays to read about wine! Drop in any time on Robin Garr's Wine Lovers' Page, where we add new tasting notes several times each week and frequently expand our selection of wine-appreciation articles, tips and tutorials.

If you'd like to talk about wine online with fellow wine enthusiasts around the world, we'd be delighted to have you visit the interactive forums in our Wine Lovers' Discussion Group. If you're from another part of the world and don't feel entirely comfortable chatting in English, visit our International Forum and introduce yourself in the language of your choice.

<!TODAY'S TEXT ENDS HERE!>