<!TODAY'S TEXT STARTS HERE!>

30 Second Wine Tasting Tip:
Muscat: A sip for summer


If you're in the mood for a sip of something sweet but find that summer's heat puts you off from the notion of heavy, powerful dessert wines like Port or Madeira, here's an ancient wine word to consider: Muscat.

Since the time of the Greek and Roman empires and probably before, the Muscat grape in many varieties has thrived around the Mediterranean, where its strong perfume prompted the Roman author Pliny, in his "Natural History," to declare it "the grape of the bees." The French noted the grape's musky character and called it "Musqué," a word that echoes today in its modern name.

Muscat wines come in many styles, from the fizzy and toothache-sweet Italian Asti Spumante to noteworthy Australian (Liqueur Muscat) and South African (Constantia) dessert wines, some of which boast historic reputations and command startling prices. France's Muscat de Beaumes-de-Venise is a delicious fortified wine with a delicious aroma of oranges. Andrew Quady's "Essensia" is a justly popular California dessert wine in the Beaumes-de-Venise spirit; his "Electra" conveys similar aromas and flavors in a lightweight low-alcohol rendition. Many other U.S. producers make similar wines; I've recently enjoyed a sweet, refreshing California Moscato from St. Supéry.

When summer's heat starts to settle in like a blanket, however, the style of Muscat I find most appealing is the Italian Moscato d'Asti and its California cousins. Sweet but light, comfortably low in alcohol and carbonated just sufficiently to be refreshing, these wines breathe ripe, heady fruit aromas ... often resembling peaches and apricots ... that are the trademark of Muscat. No one would mistake these wines for the great classic table wines of Western Europe, and they're frankly better suited for casual sipping than deep contemplation. But where is it written that every wine requires contemplation?

Muscat-based wines should be easy to find in almost any good wine shop, but if you would like to try seeking them online, I invite you to visit our new advertising partner, Wine.com. Try searching for Muscat using Wine.com's simple Wine Selector. Just click "Category" and then choose "Muscat" under "White wines," and you'll find more than a dozen, ranging from less than $10 to more than $50.

What's your take on Muscat? Have you tried a good one recently? Tell me about it by E-mail to wine@wineloverspage.com. I regret that the growing circulation of the "Wine Advisor" makes it difficult for me to reply individually to every note, but I'll answer as many as I can; and please be assured that all your input helps me do a better job of writing about wine.

We hope you'll invite your wine-loving friends to register for their own free weekly copy at http://www.wineloverspage.com/wineadvisor.

30 Second Tasting Notes:
A delicious Italian Muscat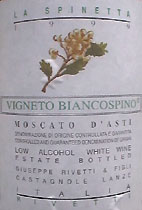 La Spinetta 1999 Vigneto Biancospino Moscato d'Asti Low-Alcohol White Wine ($12.99)
Fresh and just slightly fizzy (the Italians call it "frizzante") this light wine comes in at 5.5% alcohol, a little less than half the strength of traditional table wines, making it a good candidate for a thirst-quenching aperitif or a companion with picnic fare. Its tight-fitting standard cork comes out with a pop and reveals a pale greenish-gold wine that foams up briefly in the glass before falling back to just a few tiny bubbles that line the glass. Its delicious scent of fresh peaches invites a taste; and the flavor is light and crisp, definitely sweet but not cloying. U.S. importer: Vintner Select, Cincinnati; A Marc de Grazia Delection. (May 28, 2000)

FOOD MATCH: It worked well enough to wash down turkey breast roasted with Asian spices, but it's probably best as an aperitif (before dinner) or served ice cold like a cocktail on a hot summer day.


Wine Lovers' Voting Booth:
California "First Growths"

In the year 1855, the wine merchants of the Médoc region in Bordeaux created a classification system to enshrine the wine-making producers considered the region's best, based on quality as demonstrated by the sales prices that the top wines attained over a long period. The four producers considered the very best (much later expanded to five with one addition) were declared "First Growths."

Now our Wine Lovers' Voting Booth proposes a more democratic process, involving not merely merchants but the wine-loving public, to create a series of "First Growths" for other wine-growing regions around the world, based on a popular vote for wine producers in each region that have established long and stable track records for quality.

We begin with California. From time to time over coming months, we will publish similar polls for Australia, Italy, wine regions of France other than Bordeaux, and other major wine-producing countries around the world; at the end of the process, we will set all the top wineries against each other in a sort of World Series (or World Cup) of wine.

So, to begin the selection process, we invite you to drop by the Voting Booth and "choose five California 'First Growths'."

30 Second Advertising Partner:
Wine.com

RICH, FULL-BODIED AND VERY DRY? Or gentle and aging gracefully...? No matter how you describe Dad, Wine.com has the perfect wine for him this Father's Day. And now, with free shipping on your next purchase of $25 or more, there's no reason to get Dad another boring tie. Click Wine.com for the details.

30 Second Administrivia

This free weekly E-mail publication is distributed to subscribers every Monday. Previous editions are archived on The Wine Lovers' Page. See www.wineloverspage.com/wineadvisor/thelist.shtml.

You are on the subscription list because our records indicate that you registered during a visit to Robin Garr's Wine Lovers' Page. If for any reason you don't want to receive this publication, simply send E-mail to 'wine@wineloverspage.com' and we'll remove your name from the list. We do not use this list for any other purpose and will never give or sell your name or E-mail to anyone.

If your E-mail program is having trouble handling the images in this edition, feel free to request that we switch you from the HTML to TEXT edition ... or vice versa. Please contact us if your E-mail address changes. And of course we welcome feedback, suggestions, and ideas for future columns. Send us E-mail at wine@wineloverspage.com.

All the wine-tasting reports posted here are consumer-oriented. In order to maintain objectivity and avoid conflicts of interest, I purchase all the wines I rate at my own expense in retail stores and accept no samples, gifts or other gratuities from the wine industry.

More time for wine?

You don't need to wait for Mondays to read about wine! Drop in any time on Robin Garr's Wine Lovers' Page, where we add new tasting notes several times each week and frequently expand our selection of wine-appreciation articles, tips and tutorials.

If you'd like to talk about wine online with fellow wine enthusiasts around the world, we'd be delighted to have you visit the interactive forums in our Wine Lovers' Discussion Group. If you're from another part of the world and don't feel entirely comfortable chatting in English, visit our International Forum and introduce yourself in the language of your choice.

Vol. 2, No. 19, May 29, 2000

<!TODAY'S TEXT ENDS HERE!>

Subscribe (free) to The 30 Second Wine Advisor