<!TODAY'S TEXT STARTS HERE!>

30 Second Wine Tasting Tip:
Getting out the cork

This seems a little silly now, but back in the hazy days of young adulthood, I used to hate to buy wine with a cork in the bottle because it was such a chore to get the thing out. I already knew that "good" wine came with a cork, but the hassle of working the old T-shaped corkscrew and figuring a way to hold the bottle tight while tugging at the recalcitrant cork was more of a challenge than I really wanted, particularly if I was hoping to impress a date with my savoir faire. I think I hit bottom the night that my corkscrew failed me completely, and I ended up gently pushing the cork in to my bottle of Gallo red using the handle of a wooden spoon.

Naturally, I was delighted when I discovered the "two-winged" style of corkscrew with the twin levers you could work to make the job look easy ... and later, as I developed a reputation among my pals as a serious wine fancier, I learned to use the "Ah-So," a two-pronged device that you could work down the sides of the cork, then twist to get it out without using a screw at all. Later came the pocket ScrewPull, a trademarked device that's made of sleek, hard plastic and that makes the cork-extraction process just about foolproof. You can even buy lever-type models, hand-held or table-mounted, that pull corks in an assembly-line process. There are even such odd accessories as compressed-air devices that inject air into the bottle through a needle and gently push the cork out. (Warning: Some authorities caution that a bottle with a flaw in the glass could explode under the internal pressure generated by this device.)

Nowadays I've got a fair-size collection of corkscrews of various types, but you know what? More often than not, I'll end up using a standard waiter's corkscrew, the kind that looks a little bit like a pocket knife, with a handle, a fold-out screw, and a lever that swings out from the end to help pry the cork loose with all the savoir faire that I was seeking back before the first gray appeared in my hair.

We're featuring corkscrews in this week's Wine Lovers' Voting Booth, where I hope you'll take a moment to drop in and cast an online ballot for your favorite type. And, if you've got a favorite corkscrew or a good story on the subject, write me at wine@wine-lovers-page.com and tell me about it. And, as always, please don't hesitate to drop us a line if you'd like to comment on our topics and tasting notes, suggest a topic for a future bulletin, or just talk about wine.

If you're enjoying The 30 Second Wine Advisor, we hope you'll tell your wine-loving friends to register for their free weekly copy at http://www.wine-lovers-page.com/wineadvisor.

30 Second Tasting Notes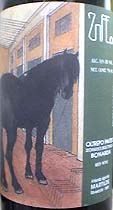 Martilde 1994 "Zaffo" Oltrepò Pavese Bonarda ($18.99)
Bonarda, an unusual red grape from the Oltrepò Pavese region in Lombardy, Northern Italy, is one of those confusing varieties in which the same name pops up in different places attached to entirely different grapes; different wines bearing the same name are also found in the Piemonte and Argentina. This one, experts say, is probably the same as Croatina. Whatever it is, this wine is good ... unusually good, with noteworthy depth and complexity. Inky dark garnet in color, it offers black-fruit and floral aromas of roses, a whiff of anise and a subtle, earthy hints of "forest floor" and restrained "barnyard." Bright sour-cherry fruit flavors are structured with tart, lemony acidity. Full yet cleansing, it's a fine food wine. As a limited-production oddity, it may be hard to find, but if it turns up in your area, it's worth the toll. U.S. importer: Elizabeth Imports, Denver. (May 18, 1999)

FOOD MATCH: Conchiglie (shell pasta) tossed with Italian sausage, mozzarella and ricotta and a bit of fresh tomato sauce.


30 Second Wine Link

In the spirit of today's feature, what better place to link than the Web's ultimate corkscrew hobbyist site? Don Bull's The Virtual Corkscrew Museum has pictures, articles, facts, trivia and links, just about everything you'd ever want to know about separating cork from bottle.

30 Second Advertising Partner

I'm particularly happy to count among our advertising partners my own neighborhood coffee shop in Louisville, Heine Brothers' Coffee. These folks import their own coffee beans, roast them in small batches, and serve great coffee in neighborhood shops that are as much like community centers as stores. Now proprietors Gary Heine and Mike Mays have brought their products to the Web. Their coffee isn't cheap, but it's very, very good. If you should give it a try, please tell them I sent you!

30 Second Administrivia

This free weekly E-mail publication is distributed to subscribers every Monday. The information it contains will later be archived online. Last week's edition is now available for your review.

You are on the subscription list because our records indicate that you registered for it during a visit to Robin Garr's Wine Lovers' Page. If for any reason you don't want to receive this publication, simply send E-mail to 'wine@wine-lovers-page.com' and we'll remove your name from the list.

If your E-mail program is having trouble handling the images in this edition, feel free to request that we switch you from the HTML to TEXT edition ... or vice versa. We also welcome feedback, suggestions, and ideas for future columns. Send us E-mail at wine@wine-lovers-page.com.

All the wine-tasting reports posted here are consumer-oriented. In order to maintain objectivity and avoid conflicts of interest, I purchase all the wines I rate at my own expense in retail stores and accept no samples, gifts or other gratuities from the wine industry.

More time for wine?

You don't need to wait for Mondays to read about wine! Drop in any time on Robin Garr's Wine Lovers' Page, where we add new tasting notes several times each week and frequently expand our selection of wine-appreciation articles, tips and tutorials.

If you'd like to talk about wine online with fellow wine enthusiasts around the world, we'd be delighted to have you visit the interactive forums in our Wine Lovers' Discussion Group. If you're from another part of the world and don't feel entirely comfortable chatting in English, visit our International Forum and introduce yourself in the language of your choice.

<!TODAY'S TEXT ENDS HERE!>