<!TODAY'S TEXT STARTS HERE!>

30 Second Wine Tasting Tip:
Second or secondary?


For more than a century and a half, a few of the top wineries in Bordeaux have followed a strict policy to maintain the quality of their finest wines: Any grapes considered of insufficient quality to make the property's grand vin - whether underripe or damaged or simply from young grapevines not yet capable of producing the highest-quality grapes - would not be used in the winery's flagship product.

Instead, these "lesser" grapes go into a separate wine to be sold under a different label, known as a "second label," thus protecting the integrity of the winery's No. 1 wine.

Chateau Lafite was one of the first to do this, and its second-label, Carruades de Lafite, ranks as a very fine wine in its own right, often selling at retail for $30 to $40 or more, depending on the vintage.

In modern times, virtually every Bordeaux winery has a second label - during my recent visit to the region, I enjoyed tastes of such good "seconds" as Les Tourelles de Longueville at Chateau Pichon-Longueville and La Dame du Montrose at Chateau Montrose. Wise wine-shoppers quickly learn that a trustworthy property's second wine can represent good value if the price is right; if not of the same quality as the top label, it nevertheless carries the parent winery's prestige and pride.

In the New World, a similar concept has emerged along slightly different lines, one that my wine-educator friend Jason Brandt Lewis likes to call "secondary brands." In California, for example, very few wineries produce true second labels by the Bordeaux definition - Laurel Glen's "Counterpoint" and Ridge's Santa Cruz Mountains Cabernet Sauvignon probably qualify - but quite a few of the high-end California wineries produce lower-price wines, most often using purchased grapes in contrast with the grapes that they grow themselves for their No. 1 wine.

Just a few of many examples include Glass Mountain (secondary label of Markham) and Hawk Crest (Stags Leap), and the old Liberty School, which was for years a secondary brand for Caymus but has since been sold and now stands on its own. In addition to Counterpoint, a true second label, Laurel Glen also produces a variety of secondary brands including Quintana (made from purchased Northern California fruit); Terra Rosa (made in California from South American fruit, varying in source from year to year) and the delightful, affordable REDS, a varying blend of California grapes. A number of New Zealand and Australia wineries also produce secondary brands (see my tasting note below for a delightful example); and many of Spain's top wineries produce several labels under the same roof, as with Sierra Cantabria in Rioja and its high-end label, San Vicente.

While there is no guarantee that a great winery won't embarrass itself by producing poor wine under a secondary brand name, it seems reasonable to assume that if you enjoy the products of a particular maker, it makes sense to give his other brands a try, particularly if they come at a relative bargain price.

What is your experience with second labels and secondary brands? Do you have a favorite? Tell me about it by E-mail to wine@wineloverspage.com. I regret that the growing circulation of the "Wine Advisor" makes it difficult for me to reply individually to every note, but I'll answer as many as I can; and please be assured that all your input helps me do a better job of writing about wine.

We hope you'll invite your wine-loving friends to register for their own free weekly copy at http://www.wineloverspage.com/wineadvisor.

30 Second Tasting Notes:
A fine secondary brand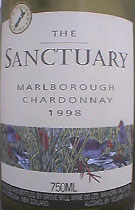 The Sanctuary 1998 Marlborough Chardonnay ($13.99)
This "secondary brand" product from New Zealand's excellent Grove Mill Winery is a pale greenish-gold in color, with pleasant aromas of cooking apples with green conifer and herbal notes. Full-bodied, dry and tart, mouth-filling flavors follow the nose; a faint peach-pit bitterness lingers in a long finish. U.S. importer: Appellation Imports, Annapolis Junction, Md. (May 18, 2000)

FOOD MATCH: Copper River salmon fillets steamed with garlic, ginger and lemon vodka.


30 Second Wine Links:
Wine-shipping laws and consumerism

Internet wine shops and mail-order wine clubs may appear to offer a simple solution to quenching our parched palates, but one little aspect can prove problematic: It's illegal in most states of the U.S. What's the deal? Wine Lovers' Page columnist John Juergens logs in from thirsty Mississippi with an analysis of what's at stake ... and who benefits from the draconian system that now exists.

Meanwhile, consumers in Virginia have banded together to file suit challenging their state's laws on this issue, and they are passing a virtual hat in cyberspace to help keep the wolf from their pro bono attorney's door. For more information or if you would consider helping out in some small way, please click to the Matt Hale Fund Drive, a page we have set up to help in this effort.

The week's 30 Second Advertising Partner

The Burgundy Wine Company is a most unusual retail wine store: It carries only the wines of Burgundy and the Rhone and the same grape varieties (Pinot Noir, Chardonnay, Syrah) as found in California and Oregon. Every wine in the store is evaluated in barrel and bottle before it is purchased and cellared impeccably at 52 to 55 degrees. Join The Burgundy Wine Company online for their annual Spring White Wine Sale and to receive their free client newsletter, or call 1-212-691-9092 today! Sale ends June 21. Quantities are limited.
30 Second Administrivia

This free weekly E-mail publication is distributed to subscribers every Monday. Previous editions are archived on The Wine Lovers' Page. See www.wineloverspage.com/wineadvisor/thelist.shtml.

You are on the subscription list because our records indicate that you registered during a visit to Robin Garr's Wine Lovers' Page. If for any reason you don't want to receive this publication, simply send E-mail to 'wine@wineloverspage.com' and we'll remove your name from the list. We do not use this list for any other purpose and will never give or sell your name or E-mail to anyone.

If your E-mail program is having trouble handling the images in this edition, feel free to request that we switch you from the HTML to TEXT edition ... or vice versa. We welcome feedback, suggestions, and ideas for future columns. Send us E-mail at wine@wineloverspage.com.

All the wine-tasting reports posted here are consumer-oriented. In order to maintain objectivity and avoid conflicts of interest, I purchase all the wines I rate at my own expense in retail stores and accept no samples, gifts or other gratuities from the wine industry.

More time for wine?

You don't need to wait for Mondays to read about wine! Drop in any time on Robin Garr's Wine Lovers' Page, where we add new tasting notes several times each week and frequently expand our selection of wine-appreciation articles, tips and tutorials.

If you'd like to talk about wine online with fellow wine enthusiasts around the world, we'd be delighted to have you visit the interactive forums in our Wine Lovers' Discussion Group. If you're from another part of the world and don't feel entirely comfortable chatting in English, visit our International Forum and introduce yourself in the language of your choice.

Vol. 2, No. 18, May 22, 2000

<!TODAY'S TEXT ENDS HERE!>

Subscribe (free) to The 30 Second Wine Advisor