<!TODAY'S TEXT STARTS HERE!>

30 Second Wine Tasting Tip:
Pretty in Pink

Would a rosé by any other name taste as sweet?

As summer spreads across the Northern Hemisphere and puts us in mind of cool, refreshing drinks, I'd like to turn our attention toward pink wine, a category that gets surprisingly little respect.

Traditionally, rosé (with an accent mark over the 'e' that may disappear in our plain-text edition) is a wine made from red wine grapes, in which the color-imparting skins are removed from the fermenting vessel after a short time, just long enough for them to "bleed" an attractive pink, copper, salmon or, well, rosy hue to the wine without reaching the deep color of a serious red. The resulting wine is typically light, fresh and crisp, and traditionally it was made bone-dry -- a perfect wine to serve ice-cold on a sultry summer evening.

It's also possible to make rosé by blending red and white wines; in fact, the Champagne called Blanc de Noirs -- perhaps the classiest pink of them all -- is made in just that way.

I think attitudes toward pink wine started to change in the U.S. during the 1970s, when the market demand for white wines exceeded the supply, prompting wine makers to invent "White Zinfandel," a white wine made from red grapes. Initially vinified as a true white, it quickly became a craze as wineries discovered that it sold better when made pink and fairly sweet. Dubbed "blush" wine, it's now a staple of the bargain bins, but it's not usually seen on the tables of serious wine fanciers.

But the original rosé (sometimes called "Vin Gris" or "gray wine," particularly when it's on the pale side of pink) can be something else entirely, and if you haven't tried one for a while, I commend it to your attention.

What's your opinion? Thumbs up or thumbs down on dry, crisp pinks? Write me at wine@wine-lovers-page.com and let me know. And, as always, please don't hesitate to drop us a line if you'd like to comment on our topics and tasting notes, suggest a topic for a future bulletin, or just talk about wine.

If you're enjoying The 30 Second Wine Advisor, we hope you'll tell your wine-loving friends to register for their free weekly copy at http://www.wine-lovers-page.com/wineadvisor.

30 Second Tasting Notes

Summery dry pinks

Here are my notes on two decent rosé wines; you'll find a third, the American "Eye of the Toad," among my Wine Lovers' Page tasting notes at www.wine-lovers-page.com/wines/wt051099.shtml.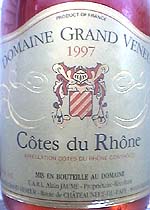 Domaine Grand Veneur 1997 Cotes du Rhone Rosé ($8.49)
Clear reddish-amber, dark for a rosé. Ripe, surprisingly full berry and herbal scents. Full and bright flavor of tart red fruit, crisp cooking apples, bone-dry and fresh. My wife, who usually hates pink wine, gives it the ultimate accolade: "Tastes like a red." U.S. importer: Kysela Pere et Fils Ltd., Winchester, Va. (May 13, 1999)

FOOD MATCH: Fine with a simple pasta dish of conchiglie with peas, spinach and ham. ("Pink wine with pink meat"?)


Charles Melton 1997 Barossa Valley (Australia) Rosé of Virginia ($16.99)
Clear light cherry-red in color, this Australian pink breathes delicious, fragrant strawberry and wildflower scents. A bit more shy on the palate than in the nose, it's crisp and dry, showing tart, appetizing berry fruit. Good wine, but on the pricey side. U.S. importer: Epic Wines, Aptos, Calif. (May 9, 1999)

FOOD MATCH: Works well with thick pork chops braised with rosemary and garlic.

30 Second Wine Link

Heading for wine country? If California is your travel destination and wine's your thing, do not miss SteveO's California Wine Touring Guides. No matter where you're going in the Golden State, you'll find winery and tour information here.

30 Second Advertising Partner

Our Australian advertising partner, Sydney International Wine Competition, is the only major wine competition in the world that judges the best wines alongside complementary food. They'll be bringing this year's "TOP 100" winners to San Francisco for a tasting on July 17.

30 Second Administrivia

This free weekly E-mail publication is distributed to subscribers every Monday. The information it contains will later be archived online. Last week's edition is now available for your review.

You are on the subscription list because our records indicate that you registered for it during a visit to Robin Garr's Wine Lovers' Page. If for any reason you don't want to receive this publication, simply send E-mail to 'wine@wine-lovers-page.com' and we'll remove your name from the list.

If your E-mail program is having trouble handling the images in this edition, feel free to request that we switch you from the HTML to TEXT edition ... or vice versa. We also welcome feedback, suggestions, and ideas for future columns. Send us E-mail at wine@wine-lovers-page.com.

All the wine-tasting reports posted here are consumer-oriented. In order to maintain objectivity and avoid conflicts of interest, I purchase all the wines I rate at my own expense in retail stores and accept no samples, gifts or other gratuities from the wine industry.

More time for wine?

You don't need to wait for Mondays to read about wine! Drop in any time on Robin Garr's Wine Lovers' Page, where we add new tasting notes several times each week and frequently expand our selection of wine-appreciation articles, tips and tutorials.

If you'd like to talk about wine online with fellow wine enthusiasts around the world, we'd be delighted to have you visit the interactive forums in our Wine Lovers' Discussion Group. If you're from another part of the world and don't feel entirely comfortable chatting in English, visit our International Forum and introduce yourself in the language of your choice.

<!TODAY'S TEXT ENDS HERE!>