<!TODAY'S TEXT STARTS HERE!>

30 Second Wine Tasting Tip:
Clearing Customs with wine


Whenever I travel to wine-producing regions, I try to follow a simple rule: Taste wine while I'm there, but bring home only memories. Wine bottles are heavy and breakable, a hassle to pack, a burden to carry, and there's always the possibility of a frustrating and perhaps expensive confrontation at Customs.

That's what I SAY. What I DO, of course, is bring back as much wine as I can carry. No matter how strong my intentions, there's always a bottle here, a gift there, a rare item that I know I'll never be able to find at home.

Last autumn, I discussed packing and carrying wine for air travel in the Dec. 20 "Wine Advisor" article, "Let's get the wine on the road," http://www.wineloverspage.com/wineadvisor/tswa1220.shtml. For this week's column, let's look at another issue associated with bringing wine home: Clearing Customs.

Customs procedures are generally similar around the world; I speak from my experience as a U.S. citizen, but residents of other countries will face much the same issues. (Citizens of European Union countries, however, now have no limits on importing alcohol products from one EU country to another.)

Essentially, Customs exists for two purposes: To assess duties (taxes) on imported items - meaning those gifts and luxury items you purchased while away - and to detect and block contraband, any materials forbidden or regulated by law.

"We are the guardians of our Nation's borders - America's Frontline," declares the U.S. Customs Service in its Traveler Information Website, http://www.customs.ustreas.gov/travel/travel.htm. " ... We enforce the laws of the United States, safeguard the revenue, and foster lawful international trade and travel. The U.S. Customs Service is America's front line against the smuggling of drugs and other prohibited goods."

So Rule No. 1 is simple: Do not lie to these people. As law-enforcement agents, they have the right and duty to detain you, arrest and fine you, even confiscate that special bottle you found in France. No matter how much wine you're carrying, failing to declare it is simply not worth the risk.

The U.S. import law for alcoholic beverages is simple: You are allowed one liter duty-free, provided that it is intended for your own use or as a gift. Beyond that, all your wine is subject to a 10 percent duty - even if its total value is below the $400 exemption that applies to most other products that American citizens bring in from abroad. There is no specific limit on the amount you may declare, but Customs ominously notes that "unusual quantities are liable to raise suspicions that you are importing the alcohol for other purposes, such as for resale."

In practice, however, I have never been charged a duty for any amount of wine that I can carry. Our return from Europe last Thursday was typical: My wife and I packed our carry-on bags until they bulged, and I duly declared the wine on the standard forms. As we rolled our bags to the Customs desk in Atlanta, the agent gave us a friendly grin. "Wine," he said. "Nine bottles? Go on." No muss, no fuss, no charge.

(U.S. citizens theoretically face a second hurdle: Each of the 50 states has its own laws limiting the amount of alcohol you may bring in from outside, and these laws may differ from the Customs rule. However, since states don't operate Customs, it's not likely that they're going to know about your purchase. My advice: Don't ask, don't tell.)

What's your experience with bringing wine through Customs, in the U.S. or in other countries? Tell me your story by E-mail at wine@wineloverspage.com. I regret that the growing circulation of the "Wine Advisor" makes it difficult for me to reply individually to every note, but I'll answer as many as I can; and please be assured that all your input helps me do a better job of writing about wine.

We hope you'll invite your wine-loving friends to register for their own free weekly copy at http://www.wineloverspage.com/wineadvisor.

Wine Lovers' Voting Booth:
Are you in the wine business?

For many wine lovers, wine is a hobby, a delight, even a passion. A significant number of us translate this interest into a profession, making all or part of our income in some aspect of the wine business. For this week's Voting Booth, we take a look at the variety of professional or semi-professional interests that our readers may have in the wine business.

Whether your professional interest is full-time or part-time - or even if your only connection with the wine business is as a consumer of wine - we would like to have your response to this week's question, "What is your primary activity in the wine business?"

I hope you'll take the time to drop by the Voting Booth, http://www.wineloverspage.com/votebooth, and add your entry to the list.

30 Second Tasting Notes:
Remembering the Rhone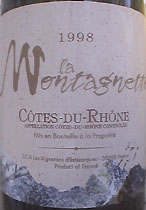 For our first dinner at home after our trip, we enjoyed a simple, affordable but tasty bottle from chosen to recall our recent days in France.

La Montagnette 1998 Côtes-du-Rhône ($8.99)
Clear, dark ruby in color, it breathes jammy, peppery black-fruit aromas. Full, tart and bright flavors focus on fragrant black pepper and sour cherries. Just as 1997 was a "can't miss" vintage in Chianti, 1998 is shaping up as a similar sure bet for the Southern Rhone. U.S. importer: Hand Picked Selections, Warrenton, Va. (May 14, 2000)

FOOD MATCH: Just right with garlicky grilled chicken.


30 Second Wine Link:
Notes from our Europe trip

If you'd care to view my extended European trip report, including notes about wines tasted and photos of winery visits and wine gatherings as we traveled from Milan through Provence and the Rhone to Bordeaux and Paris, you'll find a series of reports linked from a central index page, "Europe Wine Diary 2000," http://www.wineloverspage.com/wines/euro2000.shtml.

The week's 30 Second Advertising Partner

California Wine Club, www.cawineclub.com, is the perfect, affordable way to get two different bottles of excellent wine every month, along with its fun and fact-filled newsletter Uncorked. Commercially unavailable, these wines are like secret treasures we hand-select from California's small, award-winning wineries. Join for as many months as you like, or use The California Wine Club as a special, unique gift for friends, family, customers and colleagues. You can reach the Club at the link above or, in the U.S., by calling 1-800-777-4443.

30 Second Administrivia

This free weekly E-mail publication is distributed to subscribers every Monday. Previous editions are archived on The Wine Lovers' Page. See www.wineloverspage.com/wineadvisor/thelist.shtml.

You are on the subscription list because our records indicate that you registered during a visit to Robin Garr's Wine Lovers' Page. If for any reason you don't want to receive this publication, simply send E-mail to 'wine@wineloverspage.com' and we'll remove your name from the list. We do not use this list for any other purpose and will never give or sell your name or E-mail to anyone.

If your E-mail program is having trouble handling the images in this edition, feel free to request that we switch you from the HTML to TEXT edition ... or vice versa. We welcome feedback, suggestions, and ideas for future columns. Send us E-mail at wine@wineloverspage.com.

All the wine-tasting reports posted here are consumer-oriented. In order to maintain objectivity and avoid conflicts of interest, I purchase all the wines I rate at my own expense in retail stores and accept no samples, gifts or other gratuities from the wine industry.

More time for wine?

You don't need to wait for Mondays to read about wine! Drop in any time on Robin Garr's Wine Lovers' Page, where we add new tasting notes several times each week and frequently expand our selection of wine-appreciation articles, tips and tutorials.

If you'd like to talk about wine online with fellow wine enthusiasts around the world, we'd be delighted to have you visit the interactive forums in our Wine Lovers' Discussion Group. If you're from another part of the world and don't feel entirely comfortable chatting in English, visit our International Forum and introduce yourself in the language of your choice.

Vol. 2, No. 17, May 15, 2000

<!TODAY'S TEXT ENDS HERE!>

Subscribe (free) to The 30 Second Wine Advisor