<!TODAY'S TEXT STARTS HERE!>

30 Second Wine Tasting Tip:
"Cleansing" the palate

A reader asks: "What is the best way to cleanse your palate between tasting different wines?" A savvy consumer, he and his fiance want to choose carefully when they meet with the caterer to plan their wedding reception.

My advice, akin to that recommended for the father of the bride, is "bring bread." Good white bread -- typically Italian or French -- is the standard palate-cleanser at tastings because it's neutral in flavor. If you watch professional wine buyers doing their work, they'll take a piece of bread and a drink of water between wines in order to judge each one from a standing start.

At social wine tastings, you'll often see cheese or even more substantial snacks like shrimp, roast beef, meatballs or bacon-wrapped chicken livers served, but this is not such a good idea when you're evaluating wines for purchase because appropriate food makes the wine taste better. You'll sometimes see apples and other fruit served with wine, but this doesn't work for me, as I find fruit seems to make the wine taste a little sour.

For this reader's purposes, though, an old saying in the wine trade surely applies: "Buy wine on bread; sell wine on cheese."

What's your opinion? Do you have a preferred "palate cleanser" for serious analysis or for fun? Write me at wine@wine-lovers-page.com and share your thoughts. And, as always, please don't hesitate to drop us a line if you'd like to comment on our topics and tasting notes, suggest a topic for a future bulletin, or just talk about wine.

If you're enjoying The 30 Second Wine Advisor, we hope you'll tell your wine-loving friends to register for their free weekly copy at http://www.wine-lovers-page.com/wineadvisor.

30 Second Tasting Notes

Any Port in a storm?

Port, as any wine lover will tell you, is a powerfully fortified sweet red wine from Oporto in Portugal, one of the world's great dessert wines, capable of improving with age for many years.

However, wine makers in Australia, South Africa and the U.S. have borrowed the name to use on similar-only-different wines, warm and strong and sweet. Our Australian cousins in particular are said to be wild about these wines, which they typically made in the oak-aged "tawny" style, not red but brown and so extremely sweet that they earn the nickname "stickies."

This one's an unusually impressive example, remarkable in its complexity, at a price that's more than fair in the luxury realm of dessert wines.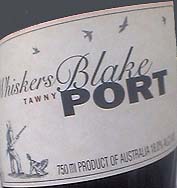 Hardys non-vintage Whiskers Blake Tawny Port ($14.99)
Dark amber with a reddish-copper hue, this fine dessert wine breathes delicious scents of mixed nuts and browned butter; it smells so good that we sit and sniff it for a long time before taking the first taste. Sweet and mellow, it blends flavors of dark, plummy fruit with rich milk chocolate, sweet oak and caramel -- in an odd way, it reminds this Kentuckian of a very fine Bourbon, without the heat. Though far afield from a traditional Port, it's a wonderful Oz "sticky," one of the best I've tasted. U.S. importer: International Cellars, Chantilly, Va. (May 7, 1999)

FOOD MATCH: Served by itself for after-dinner enjoyment as a dessert in its own right.


Quady's Batch 88 "Starboard" California Dessert Wine ($16.99)
In the interest of meeting European Economic Community requirements for export, Quady has dropped the "Port" name with a smiling nautical twist. The wine is very much in the tradition of Oporto, however; if not a great vintage Port, it could certainly pass as an example of the non-vintage "ruby" style. Inky dark garnet in color, it offers plummy fruit and pleasantly earthy nutlike scents. Sweet, pruney fruit flavors are well structured with a lemony acidic "grip." (May 8, 1999)

FOOD MATCH: Again, served alone for evening sipping.

30 Second Wine Link

Artisans on the Web's Wine Accessories page offers a delicious array of wine-related tools and toys, including a variety of corkscrews -- such as the wonderful and extravagant French Laguiole -- wine and bar accessories and redwood wine racks. I gave it a try recently, purchasing a sleek leather "holster" for my Laguiole, and was impressed with the quick, friendly and competent service.

30 Second Advertising Partner

The Wine Lovers' Page is proud to count K&L Wine Merchants of San Francisco among its advertising partners. Boasting an excellent reputation for selection, service and price, K&L will ship wine online to any destination where the law allows, by specific order or through its monthly wine club.

30 Second Administrivia

This free weekly E-mail publication is distributed to subscribers every Monday. The information it contains will later be archived online. Last week's edition is now available for your review.

You are on the subscription list because our records indicate that you registered for it during a visit to Robin Garr's Wine Lovers' Page. If for any reason you don't want to receive this publication, simply send E-mail to 'wine@wine-lovers-page.com' and we'll remove your name from the list.

If your E-mail program is having trouble handling the images in this edition, feel free to request that we switch you from the HTML to TEXT edition ... or vice versa. We also welcome feedback, suggestions, and ideas for future columns. Send us E-mail at wine@wine-lovers-page.com.

All the wine-tasting reports posted here are consumer-oriented. In order to maintain objectivity and avoid conflicts of interest, I purchase all the wines I rate at my own expense in retail stores and accept no samples, gifts or other gratuities from the wine industry.

More time for wine?

You don't need to wait for Mondays to read about wine! Drop in any time on Robin Garr's Wine Lovers' Page, where we add new tasting notes several times each week and frequently expand our selection of wine-appreciation articles, tips and tutorials.

If you'd like to talk about wine online with fellow wine enthusiasts around the world, we'd be delighted to have you visit the interactive forums in our Wine Lovers' Discussion Group. If you're from another part of the world and don't feel entirely comfortable chatting in English, visit our International Forum and introduce yourself in the language of your choice.

<!TODAY'S TEXT ENDS HERE!>