<!TODAY'S TEXT STARTS HERE!>

30 Second Wine Tasting Tip:
Merlot, Mare-low

Not long ago, a lot of people didn't even know what a Merlot was, much less how to pronounce it.

Nowadays, though, folks who knew that asking for Chardonnay was a with-it way to get a glass of white wine have learned that a call for Merlot brings forth a dry, fruity red that's easy to enjoy. (Should you be in any doubt, it's "Mare-low," if you please, with a French twist and the accent on the "Mare.")

The Merlot grape has been cultivated for two centuries or more in France, where its name in dialect reportedly means "little blackbird." Until quite recently, though, it has been used primarily in blended mixtures -- particularly in Bordeaux -- rather than standing on its own.

Some more serious wine fanciers shun the modern unblended Merlots because some of the budget-level examples are one-dimensional and boring, Merlot can make a wine that's soft, fruity and sippable. That's a combination that's hard to dislike!

What's your opinion on Merlot? Great wine, or best reserved for blending? Write me at wine@wine-lovers-page.com if you've got Merlot tales to tell. And, as always, please don't hesitate to drop us a line if you'd like to comment on our topics and tasting notes, suggest a topic for a future bulletin, or just talk about wine.

If you're enjoying The 30 Second Wine Advisor, we hope you'll tell your wine-loving friends to register for their free weekly copy at http://www.wine-lovers-page.com/wineadvisor.

30 Second Tasting Notes

A flock of Merlots

Anticipating this discussion, I've been saving up notes on Merlots for the past few weeks. The following definitely passed muster with me!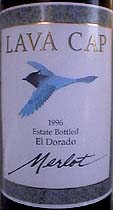 Lava Cap 1996 El Dorado Merlot ($18.99)
The beautiful Sierra Foothills region of Northern California has been making wine just about as long as Napa, but until recently it hasn't gained a whole lot of attention. If it produces many more wines as tasty as this one, though, that will change fast. Inky dark garnet in color, it breathes absolutely delicious scents of black cherries, dark mocha chocolate and a lovely aromatic nuance of the Chinese flavoring called "five spice." Full and bright on the palate, with big fruit and tart acid flavors, it shows good balance and structure and a long finish. (April 27, 1999)

FOOD MATCH: A fine match with a hearty Portuguese-style kale and sausage soup.


The Hogue Cellars 1995 Columbia Valley (Washington State) "Barrel Select" Merlot ($14.99)
Clear reddish purple. Ripe cherry and oaky vanillins add a pleasant whiff of licorice for complexity. Fresh and juicy bowl-o-fruit flavor, just enough acidity for balance although it comes across as soft with all the fruit. Good quaffing wine, although it would be a better fit in the under-$10 niche. (March 30, 1999)

FOOD MATCH: A partial success in a risky match with Kung Pao chicken with peanuts: The wine's ripe fruit is a treat with the chicken and the earthy flavors of brown bean and hoisin sauces and roasted peanuts, but the hot and spicy flavors of this fiery dish would be a problem with any wine.

Casa Lapostolle 1997 "Cuvée Alexandre" Rapel Valley (Chile) Merlot ($19.99)
Very dark blackish-purple, almost opaque, with huge black-cherry and spicy oak aromas that almost seem to leap from the glass to fill the nose and palate. Sufficient acidity for balance, but it's definitely a "fruit bomb." Quite a wine, although at a stunning $8 jump from last year's price, it's pushing the limits on value. U.S. importer: Marnier-Lapostolle Co., NYC, distributed by Schiffelen & Somerset Co. (March 31, 1999)

FOOD MATCH: A natural partner with steaks.

30 Second Wine Link

Scott Davis, who lives just up the river from me in Southern Indiana, is a seismologist by day and a wine lover at night. His Seismo-Zombie Site O' Wine is a labor of love, and always an enjoyable visit.

30 Second Advertising Partner

The Sydney International Wine Competition, our Australian advertising partner, is the only major wine competition in the world that judges the best wines alongside complementary food. Its excellent Website lists all the wines that its judges rated as the world's best, along with recipes and descriptions of the foods that accompanied them.

30 Second Administrivia

This free weekly E-mail publication is distributed to subscribers every Monday. The information it contains will later be archived online. Last week's edition is now available for your review.

You are on the subscription list because our records indicate that you registered for it during a visit to Robin Garr's Wine Lovers' Page. If for any reason you don't want to receive this publication, simply send E-mail to 'wine@wine-lovers-page.com' and we'll remove your name from the list.

If your E-mail program is having trouble handling the images in this edition, feel free to request that we switch you from the HTML to TEXT edition ... or vice versa. We also welcome feedback, suggestions, and ideas for future columns. Send us E-mail at wine@wine-lovers-page.com.

All the wine-tasting reports posted here are consumer-oriented. In order to maintain objectivity and avoid conflicts of interest, I purchase all the wines I rate at my own expense in retail stores and accept no samples, gifts or other gratuities from the wine industry.

More time for wine?

You don't need to wait for Mondays to read about wine! Drop in any time on Robin Garr's Wine Lovers' Page, where we add new tasting notes several times each week and frequently expand our selection of wine-appreciation articles, tips and tutorials.

If you'd like to talk about wine online with fellow wine enthusiasts around the world, we'd be delighted to have you visit the interactive forums in our Wine Lovers' Discussion Group. If you're from another part of the world and don't feel entirely comfortable chatting in English, visit our International Forum and introduce yourself in the language of your choice.

<!TODAY'S TEXT ENDS HERE!>