<!TODAY'S TEXT STARTS HERE!>

30 Second Wine Tasting Tip:
Compare and contrast

Remember back in college days, when the English Lit prof demanded an essay in which you'd sweat out several hundred words to "compare and contrast" two disparate items, presumably illuminating both by analyzing the similarities and difference between each?

I really hated those assignments.

But maturity brings mellowness, and after many years I've developed a certain affection for the compare-and-contrast technique ... when the topic is wine.

Seriously, I've found almost no better way to sharpen your palate quickly than to put two glasses of wine on the same table for a side-by-side tasting. I find that the process of comparing and contrasting -- consciously taking written notes of the ways in which the wines are alike and in which they're different -- fixes their aromas and flavors and overall style in my memory better than any other technique.

If you're concerned about the extravagance of opening two bottles at a time, consider having friends over to share in the fun; use what's left as cooking wine; or hang on to the leftovers and use them for dinner on the following day. Or as a compromise, have the wines on separate nights -- as I did with the two Barberas below -- but take detailed notes and do your best to hold the first wine in your mind until you get around to the second.

Have you tried this? Write me at wine@wine-lovers-page.com and let me know if you've got any comparative-tasting tips or tricks. And, as always, please don't hesitate to drop us a line if you'd like to comment on our topics and tasting notes, suggest a topic for a future bulletin, or just talk about wine.

If you're enjoying The 30 Second Wine Advisor, we hope you'll tell your wine-loving friends to register for their free weekly copy at http://www.wine-lovers-page.com/wineadvisor.

30 Second Tasting Notes

Comparative tastings

I'm devoting a little extra space to tasting notes this week to give you two examples of recent comparative tastings, the first matching two Chenin Blancs from opposite sides of the world in a side-by-side "shootout," the second matching an Old World and New World Barbera tasted on separate occasions.

Two Chenin Blancs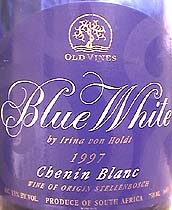 Blue White 1997 Old Vines Stellenbosch (South Africa) Chenin Blanc ($9.99)
The dark-blue glass bottle seemed a little ominous, but the contents were a revelation, showing why South Africa has a considerable reputation for producing dry Chenin Blanc (a grape that the locals sometimes call "Steen"). Pale greenish-gold in color, it boasts an appetizing fresh melon scent; crisp, tart and just barely off-dry flavors follow the nose and dry out completely in a long, fresh-fruit finish. U.S. importer: Whyte Wine Corp., Indianapolis. (April 15, 1999)

FOOD MATCH: Cantonese shrimp with lobster sauce made a surprisingly good match.


Hogue Cellars 1997 Columbia Valley (Washington) Chenin Blanc ($7.49)
Pale straw color, this disappointing wine shows only the faintest scent of undifferentiated citrus fruit; soft and slight on the palate, it resembles slightly fruity sugar water. I had expected more from Hogue, usually a reliable producer of inexpensive wines of good value. But putting this one up against the South African wine in a compare-and-contrast setting left the winner in no doubt. (April 15, 1999)

A pair of Barberas

Bera 1997 Barbera d'Alba ($12.99)
Very dark reddish-purple. Plum and spice aromas, almost like a plum pudding. Full, juicy fruit, forward and jamlike, over a sturdy acidic framework. Dark fruit and spice and astringent but palatable tannins linger in a long finish. Balance and structure make it the better of the two Barberas. U.S. importer: Pellegrini Brothers Wines Inc., South San Francisco, Calif. (April 23, 1999)

FOOD MATCH: A delight with a simple, aromatic Madagascar-style chicken dish, breasts and thighs sauteed with quantities of ginger and garlic.

Boeger 1994 El Dorado (California) Vineyard Select Barbera ($14.99)
Inky dark garnet color. Plummy, almost pruney aromas surround attractive black fruit and spicy oak. Full, juicy fruit flavor, soft on the acid side, but fruit and oak and the warmth of unusually high (14.5%) alcohol hold it together. A rustic wine, the California offspring of Italian immigrant ancestors. (April 3, 1999)

FOOD MATCH: Fine with oven-fried chicken.

30 Second Wine Link

Columnists Bennet and Sheila Bodenstein live in Florida and have been writing witty and literate wine commentary for years. I'm glad to see their column, On Wine, back online at http://www.netcitizen.com/onwine/

30 Second Advertising Partner

The Wine Lovers' Page is proud to count K&L Wine Merchants of San Francisco among its advertising partners. Boasting an excellent reputation for selection, service and price, K&L will ship wine online to any destination where the law allows, by specific order or through its monthly wine club.

30 Second Administrivia

This free weekly E-mail publication is distributed to subscribers every Monday. The information it contains will later be archived online. Last week's edition is now available for your review.

You are on the subscription list because our records indicate that you registered for it during a visit to Robin Garr's Wine Lovers' Page. If for any reason you don't want to receive this publication, simply send E-mail to 'wine@wine-lovers-page.com' and we'll remove your name from the list.

If your E-mail program is having trouble handling the images in this edition, feel free to request that we switch you from the HTML to TEXT edition ... or vice versa. We also welcome feedback, suggestions, and ideas for future columns. Send us E-mail at wine@wine-lovers-page.com.

All the wine-tasting reports posted here are consumer-oriented. In order to maintain objectivity and avoid conflicts of interest, I purchase all the wines I rate at my own expense in retail stores and accept no samples, gifts or other gratuities from the wine industry.

More time for wine?

You don't need to wait for Mondays to read about wine! Drop in any time on Robin Garr's Wine Lovers' Page, where we add new tasting notes several times each week and frequently expand our selection of wine-appreciation articles, tips and tutorials.

If you'd like to talk about wine online with fellow wine enthusiasts around the world, we'd be delighted to have you visit the interactive forums in our Wine Lovers' Discussion Group. If you're from another part of the world and don't feel entirely comfortable chatting in English, visit our International Forum and introduce yourself in the language of your choice.

<!TODAY'S TEXT ENDS HERE!>