<!TODAY'S TEXT STARTS HERE!>

30 Second Wine Tasting Tip:
Glass half empty, glass half full

The correct way (glass at left) and the wrong way.

In the classic definition, a pessimist considers his glass half empty, while an optimist sees it as half full.

But what about wine lovers? When we're enjoying our favorite beverage, it's definitely correct to serve it in a glass that's only half full. Or less.

I fielded this question recently from a reader bemused by the dilemma that besets restaurant service: Many diners, especially those who aren't wine-savvy, will feel cheated if presented a glass that appears to hold a less than generous portion.

But it is definitely best to serve fine wine with plenty of air space left in the glass. The reason for this is simple: Smelling the wine is an important part of enjoying it, and you don't get the full benefit of the smell unless there is room to swirl the wine so it coats the inside of the glass. This sheen of wine on the glass evaporates quickly, releasing the volatile aromas of the wine so you can enjoy them.

Now, if the glass is filled to the top, you can't swirl it, so you don't get all the aroma. But if the restaurant serves only a half-glass, it looks like they're being cheap. It's a no-win situation.

Typically, luxury restaurants with a commitment to wine will serve large glasses only half-filled, and will expect that their customers are familiar with wine and understand this. But I've found that most family-oriented restaurants use smaller glasses but fill them to the top, becuase they don't want people to think they're being stingy.

As a wine enthusiast, I would much rather have fine wines served the correct way. But if I'm in a less expensive restaurant and having a more casual wine, then I probably won't object to the full glass.

What's your opinion? Do you have funny or instructive stories about restaurant wine service? Contact me by E-mail at wine@wineloverspage.com. I regret that the growing circulation of the "Wine Advisor" makes it difficult for me to reply individually to every note, but I'll answer as many as I can; and please be assured that all your input helps me do a better job of writing about wine.

We hope you'll invite your wine-loving friends to register for their own free weekly copy at http://www.wineloverspage.com/wineadvisor.

Important administrative note
about the next two issues

My wife Mary and I are excitedly preparing for a two-week tour of several wine regions in Northern Italy and Southern France, and looking forward to returning home with lots of wine notes, stories and photos to share with you all.

While we're away, I hope to be able to maintain something close to a routine production schedule for The 30 Second Wine Advisor, but based on the realities of the demands of travel and connectivity issues from Europe, please be aware that I may not be able to distribute the bulletin at the usual time on Mondays. At best, all subscribers will receive a shorter, text-only edition that may or may not arrive at the usual time. At worst, technology will defeat us, and there may be no issue until May 15, the Monday after we return home. But we'll do our best, and hope to be able to stay in touch! (Please note also that I probably won't be able to respond to administrative requests such as address changes, unsubscribe or re-subscribe requests until we return home.)

Finally, if any of you happen to live near or will be traveling along our route - Milan to the Langhe region (Alba, Asti, Barolo) in Northwestern Italy, then Bandol in Provence, Avignon, Bordeaux and Paris - please feel free to get in touch by E-mail to wine@wineloverspage.com. Perhaps we can get together to enjoy a glass of wine!

30 Second Tasting Notes:
Anticipating Europe

Looking forward to our tour of Italy and France, we've been enjoying a few wines from destinations along the route: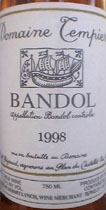 Domaine Tempier 1998 Bandol Rosé ($19.99)
Clear bronze in color with a clear brownish hue, this high-end rosé shows more herbs than fruit in the big, open aroma: Lavender and thyme scents perhaps inspired in the taster's mind by thoughts of Provence. Bone-dry and tartly acidic on the palate, it's fresh, clean and lingering. U.S. importer: Kermit Lynch Wine Merchant, Berkeley, Calif. (April 23, 2000)
FOOD MATCH: Works very well indeed with a sweet, honey-touched Easter ham.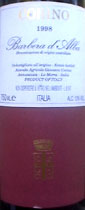 Corino 1998 Barbera d'Alba ($12.99)
Dark ruby, with minty black-fruit and pleasant leathery aromas, like sniffing the binding of an old, leather-bound book. Big, juicy fruit flavors are followed by the firm but palatable astringency of youthful tannins; black fruit, herbs and spice persist over lemon-squirt acidity in a long finish. This excellent wine reminds me of the curious reality that the wines based on Nebbiolo grapes may command the greatest respect (and price) in the Piemontese wines of Northwestern Italy, but Barbera surely makes wonderful table wines of great enjoyment at a relatively affordable price. U.S. importer: A Mark de Grazia Selection, represented in this region by Vintner Select, Cincinnati. (April 22, 2000)


Seghesio 1998 Dolcetto d'Alba Vigneto della Chiesa ($11.99)
Inky dark garnet, with dark fruit and floral aromas reminiscent of violets and a hint of slightly dank oak barrels. Better on the palate, ripe if light-bodied, with a hint of tart tomato-skin flavors over fresh fruit. U.S. importer: A Mark de Grazia Selection, represented in this region by Vintner Select, Cincinnati. (April 22, 2000)

FOOD MATCH: Both Alba reds above work well with a T-bone with a roast-pepper velouté, but the Barbera's robust body and earthy flavors make it a standout match.

30 Second Wine Link
www.fresnobee.com's "Wine Cellar"

Located in California's hot Central Valley, the Fresno "Bee" newspaper covers both the mass-market jug-wine industry, whose industrial operations and vast vineyards produce an ocean of inexpensive wine, and the high-end boutique wine country closer to the Pacific Coast. The Bee's online wine columnist, Mark Arvanigian, writes about all styles of wine with a casual, non-snob approach that makes for easy reading. His column appears in the newspaper's Web edition every Wednesday at http://www.fresnobee.com/winecellar/.

The week's 30 Second Advertising Partner

California Wine Club, www.cawineclub.com, is the perfect, affordable way to get two different bottles of excellent wine every month, along with its fun and fact-filled newsletter Uncorked. Commercially unavailable, these wines are like secret treasures we hand-select from California's small, award-winning wineries. Join for as many months as you like, or use The California Wine Club as a special, unique gift for friends, family, customers and colleagues. You can reach the Club at the link above or, in the U.S., by calling 1-800-777-4443.

30 Second Administrivia

This free weekly E-mail publication is distributed to subscribers every Monday. Previous editions are archived on The Wine Lovers' Page. See www.wineloverspage.com/wineadvisor/thelist.shtml.

You are on the subscription list because our records indicate that you registered during a visit to Robin Garr's Wine Lovers' Page. If for any reason you don't want to receive this publication, simply send E-mail to 'wine@wineloverspage.com' and we'll remove your name from the list. We do not use this list for any other purpose and will never give or sell your name or E-mail to anyone.

If your E-mail program is having trouble handling the images in this edition, feel free to request that we switch you from the HTML to TEXT edition ... or vice versa. We welcome feedback, suggestions, and ideas for future columns. Send us E-mail at wine@wineloverspage.com.

All the wine-tasting reports posted here are consumer-oriented. In order to maintain objectivity and avoid conflicts of interest, I purchase all the wines I rate at my own expense in retail stores and accept no samples, gifts or other gratuities from the wine industry.

More time for wine?

You don't need to wait for Mondays to read about wine! Drop in any time on Robin Garr's Wine Lovers' Page, where we add new tasting notes several times each week and frequently expand our selection of wine-appreciation articles, tips and tutorials.

If you'd like to talk about wine online with fellow wine enthusiasts around the world, we'd be delighted to have you visit the interactive forums in our Wine Lovers' Discussion Group. If you're from another part of the world and don't feel entirely comfortable chatting in English, visit our International Forum and introduce yourself in the language of your choice.

Vol. 2, No. 14, April 24, 2000

<!TODAY'S TEXT ENDS HERE!>

Subscribe (free) to The 30 Second Wine Advisor