<!TODAY'S TEXT STARTS HERE!>

30 Second Wine Tasting Tip:
Party time: How much to buy?

How much wine should you buy for a large party? This question from a reader seemed timely in these parts, with the party-rich Kentucky Derby season upon us.

It's always hard to predict how a crowd will behave, and a lot depends on whether your friends like to drink, how many of them prefer wine or beer, how long the party will last, etc.

But by working with a few basic principles, you can usually come up with a good estimate. First, consider the standard wine bottle. It was originally one-fifth of a gallon in English-speaking countries -- a measure that, legend has it, represented a ration for one full-grown adult with dinner in olden times, when men were men, or wine was weaker.

Now turned metric at 750 ml, a reasonably close approximation of the traditional "fifth," it contains enough wine for five 5-ounce glasses, a fairly standard serving. If you assume that half of your guests will want wine, and that they'll average two glasses each (some drinking only one, others three or four), then you have a starting point for calculating your shopping list.

So, if you're inviting 90 pals to your lawn party, you might assume that half of them will take wine; assume an average of two glasses for each and you get 90 glasses, which divided by five makes 18 bottles or 1 1/2 cases of 12. I'd err on the high side by purchasing two cases (choosing a store that offers a discount for case purchases). Beer for the rest -- assume three bottles each -- and soft drinks for the teetotalers in attendance. The chances are that you'll have leftovers to stock your bar; but if you're thrifty, you might ask in advance if the wine shop is willing to take back unopened bottles.

I get this question so often, I'd love to hear if any of you have worked out effective formulas for calculating a party purchase. Write me at wine@wine-lovers-page.com. And, as always, please don't hesitate to drop us a line if you'd like to comment on our topics and tasting notes, suggest a topic for a future bulletin, or just talk about wine.

If you're enjoying The 30 Second Wine Advisor, we hope you'll tell your wine-loving friends to register for their free weekly copy at http://www.wine-lovers-page.com/wineadvisor.

30 Second Tasting Notes

Two tasty and affordable Italian reds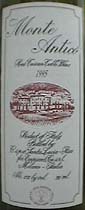 Monte Antico 1995 Red Tuscan Table Wine ($9.99)
Very dark ruby in color, this bargain red breathes ripe sour-cherry fruit and a distinct but pleasant whiff of "barnyard," the scent of country lanes on summer nights. A load of tart but juicy red fruit graces the palate, firmly structured with lemony acidity, earthy and lasting. A gift from friends in Boston who took pity on me because I haven't been able to find this one at home, it's widely available for well under $10, making it a best buy. U. S. importer: Empson (USA) Inc., Alexandria, Va. (April 13, 1999)

FOOD MATCH: Red wine with seafood? This fruity-tart treat went surprisingly well with a spicy Cajun shrimp barbecue.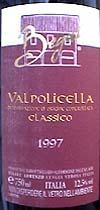 Begali 1997 Valpolicella Classico ($9.99)
Clear ruby. Fresh red-fruit aromas with floral hints of violets and aromatic new oak. Ripe and very tart, flavors follow the nose; there's a clean, pleasant bitter-almond quality in a long finish. U.S. importer: Pellegrini Family Vineyards, South San Francisco, Calif. (April 14, 1999)

FOOD MATCH: Fine with pan-grilled strip steaks.


30 Second Wine Link

What is the Hospice du Rhône? This new Website at www.hospicedurhone.com/ is a California-based international affiliation of wineries that produce wines from Rhône grape varieties. Check the site for information about their annual barrel tasting.

30 Second Advertising Partner

Robert Parker's Wine Advisor & Cellar Manager is the first and only software developed in conjunction with Robert Parker and derived from his newsletter, The Wine Advocate. It combines an extensive database of wine information with a unique Visual Cellar Manager. You'll find it at http://www.winetech.com.
30 Second Administrivia

This free weekly E-mail publication is distributed to subscribers every Monday. The information it contains will later be archived online. Last week's edition is now available for your review.

You are on the subscription list because our records indicate that you registered for it during a visit to Robin Garr's Wine Lovers' Page. If for any reason you don't want to receive this publication, simply send E-mail to 'wine@wine-lovers-page.com' and we'll remove your name from the list.

If your E-mail program is having trouble handling the images in this edition, feel free to request that we switch you from the HTML to TEXT edition ... or vice versa. We also welcome feedback, suggestions, and ideas for future columns. Send us E-mail at wine@wine-lovers-page.com.

All the wine-tasting reports posted here are consumer-oriented. In order to maintain objectivity and avoid conflicts of interest, I purchase all the wines I rate at my own expense in retail stores and accept no samples, gifts or other gratuities from the wine industry.

More time for wine?

You don't need to wait for Mondays to read about wine! Drop in any time on Robin Garr's Wine Lovers' Page, where we add new tasting notes several times each week and frequently expand our selection of wine-appreciation articles, tips and tutorials.

If you'd like to talk about wine online with fellow wine enthusiasts around the world, we'd be delighted to have you visit the interactive forums in our Wine Lovers' Discussion Group. If you're from another part of the world and don't feel entirely comfortable chatting in English, visit our International Forum and introduce yourself in the language of your choice.

<!TODAY'S TEXT ENDS HERE!>