<!TODAY'S TEXT STARTS HERE!>

30 Second Wine Tasting Tip:
Farewell to a smiling curmudgeon


CURMUDGEON (kur-MUD-jin) noun
An ill-tempered person full of resentment and stubborn notions. A grasping, miserly churl.


Jerry Mead, the long-time U.S. wine writer, wine educator and wine judge who died last week after a long battle against lymphoma and heart disease, called himself a "curmudgeon," but the reality of the man was in no way akin to the dictionary definition of the term.

One of America's best known and well-loved wine writers, Mead was editor and publisher of Wine Trader magazine. When he signed his weekly columns as "The Wine Curmudgeon (TWC)," he did so with a big belly laugh, alluding to his righteous anger at intervention by government, lobbyists and the whole realm of opponents that he called "neo-Prohibitionists" into what he saw as the free-spirited, free-market world of wine.

Said his old friend, wine lover and wine writer Randy "Bucko" Buckner, "Jerry was a pioneer in the fight against government intervention into the world of wine. One of the longest running columnists in America, his articles have been followed by winelovers around the world. His New World International Wine Competition started off the year's rounds of judgings. Jerry was only 61 years old. He will be deeply missed."

In Jerry's memory, let's take one last look at a few of his curmudgeonly comments from recent editions of Wine Trader, which remain online as of this date at http://www.wines.com/winetrader/index.html:
There are still folks who do not see the constant erosion of freedoms to do business connected with adult beverages, and a wave of new laws attacking wine, beer and spirits from every side, as a neo-Prohibitionist conspiracy. But that's just what it is, folks ...

***

With credit to an organization called "Guest Choice Network," TWC will retell the perfect fable to describe the current neo-Prohibition movement, where they whittle away and visit the new Prohibition on us a little bit at a time, one new law, one new restriction at a time.

It has been said that if you place a bullfrog in a pot of boiling water, he'll jump right out. But if you place the same frog in a pot of tepid water and slowly turn up the heat, he won't notice he's boiling to death until it's too late.

Don't be a bullfrog in our currently fashionable, anti-wine, "nanny" society.

***

Airborne Express has announced that it will no longer handle any wine shipments, even legal ones to reciprocal states, trade to trade legal shipments such as between producers/importers and either wholesalers or state regulatory agencies in monopoly states.

TWC suggests that wine lovers and those in the trade stop doing any business of any kind with Airborne, and if anyone should inquire why ... tell them. Even if all your company ships is widgets, Airborne should get the message that it's customers do not approve of it refusing legal shipments.



In addition to Wine Trader, Mead wrote about wine for many publications over some 30 years. He was a founder of the Orange County (Calif.) Fair wine competition, the annual Jerry D. Mead New World International Wine Competition in San Bernardino, Calif., and a consumer organization, Wine Investigation for Novices and Oenophiles (W.I.N.O.).
A private family service was held. His family has asked that in lieu of flowers, contributions be sent to:
Jerry Mead Medical Fund
c/o Edwin Schwartz Public Relations
3275 Sacramento Street
San Francisco CA 94115
or
St. Mary's Foundation
St. Mary's Regional Medical Center
235 W 6th Street
Reno NV 89520-9914
Comments? Questions? Contact me by E-mail at wine@wineloverspage.com. I regret that the growing circulation of the "Wine Advisor" makes it difficult for me to reply individually to every note, but I'll answer as many as I can; and please be assured that all your input helps me do a better job of writing about wine.
We hope you'll invite your wine-loving friends to register for their own free weekly copy at http://www.wineloverspage.com/wineadvisor.
30 Second Tasting Notes:
Three for under $10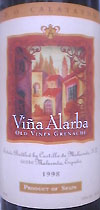 Viña Alarba 1998 Old Vines Grenache Calatayud (Spain) ($5.99)
Dark ruby, with a light, fresh aroma of black cherries and a delicately herbaceous "stemmy" quality that develops with time in the glass. Crisp red-fruit flavors and fresh-fruit acidity with a whiff of fragrant black pepper. A light but well-balanced wine, pleasant for quaffing or washing down simple food. U.S. importer: Jorge Ordoñez, represented locally by Vintner Select, Cincinnati. (April 16, 2000)

FOOD MATCH: Satisfactory match with a pan-grilled T-bone, if a bit light to be a perfect marriage.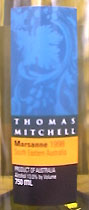 Thomas Mitchell 1998 South Eastern Australia Marsanne ($8.99)
Clear straw color, with luscious fresh melon and mango aromas. Crisp and juicy white fruit flavors follow the nose, with a pleasant hint of bitter almond in the finish. An stylish use of this white Rhone varietal from Australia, and a particularly good value. U.S. importer: Dreyfus, Ashby & Co., NYC. (April 14, 2000)

FOOD MATCH: Couldn't ask for a better match with grilled shad with lemon butter.


Chateau Mas Neuf 1997 Costieres de Nîmes ($7.99)
Slightly hazy dark ruby color, with appetizing red-fruit, black-pepper and subtle herbal aromas. Full-bodied and bright, fresh fruit and crisp acidity on the palate. A good, rustic table red, fine with food. U.S. importer: Kysela Pere et Fils, Winchester, Va. (May 11, 2000)

FOOD MATCH: Light enough not to overpower a simple veal chop.


30 Second Wine Link
Origins and Ancient History of Wine

You think museums are dry and dusty? Not the University of Pennsylvania Museum of Archaeology and Anthropology's online The Origins and Ancient History of Wine! Recently updated and worth a return visit if you haven't dropped by recently, this online survey of ancient wine history takes as its theme, "We continue to live out our past by drinking wine made from a plant that has its origins in the ancient Near East." Current features cover the Neolithic (Stone Age) Period, ancient Egypt and Mesopotamia, and articles about ancient evidence and modern technology; mapping wine's whereabouts then and now; nature's ingredients; and the "wine challenge" interactive quiz.

The week's 30 Second Advertising Partner

California Wine Club, www.cawineclub.com, is the perfect, affordable way to get two different bottles of excellent wine every month, along with its fun and fact-filled newsletter Uncorked. Commercially unavailable, these wines are like secret treasures we hand-select from California's small, award-winning wineries. Join for as many months as you like, or use The California Wine Club as a special, unique gift for friends, family, customers and colleagues. You can reach the Club at the link above or, in the U.S., by calling 1-800-777-4443.

30 Second Administrivia

This free weekly E-mail publication is distributed to subscribers every Monday. Previous editions are archived on The Wine Lovers' Page. See www.wineloverspage.com/wineadvisor/thelist.shtml.

You are on the subscription list because our records indicate that you registered during a visit to Robin Garr's Wine Lovers' Page. If for any reason you don't want to receive this publication, simply send E-mail to 'wine@wineloverspage.com' and we'll remove your name from the list. We do not use this list for any other purpose and will never give or sell your name or E-mail to anyone.

If your E-mail program is having trouble handling the images in this edition, feel free to request that we switch you from the HTML to TEXT edition ... or vice versa. We welcome feedback, suggestions, and ideas for future columns. Send us E-mail at wine@wineloverspage.com.

All the wine-tasting reports posted here are consumer-oriented. In order to maintain objectivity and avoid conflicts of interest, I purchase all the wines I rate at my own expense in retail stores and accept no samples, gifts or other gratuities from the wine industry.

More time for wine?

You don't need to wait for Mondays to read about wine! Drop in any time on Robin Garr's Wine Lovers' Page, where we add new tasting notes several times each week and frequently expand our selection of wine-appreciation articles, tips and tutorials.

If you'd like to talk about wine online with fellow wine enthusiasts around the world, we'd be delighted to have you visit the interactive forums in our Wine Lovers' Discussion Group. If you're from another part of the world and don't feel entirely comfortable chatting in English, visit our International Forum and introduce yourself in the language of your choice.

Vol. 2, No. 13, April 17, 2000

<!TODAY'S TEXT ENDS HERE!>

Subscribe (free) to The 30 Second Wine Advisor