<!TODAY'S TEXT STARTS HERE!>

30 Second Wine Tasting Tip:
Who'll have the first Vintage Y2K?

Amid all the pre-millenial hype about the Western world's cosmic calendar rolling over to 2000 at the end of this year, here's a wine-related question: Where will the first Vintage 2000 wine to hit the shelves come from, and what kind of wine will it be?

It's a sure bet that there'll be an international race to be first. No one knows who'll win, but here are a few safe assumptions about the first "Nouveau Y2K":

* It will certainly be grown in the Southern Hemisphere. The seasons south of the equator are "upside down," with summer in December and winter in June; so autumn, the harvest season in grape-growing climates, may start as early as February, when we in the north are still waiting for spring.

* It won't come from an equatorial country, as the climate in the tropics won't support wine grapes. The major wine-producing countries in the Southern Hemisphere are Australia, New Zealand, South Africa, Chile and Argentina, with limited wine production in places like Uruguay, Brazil, Peru and Zimbabwe. Your first wine of 2000 will be from one of these countries, I'm sure.

* It won't be a hearty red wine or heavy dessert wine. These wines require substantial aging in tanks, vats, barrels and bottles before they come to market. The quickest wines to market are the "nouveau" styles akin to Beaujolais, and very light and fresh whites.

My best guess? Someone in one of the hotter regions of Australia will crank out a "Nouveau Beaujolais," a light, fruity red, made from the first red grapes they can harvest. If they are able to get the grapes picked in February, they could have a Vintage 2000 wine on the market by April. (On the other hand, don't count out a savvy North American mass-market winery with properties in South America, such as the huge Canandaigua Wine Co., which produces a jug wine called Marcus James from grapes grown in ... Brazil.)

Many thanks to Greg Ciosek for posing this question. If you have a theory about the first Y2K wine, I hope you'll write me at wine@wine-lovers-page.com. And, as always, please don't hesitate to drop us a line if you'd like to comment on our topics and tasting notes, suggest a topic for a future bulletin, or just talk about wine.

If you're enjoying The 30 Second Wine Advisor, we hope you'll tell your wine-loving friends to register for their free weekly copy at http://www.wine-lovers-page.com/wineadvisor.

30 Second Tasting Notes

Alsace Pinot Gris: "Trying to be red"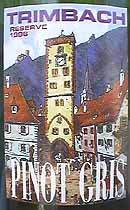 Trimbach 1996 Alsace Pinot Gris Reserve ($15.49)
Pale straw color. Appetizing musky melon and citric aromas, fresh and full, lead into ripe, juicy fruit flavors that follow the nose, structured with steely acidity. Robust and complex, a wine that my wife declares "is a white trying to be red." She's right! U. S. importer: Seagram Chateau & Estates Wines Co., NYC. (April 10, 1999)

FOOD MATCH: Perfect with fresh spring asparagus wrapped in prosciutto and baked with fontina and sharp provolone cheeses.


30 Second Wine Link

My friend Arthur Johnson, a man equipped with both an excellent palate and a first-rate writing style, has opened an outstanding Website, "Wine People," wine-people.com It focuses in particular on well-told stories of his visits with wine makers around the world, as well as a large collection of his tasting notes.

30 Second Advertising Partner

Chateau Haut-Brion (haut-brion.com), one of the five declared "first growths" in the 1855 Classification of the Medoc, offers an educational (no wine sales) Website that's well worth a visit.

30 Second Administrivia

This free weekly E-mail publication is distributed to subscribers every Monday. The information it contains will later be archived online. Last week's edition is now available for your review.

You are on the subscription list because our records indicate that you registered for it during a visit to Robin Garr's Wine Lovers' Page. If for any reason you don't want to receive this publication, simply send E-mail to 'wine@wine-lovers-page.com' and we'll remove your name from the list.

If your E-mail program is having trouble handling the images in this edition, feel free to request that we switch you from the HTML to TEXT edition ... or vice versa. We also welcome feedback, suggestions, and ideas for future columns. Send us E-mail at wine@wine-lovers-page.com.

All the wine-tasting reports posted here are consumer-oriented. In order to maintain objectivity and avoid conflicts of interest, I purchase all the wines I rate at my own expense in retail stores and accept no samples, gifts or other gratuities from the wine industry.

More time for wine?

You don't need to wait for Mondays to read about wine! Drop in any time on Robin Garr's Wine Lovers' Page, where we add new tasting notes several times each week and frequently expand our selection of wine-appreciation articles, tips and tutorials.

If you'd like to talk about wine online with fellow wine enthusiasts around the world, we'd be delighted to have you visit the interactive forums in our Wine Lovers' Discussion Group. If you're from another part of the world and don't feel entirely comfortable chatting in English, visit our International Forum and introduce yourself in the language of your choice.

<!TODAY'S TEXT ENDS HERE!>