<!TODAY'S TEXT STARTS HERE!>

30 Second Wine Tasting Tip:
"Cellaring" - it's not for every wine

One of the most enduring images of the wine "connoisseur" places this stereotypical gent in a dim wine cellar, delightedly examining an ancient bottle draped in cobwebs and covered with dust.

In fact, however, very few wines are meant for aging. About 99 percent of the world's wines -- particularly those from the budget shelf -- should be drunk up soon after manufacture and purchase, while they are young and fresh. This is true of the great majority of white wines as well as the lighter reds, which won't mature gracefully with age but simply lose their fresh fruit and become dull and tired. Whatever the color, whatever the provenance, most wines are best enjoyed within a year of purchase.

So which wines do improve with age? Sturdy reds, mostly, wines that contain natural tannins, which may be harsh and astringent in youth but evolve with gentle aging into complex, delicious aromas and flavors. The better Cabernet Sauvignons from California and Australia fall into this category, as do their progenitors, the French Bordeaux, made from blends of Cabernet Sauvignon, Merlot and other red grapes. Ditto for top wines made with Syrah, which the Australians call Shiraz. Other ageworthies include such full-bodied Italian reds as Barolo, Brunello, Gattinara. The best Burgundies and their cousins made from Pinot Noir. Robust Spanish reds including Rioja and Ribera del Duero and Priorat. And the dessert wines: The great Sauternes of France, the sweet late-harvested Rieslings of Germany and, most of all, Vintage Port from Portugal. These, in general, are the wines most likely to mellow into a memorable, balanced complexity, given careful aging under good cellar conditions.

Fine wine should be kept in a cool, quiet place, lying on its side so the cork stays wet. A constant temperature of 55F (13C) is strongly preferred, but hard to attain in a modern home unless you have a natural wine cellar or expensive wine-refrigeration unit. Lacking this, if you can't keep your wine below 70F (21C), I don't recommend trying to cellar your wines for longer than five years or so. (Keeping wine in the refrigerator is not recommended for the long term, because it's too cold, and the frequent vibration of the compressor motor may be bad for the wine.)

Finally, a good book to help sort this all out is Hugh Johnson's Pocket Encyclopedia of Wine, a remarkable little volume that costs only $13 in the U.S. Filled with information in tiny type, it lists literally thousands of wines from around the world, and includes with each listing the author's advice as to which vintages are good and which need time to mature. It's available at a discount in our Amazon.com Wine Bookstore, www.wine-lovers-page.com/winebook.shtml

If you have a question about cellaring or a story about your experiences with older wine, please drop me a note at wine@wine-lovers-page.com. And, as always, please don't hesitate to drop us a line if you'd like to comment on our topics and tasting notes, suggest a topic for a future bulletin, or just talk about wine.

If you're enjoying The 30 Second Wine Advisor, we hope you'll tell your wine-loving friends to register for their free weekly copy at http://www.wine-lovers-page.com/wineadvisor.

30 Second Tasting Notes

A fragrant pair for spring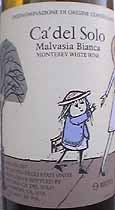 Ca' del Solo 1997 Malvasia Bianca Monterey White Wine ($9.49) Despite the very Italian-sounding name and the wine's fine Italian style, this delicious dry white is pure California, made by Bonny Doon, a winery known for both the quality of its wines and the sense of humor of its wine maker, Randall Grahm. It's a clear pale-gold in color, with an amazing floral scent that wafts from the glass, evoking the image of a blossoming apple orchard on a sunny spring day. Its full-bodied flavor is crisp and tart, showing hints of apple, lemons and limes, with lovely apple-blossom notes hanging on in a very long finish. (March 29, 1999)

FOOD MATCH: Good with linguine in white clam sauce, although a sturdier seafood dish might have offered better balance with this aromatic wine.


I Campetti 1997 Almabruna Maremma Toscano Bianco ($17.99) This one really is Italian, made from Viognier, a variety known for intense floral aromas. The wine is clear and golden, with a pleasant scent of wildflowers that my wife, the gardener, likens to evening primroses. I'll take her word for that; sniffing the glass instantly brings up a mind picture of a walk through a spring meadow. Crisp and very tart, the wine's juicy white-fruit flavor and snappy acidity make it a natural with food. U.S. importer: Vintner Select, Cincinnati; a Marc de Grazia Selection. (April 1, 1999)

FOOD MATCH: Surprisingly well-matched with ham steaks.


30 Second Wine Link

If you're looking for just about anything involving wine on the Web, Vine2Wine.com offers an impressive overall catalog of wine-related links.

30 Second Advertising Partner

Robert Parker's Wine Advisor & Cellar Manager is the first and only software developed in conjunction with Robert Parker and derived from his newsletter, The Wine Advocate. It combines an extensive database of wine information with a unique Visual Cellar Manager. You'll find it at http://www.winetech.com.

30 Second Administrivia

This free weekly E-mail publication is distributed to subscribers every Monday. The information it contains will later be archived online. Last week's edition is now available for your review.

You are on the subscription list because our records indicate that you registered for it during a visit to Robin Garr's Wine Lovers' Page. If for any reason you don't want to receive this publication, simply send E-mail to 'wine@wine-lovers-page.com' and we'll remove your name from the list.

If your E-mail program is having trouble handling the images in this edition, feel free to request that we switch you from the HTML to TEXT edition ... or vice versa. We also welcome feedback, suggestions, and ideas for future columns. Send us E-mail at wine@wine-lovers-page.com.

All the wine-tasting reports posted here are consumer-oriented. In order to maintain objectivity and avoid conflicts of interest, I purchase all the wines I rate at my own expense in retail stores and accept no samples, gifts or other gratuities from the wine industry.

More time for wine?

You don't need to wait for Mondays to read about wine! Drop in any time on Robin Garr's Wine Lovers' Page, where we add new tasting notes several times each week and frequently expand our selection of wine-appreciation articles, tips and tutorials.

If you'd like to talk about wine online with fellow wine enthusiasts around the world, we'd be delighted to have you visit the interactive forums in our Wine Lovers' Discussion Group. If you're from another part of the world and don't feel entirely comfortable chatting in English, visit our International Forum and introduce yourself in the language of your choice.

<!TODAY'S TEXT ENDS HERE!>