<!TODAY'S TEXT STARTS HERE!>

30 Second Wine Tasting Tip:
Sulfites in wine: Why the warning label?

Here's the simple fact: All wines contain sulfites. Sulfites are created naturally as a byproduct of fermentation in the wine-making process, and they have also been added by wine makers for thousands of years as a natural preservative.

Unfortunately, a very tiny proportion of people are allergic to sulfites, a dangerous and potentially fatal allergy. Sulfite-sensitive individuals who have survived into adulthood know what they must avoid, a list that includes wine, fruit juice, sausages, salad bars and many other foodstuffs that routinely use sulfiting in production.

Although the threat is small, the U.S. Food and Drug Administration (FDA) has required since 1987 that all foodstuffs containing more than 10 parts per million of sulfites -- which includes virtually all wines -- must bear a warning label. Wines made in the U.S. may contain as much as 350 parts per million, an extreme level, rarely attained except perhaps in cheap jug wines, at which point the sulfur may be perceptible as a pungent aroma resembling a burnt match. (Some processed foods, in contrast, contain up to 6,000 parts per million.)

If you find that you get stuffy or headachy after drinking wine, you are most likely reacting to histamines, a common allergen that occurs primarily in red wines. These symptoms are not typical of a sulfite allergy. If you have any reason to think you may be sulfite-sensitive -- a history of severe asthma, for instance -- you should certainly seek a doctor's advice.

But be reassured that the number of people afflicted by this allergy is vanishingly small. FDA's Adverse Reaction Monitoring System, which keeps track of reported sulfite reactions in the U.S., listed just 1,097 such cases between 1985 and 1995 -- and that year, after nearly a decade of regulation, only six such cases were reported nationwide, involving sulfites from all food sources, not just wine.

(I'll ask your pardon for turning our usual 30-second report into something more like a 60-second read this morning; I get so many questions on this topic, and so many people are concerned about it, that it seemed worth a few extra words.)

If you have thoughts or personal experiences that you'd like to share involving sulfites and wine allergies, drop me a note at wine@wine-lovers-page.com. And, as always, please don't hesitate to drop us a line if you'd like to comment on our topics and tasting notes, suggest a topic for a future bulletin, or just talk about wine.

If you're enjoying The 30 Second Wine Advisor, we hope you'll tell your wine-loving friends to register for their free weekly copy at http://www.wine-lovers-page.com/wineadvisor.

30 Second Tasting Notes

Chinon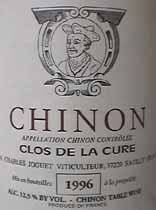 If you think of red wines as invariably full-bodied and hearty, the light, tart reds of Chinon in the Loire may come as a surprise. Made from the Cabernet Franc grape, these wines are generally light-bodied but tartly acidic -- which sometimes makes them a particularly pleasant match with food -- and often show a distinctive "green," herbaceous quality.

Charles Joguet 1996 Close de la Cure Chinon ($14.99)
Dark garnet in color. Highly aromatic scents of blueberries and a marked, not unpleasant quality of cooked green beans rise from the glass. Fresh, acidic, it's light-bodied but full-flavored, with tart berry and vegetal flavors. U.S. importer: Kermit Lynch Wine Merchant, Berkeley, Calif. (March 25, 1999)

FOOD MATCH: Expecting a lot of aromatics in the wine, I crafted a Near Eastern-style chicken pilaf laced with cinnamon and allspice flavors, and the aroma combination worked very well.


(I'll post this report, along with notes on another Joguet Chinon, on The Wine Lovers' Page later this week.)

30 Second Wine Link

I recently discovered Dr. Paul White's Wine Sense, a Sensual Guide to Wine and Wine Tasting, and I've already bookmarked this New Zealand-based site for return visits. Stylish in design and comprehensive in content, it offers plenty of useful information about wine.

30 Second Advertising Partner

When we lived in New York City, one of my favorite wine shops was Garnet Wines & Liquors, an Upper East Side retailer with a jumble of wines on closely packed shelves where I could almost always find something of interest at a reasonable price. Garnet's new Website, our latest advertising partner, resembles the bricks-and-mortar store both in its selection and in its good, no-nonsense wine commentary by Robert Callahan, one of the most knowledgeable wine experts I know of.

Special note: Images and formatting

We've switched from Outlook Express Version 4.0 to Version 5.0 to mail this week's edition. While I don't anticipate any technical difficulties, if any of you notice problems -- particularly if the images and formatting don't appear correctly in the HTML edition -- please let me know!

30 Second Administrivia

This free weekly E-mail publication is distributed to subscribers every Monday. The information it contains will later be archived online. Last week's edition is now available for your review.

You are on the subscription list because our records indicate that you registered for it during a visit to Robin Garr's Wine Lovers' Page. If for any reason you don't want to receive this publication, simply send E-mail to 'wine@wine-lovers-page.com' and we'll remove your name from the list.

If your E-mail program is having trouble handling the images in this edition, feel free to request that we switch you from the HTML to TEXT edition ... or vice versa. We also welcome feedback, suggestions, and ideas for future columns. Send us E-mail at wine@wine-lovers-page.com.

All the wine-tasting reports posted here are consumer-oriented. In order to maintain objectivity and avoid conflicts of interest, I purchase all the wines I rate at my own expense in retail stores and accept no samples, gifts or other gratuities from the wine industry.

More time for wine?

You don't need to wait for Mondays to read about wine! Drop in any time on Robin Garr's Wine Lovers' Page, where we add new tasting notes several times each week and frequently expand our selection of wine-appreciation articles, tips and tutorials.

If you'd like to talk about wine online with fellow wine enthusiasts around the world, we'd be delighted to have you visit the interactive forums in our Wine Lovers' Discussion Group. If you're from another part of the world and don't feel entirely comfortable chatting in English, visit our International Forum and introduce yourself in the language of your choice.

<!TODAY'S TEXT ENDS HERE!>