<!TODAY'S TEXT STARTS HERE!>

30 Second Wine Tasting Tip:
Ethics in the wine shop


You walk into a wine shop and spot an amazing bargain: Tucked into a bin full of $10 Cotes-du-Rhones, there's a Cote-Rotie from the same maker, a high-end wine with a similar label. It's a wine that usually sells for $35, but it's wearing the same $10 sticker as its downscale companions in the bin.

What do you do? Do you tell the shopkeeper? Pass on the opportunity but say nothing? Or gleefully place it in your shopping basket to take advantage of an apparent error?

Wine lover David Seidner of Arizona came up with this question recently in our online Wine Lovers' Discussion Group, http://www.wldg.com, where it attracted dozens of thoughtful responses that ranged all over the ethical map. For this week's edition, I thought you would enjoy a peek at some of the replies - and, if you like (see below), an opportunity to log on to our group and join in the debate.

A Pennsylvania reader argued in favor of the "give them one chance" option: "I give the shop one chance to correct the error, usually by asking a knowledgable clerk for a price check. In my experiences, the clerk notices the error in about 60 percent of the cases. If they don't, I do not feel the obligation to attempt anything further. I buy and consider it my lucky day."

A participant in New Zealand took a tougher line, though, saying, "I am firmly of the belief that people working with the product should totally understand the product. If they put an expensive wine in the bargain bin, with a bargain sticker on it, then that is the price they have to sell it for (well in NZ, anyway as we have a 'Fair Trading Act')."

A gentleman in Paris viewed the moral issue this way: "If I thought for one second that an innocent cleck would pay the difference, I would never purchase at a false low price. Otherwise, unless I knew the store owner, I'd consider it a good buy and be happy to take it. It isn't up to the customer to ensure correct labeling and they'd probably not refund your money if you paid too much."

What do I think? I buy most of my wines from local shops where I know and like the proprietors, and both friendship and guilt would keep me from taking advantage of an obvious error. But what if I was traveling and spotted a similar unintended bargain, particularly in a large, corporate-style wine shop? I would like to think that I'd still do the right thing ... but it would be more of a challenge.

How about you? In theory and in practice, do you think it's fair to take advantage of a shopkeeper's pricing mistake? How do those of you who are in the wine business feel about this?

If you would like to join in a public discussion on this subject, you can point your browser directly to this Wine Lovers' Discussion Group topic at http://www.wineloverspage.com/cgi-bin/sb/index.cgi?fn=1&tid=2033. Or if you prefer to reply in private, send me E-mail at wine@wineloverspage.com. I regret that the growing circulation of the "Wine Advisor" makes it difficult for me to reply individually to every note, but I'll answer as many as I can; and please be assured that all your input helps me do a better job of writing about wine. Please feel free to get in touch if you'd like to comment on our topics and tasting notes, suggest a topic for a future bulletin, or just talk about wine.

If you're enjoying The 30 Second Wine Advisor, we hope you'll invite your wine-loving friends to register for their own free weekly copy at http://www.wineloverspage.com/wineadvisor.

30 Second Tasting Notes:
A bargain Italian red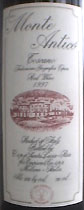 Monte Antico 1997 Toscano Red Wine ($7.99)
This one is no mis-mark: Monte Antico makes one of the best Italian wine bargains around, and its 1997 release - new in my region, at least - is no exception. Very dark garnet in color, it shows black cherry and spicy oak aromas, characteristic of the Chiantis with which it shares a regional character. Tart, warm fruit and lemon-squirt acidity make for a flavor that's "rustic" and a bit rough, but an appropriate food match tames it and lets its fine fruit and overall balance show through. U.S. importer: Empson (USA) Inc., Alexandria, Va. (March 19, 2000)

FOOD MATCH: Fine with leftover roast tenderloin recycled as "French dip" sandwiches with Italian bread and hearty broth.


30 Second Wine Link
News and notes from Haut-Brion

Chateau Haut-Brion is the oldest and the smallest of the "First Growths" of Bordeaux. One of the few remaining family-owned domains of Bordeaux, its history goes back to the 16th century, and its wines are widely accepted as being among the best that the world has to offer. Its fine Website explicitly shuns commercial hype in favor of detailed, objective information about the winery and its wines. This week, wine maker Jean-Bernard Delmas has added all his tasting notes on the 1999 vintage to the Haut-Brion site. You can view them, and much more about this great winery, at http://haut-brion.com/forum/Tasting1999.

Wine Lovers' Voting Booth

Speaking of Bordeaux First Growths, that's the subject of this week's Wine Lovers' Voting Booth, in which we take on a somewhat more advanced wine-appreciation topic than usual.

As many of you know, only five wineries in all of Bordeaux - Chateaus Lafite-Rothschild, Margaux, Latour and Mouton-Rothschild, in addition to Haut-Brion - are designated as "First Growths," the top-ranked properties. Mouton-Rothschild was elevated to this status in 1973; the others were included in the original classification in 1855.

For this week's survey, we invite you to put yourself in the place of the 19th Century Bordeaux merchants who drew up the original classification. If the issue were reopened today, and you were authorized to elevate deserving properties to First Growth status - with all of Bordeaux's major red-wine producers to choose from - which one chateau would you add? The Voting Booth "ballot" lists more than two dozen choices, plus "other" and "none." I hope you'll drop by and add your opinion to those from fellow wine lovers around the world.

The week's 30 Second Advertising Partner

California Wine Club, www.cawineclub.com, is the perfect, affordable way to get two different bottles of excellent wine every month, along with its fun and fact-filled newsletter Uncorked. Commercially unavailable, these wines are like secret treasures we hand-select from California's small, award-winning wineries. Join for as many months as you like, or use The California Wine Club as a special, unique gift for friends, family, customers and colleagues. You can reach the Club at the link above or, in the U.S., by calling 1-800-777-4443.

30 Second Administrivia

This free weekly E-mail publication is distributed to subscribers every Monday. Previous editions are archived on The Wine Lovers' Page. See www.wineloverspage.com/wineadvisor/thelist.shtml.

You are on the subscription list because our records indicate that you registered during a visit to Robin Garr's Wine Lovers' Page. If for any reason you don't want to receive this publication, simply send E-mail to 'wine@wineloverspage.com' and we'll remove your name from the list. We do not use this list for any other purpose and will never give or sell your name or E-mail to anyone.

If your E-mail program is having trouble handling the images in this edition, feel free to request that we switch you from the HTML to TEXT edition ... or vice versa. We welcome feedback, suggestions, and ideas for future columns. Send us E-mail at wine@wineloverspage.com.

All the wine-tasting reports posted here are consumer-oriented. In order to maintain objectivity and avoid conflicts of interest, I purchase all the wines I rate at my own expense in retail stores and accept no samples, gifts or other gratuities from the wine industry.

More time for wine?

You don't need to wait for Mondays to read about wine! Drop in any time on Robin Garr's Wine Lovers' Page, where we add new tasting notes several times each week and frequently expand our selection of wine-appreciation articles, tips and tutorials.

If you'd like to talk about wine online with fellow wine enthusiasts around the world, we'd be delighted to have you visit the interactive forums in our Wine Lovers' Discussion Group. If you're from another part of the world and don't feel entirely comfortable chatting in English, visit our International Forum and introduce yourself in the language of your choice.

Vol. 2, No. 10, March 27, 2000

<!TODAY'S TEXT ENDS HERE!>

Subscribe (free) to The 30 Second Wine Advisor