<!TODAY'S TEXT STARTS HERE!>

30 Second Wine Tasting Tip:
Saving wine labels: A sticky wicket?

Reader Jim Conklin asked an E-mail question that caught my attention: "Since the middle 80's the California wineries are using adhesives that make it impossible to soak off the labels. The labels themselves disintegrate. Is there some secret trick?"

Jim, I wish I knew! For those who like to save the occasional label (and what wine lover doesn't?), this is a frustrating development. I've been told that the new, super-sticky glue is related to modern labeling machines that use sticky-back labels rather than the old style that required moistening.

There's no perfect solution, but here are some tricks that I've tried or heard of:

* Use very hot water and give the bottles a long soak. If hot water alone won't do it, try adding a cup of ammonia.

* As soon as you remove the bottle from the hot water, attack the label with a hair dryer, which may help soften the glue.

* Try gently coaxing the edges of the label with a single-edge razor.

* Some wine-accessory shops (including Wine Enthusiast, http://www.wineenthusiast.com) offer a gimmick involving sticky-backed clear plastic that you place over the wine label, press down and peel. In theory, the adhesive pulls up the label image in a laminated form that you can put in a scrapbook. This is a fairly expensive solution, ranging from $15 for enough laminate for 20 labels up to $50 for 100 labels.

* Do as I've been doing (see image below), and take pictures of the labels still on the bottle, using the macro lens setting on a digital camera.

* In a somewhat similar approach, I've talked to wine fanciers who've tried carefully rolling a bottle across a flatbed scanner, timing the process in synch with the scan to get a "flat" image.

TO ALL OF YOU: This is a great opportunity to mobilize our growing community of readers! If you've got a good way to remove and save wine labels, please pass it on to me by E-mail at wine@wine-lovers-page.com, and I'll share the best ideas in a future edition. And, as always, please don't hesitate to drop us a line if you'd like to comment on our topics and tasting notes, suggest a topic for a future bulletin, or just talk about wine.

Finally, if you're enjoying The 30 Second Wine Advisor, we hope you'll tell your wine-loving friends to sign up for their own free weekly copy at http://www.wine-lovers-page.com/wineadvisor.

30 Second Tasting Notes

Gallo of Sonoma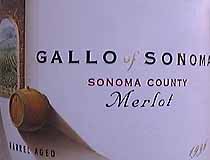 The E & J Gallo Winery of California, the world's largest wine maker with a reported storage capacity of 330 million gallons, has been making a serious bid in recent years to establish a reputation as a maker of fine, premium-quality wines to match its inarguable status as a maker of mass-market "jug" wines.

In the latest chapter of this saga, Gallo has rolled out a range of modestly priced Gallo of Sonoma wines, packaged with a bright, simple label that appears aimed at a mass-market audience, but of a quality sufficient to satisfy just about anyone seeking an affordable table wine.

Gallo of Sonoma 1996 Sonoma County Merlot ($9.99)
Dark ruby color. Tart cherry-berry and spicy oak aromas. Ripe, juicy and soft flavors, with plenty of zippy acidity to give it structure. A simple, sippable wine, it's not a style to make a "connoisseur" shout, "Oh, boy, Gallo of Sonoma Merlot tonight!" But it's an approachable, well-crafted table wine aimed at a market niche where Gallo can expect to sell a lot of it. (March 20, 1999)

FOOD MATCH: Its supple fruitiness makes this one a fine match with a fat free-range roasting hen.


(For a more detailed account, with notes on four more Gallo of Sonoma varietals including a truly excellent Cabernet Sauvignon, see my tasting report on The Wine Lovers' Page at http://www.wine-lovers-page.com/wines/wt032099.shtml.)

30 Second Wine Link

Stuart Yaniger's brand-new Website places tongue firmly in cheek with its photos of the proprietors wearing jester's caps and its disclaimer, "Warning! This ain't Parker or Broadbent. Those with delicate sensibilities should go elsewhere." I mean, what would you expect from a site called "The Stupids.com"? But there's nothing stupid about the contents, which include plenty of wine notes (Yaniger's specialty is the Rhone) and straightforward wine talk. Highly recommended!

30 Second Advertising Partner

The high-end sibling of the California Wine Club, the Connoisseurs' Series bills itself as "an exciting club" designed for people who want to enjoy only the highest-rated, most exclusive wines. Every month, the club ships two bottles of hard-to-find, ultra-premium wines directly to participants' homes.

30 Second Administrivia

This free weekly E-mail publication is distributed to subscribers every Monday. The information it contains will later be archived online. Last week's edition is now available for your review.

You are on the subscription list because our records indicate that you registered for it during a visit to Robin Garr's Wine Lovers' Page. If for any reason you don't want to receive this publication, simply send E-mail to 'wine@wine-lovers-page.com' and we'll remove your name from the list.

If your E-mail program is having trouble handling the images in this edition, feel free to request that we switch you from the HTML to TEXT edition ... or vice versa. We also welcome feedback, suggestions, and ideas for future columns. Send us E-mail at wine@wine-lovers-page.com.

All the wine-tasting reports posted here are consumer-oriented. In order to maintain objectivity and avoid conflicts of interest, I purchase all the wines I rate at my own expense in retail stores and accept no samples, gifts or other gratuities from the wine industry.

More time for wine?

You don't need to wait for Mondays to read about wine! Drop in any time on Robin Garr's Wine Lovers' Page, where we add new tasting notes several times each week and frequently expand our selection of wine-appreciation articles, tips and tutorials.

If you'd like to talk about wine online with fellow wine enthusiasts around the world, we'd be delighted to have you visit the interactive forums in our Wine Lovers' Discussion Group. If you're from another part of the world and don't feel entirely comfortable chatting in English, visit our International Forum and introduce yourself in the language of your choice.

<!TODAY'S TEXT ENDS HERE!>