<!TODAY'S TEXT STARTS HERE!>

30 Second Wine Tasting Tip:
Storing wine in summertime


On the first day of spring in the Northern Hemisphere (with plenty of warm weather left in the season for those South of the Equator), it's a good time to start thinking about one of the most frustrating problems for wine lovers: How to protect our wines against summer heat.

For the wines we buy for short-term consumption, heat isn't much of an issue. As long as you intend to drink up your wine within a few weeks, simply keep it out of direct sunlight and away from extreme heat, and all will be well.

But those few special wines that actually need cellar time to achieve full maturity will thrive only under good cellar conditions, kept in cool, dark quarters, lying on their sides so the cork stays wet.

A constant temperature of 55F (13C) is strongly preferred, but hard to attain in a modern home unless you have a natural wine cellar or expensive wine-refrigeration unit. Since most wine lovers can't really justify the expense of such storage, keeping wine for any length of time becomes a serious concern, especially during summer heat. If your wine-storage area never goes above the low 70s F (21C), you don't have much to worry about. But if you must subject your ageworthy wines to more than one or two summers in the 80s F (over about 25C), you will find them maturing too quickly and not too well, developing the oxidized and "stewed fruit" qualities that show up in a wine that's been "cooked."

If your home or apartment is likely to be uncomfortably warm during the summer, it's prudent to purchase only as much wine as you can enjoy during the next few weeks. Still, if you want to risk a few ageworthy Bordeaux, California Cabernets or sturdy Rhones or Italian reds, I wouldn't worry too much about holding them through one or two hot summers.

Have you had good (or bad) experiences with storing wine at room temperature? Tell me about it in an E-mail message to wine@wineloverspage.com. I regret that the growing circulation of the "Wine Advisor" makes it difficult for me to reply individually to every note, but I'll answer as many as I can; and please be assured that all your input helps me do a better job of writing about wine. Please feel free to get in touch if you'd like to comment on our topics and tasting notes, suggest a topic for a future bulletin, or just talk about wine.

If you're enjoying The 30 Second Wine Advisor, we hope you'll invite your wine-loving friends to register for their own free weekly copy at http://www.wineloverspage.com/wineadvisor.

30 Second Tasting Notes:
An ageworthy Australian red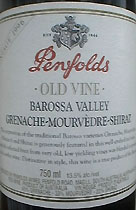 Penfolds 1996 Old Vine Barossa Valley Grenache Mourvèdre Shiraz ($17.99)
Very dark garnet, with buttery oak aromas surrounding black, plummy fruit and spice. Big, juicy and ripe flavor, mixed fruit and sweet oak, structured by fresh-fruit acidity. Quite oaky now, but with ample fruit and structure to suggest that the flavors will become more integrated with time. U.S. importer: Southcorp Wines North America, Monterey, Calif. (March 16, 2000)

FOOD MATCH: A natural match with filetto al Barolo, Marcella Hazan's filet mignons pan-grilled with red wine.


30 Second Wine Link

Two commercial links this week address the issues raised in our discussion of storing wine: Horse Ridge Cellars, http://www.horseridgecellars.com, based in Connecticut, offers wine lovers in the Northeastern U.S. the opportunity to store wines under excellent cellar conditions for a fee. Similar services exist in or near many major cities around the world. To browse (and check prices) on free-standing cellar units, click to Wine Enthusiast, http://www.wineenthusiast.com/, an established New York-based wine-accessory catalog store. (Disclaimer: Horse Ridge Cellars is an advertising partner of The Wine Lovers' Page; we have no connection in any form with Wine Enthusiast.)

The week's 30 Second Advertising Partner

California Wine Club, www.cawineclub.com, is the perfect, affordable way to get two different bottles of excellent wine every month, along with its fun and fact-filled newsletter Uncorked. Commercially unavailable, these wines are like secret treasures we hand-select from California's small, award-winning wineries. Join for as many months as you like, or use The California Wine Club as a special, unique gift for friends, family, customers and colleagues. You can reach the Club at the link above or, in the U.S., by calling 1-800-777-4443.

30 Second Administrivia

This free weekly E-mail publication is distributed to subscribers every Monday. Previous editions are archived on The Wine Lovers' Page. See www.wineloverspage.com/wineadvisor/thelist.shtml.

You are on the subscription list because our records indicate that you registered during a visit to Robin Garr's Wine Lovers' Page. If for any reason you don't want to receive this publication, simply send E-mail to 'wine@wineloverspage.com' and we'll remove your name from the list. We do not use this list for any other purpose and will never give or sell your name or E-mail to anyone.

If your E-mail program is having trouble handling the images in this edition, feel free to request that we switch you from the HTML to TEXT edition ... or vice versa. We welcome feedback, suggestions, and ideas for future columns. Send us E-mail at wine@wineloverspage.com.

All the wine-tasting reports posted here are consumer-oriented. In order to maintain objectivity and avoid conflicts of interest, I purchase all the wines I rate at my own expense in retail stores and accept no samples, gifts or other gratuities from the wine industry.

More time for wine?

You don't need to wait for Mondays to read about wine! Drop in any time on Robin Garr's Wine Lovers' Page, where we add new tasting notes several times each week and frequently expand our selection of wine-appreciation articles, tips and tutorials.

If you'd like to talk about wine online with fellow wine enthusiasts around the world, we'd be delighted to have you visit the interactive forums in our Wine Lovers' Discussion Group. If you're from another part of the world and don't feel entirely comfortable chatting in English, visit our International Forum and introduce yourself in the language of your choice.

Vol. 2, No. 9, March 20, 2000

<!TODAY'S TEXT ENDS HERE!>

Subscribe (free) to The 30 Second Wine Advisor