<!TODAY'S TEXT STARTS HERE!>

30 Second Wine Tasting Tip:
Let that bottle rest!

If you're sleeping soundly, cocooned in cozy blankets on a cold winter's night, would you enjoy it if someone came into your room and unceremoniously flipped you over?

I don't think so ... and believe me, your wine doesn't like it either.

A reader's question last week inspired me to address this enduring myth: I frequently hear from folks who've heard that wine bottles aging in the cellar should be rotated periodically, a procedure that is thought in some mysterious way to improve its development.

In fact, this is simply not so! Wine is best left undisturbed as it ages. Rotating the bottles would serve no purpose except the negative one of stirring up the sediment that gradually forms along its lowest side.

So if you're aging wine, please don't turn your bottles. There's no need for it in the short term, and if you're saving bottles for the longer term, it can be bad for the wine.

P.S.: Thanks for your many thoughtful comments and suggestions about last week's topic, in which I asked for information about the "punt," the deep, conical indentation in the bottom of many wine bottles. One week soon, I'll summarize your many good contributions. And please feel free to contact me any time by E-mail at wine@wine-lovers-page.com if you'd like to comment on our topics and tasting notes, suggest a topic for a future bulletin, or just talk about wine.

30 Second Tasting Notes

Two good Italian reds

For decades, Italy has jousted with France for the title of world's largest wine producer, and Italy usually wins, with its vineyards covering just about every region of the Italian "boot." But Italian wine has only recently begun to overcome the image of rough Chianti in wicker-wrapped bottles, useful (if at all) only to wash down spaghetti and pizza. These two flavorful reds ought to go a long way to erase that old prejudice, in the unlikely event that anyone still has it.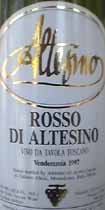 Altesino 1997 Rosso di Altesino Vino da Tavola Toscano ($10.99)
From Tuscany, home of Chianti, this wine bears the "wine of the table" designation presumably because it's not made from the traditional blend of Sangiovese and other grapes required to bear the Chianti label. It may be all Sangiovese, or it may have a dash of Cabernet Sauvignon or other non-Italian grapes; the label doesn't say, but the bottom line is clear: The wine is reasonably priced, and good. It's a dark ruby in color, with a ripe aroma of black cherries, a wisp of smokiness and an aromatic, "tarry" scent that hints of menthol. Full and juicy fruit flavors mirror the nose in a flavor that invites a second taste. U.S. importer: Winebow Inc., NYC; Leonardo Loscascio Selections. (March 14, 1999)
FOOD MATCH: The wine's forward fruit and crisp acidity make it an exceptional match with a bowl of creamy macaroni and cheese.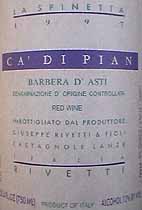 Rivetti 1997 La Spinetta "Ca' di Pian" Barbera d'Asti ($14.99)
Very dark-reddish purple in color, this hearty red from Asti in Piemonte (the Alpine foothills in Italy's far northwestern "shoulder") is made from Barbera, a grape somewhat familiar in the U.S. because of its use in a few California wines made by Italian-American families like Martini. Light floral and black-fruit aromas lead ionto a tart and ripely fruity flavor of black cherries and lemon-squirt acidity. Substantial tannins impart an astringency that suggests it will benefit from cellar time, but ample fruit makes it thoroughly enjoyable now. U.S. importer: Vin Divino Ltd., Chicago; a Marc deGrazia Selection. (March 13, 1999)

FOOD MATCH: A worthy companion to a simple roast chicken.


30 Second Wine Link

If Port's your pleasure, head straight for Massachusetts aficionado Keith Gabryelski's great site, Port Wine, where you'll find a wealth of information on the subject.

30 Second Advertising Partner

I've had a long association with CompuServe, one of the first commercial online services and for many years the market leader. Although it lost the market battle to America Online and has now been purchased into the AOL empire, AOL appears committed to keeping it as a separate service and positioning it for an upscale market oriented towards business and technology. For those who prefer the relatively organized environment of a commercial service, CompuServe's many subject-oriented forums and worldwide network make it well worth a try.

30 Second Administrivia

This free weekly E-mail publication is distributed to subscribers every Monday. The information it contains will later be archived online. Last week's edition is now available for your review.

You are on the subscription list because our records indicate that you registered for it during a visit to Robin Garr's Wine Lovers' Page. If for any reason you don't want to receive this publication, simply send E-mail to 'wine@wine-lovers-page.com' and we'll remove your name from the list.

If your E-mail program is having trouble handling the images in this edition, feel free to request that we switch you from the HTML to TEXT edition ... or vice versa. We also welcome feedback, suggestions, and ideas for future columns. Send us E-mail at wine@wine-lovers-page.com.

All the wine-tasting reports posted here are consumer-oriented. In order to maintain objectivity and avoid conflicts of interest, I purchase all the wines I rate at my own expense in retail stores and accept no samples, gifts or other gratuities from the wine industry.

More time for wine?

You don't need to wait for Mondays to read about wine! Drop in any time on Robin Garr's Wine Lovers' Page, where we add new tasting notes several times each week and frequently expand our selection of wine-appreciation articles, tips and tutorials.

If you'd like to talk about wine online with fellow wine enthusiasts around the world, we'd be delighted to have you visit the interactive forums in our Wine Lovers' Discussion Group. If you're from another part of the world and don't feel entirely comfortable chatting in English, visit our International Forum and introduce yourself in the language of your choice.

<!TODAY'S TEXT ENDS HERE!>