<!TODAY'S TEXT STARTS HERE!>

30 Second Wine Tasting Tip:
Wine trivia: What (and why) is a Punt?

Pick up a wine bottle sometime and take a close look at the bottom. Chances are (unless you've chosen a particularly inexpensive wine) that you'll find a deep, conical indentation rather than a flat surface.

This dent is called a "punt" in English (just like the kick on fourth down in American football). An obscure word, unknown even to many wine enthusiasts, its origins are lost in history. But here are a few theories:

1. In the early days of modern bottle making, glass blowers learned that a deep indentation made the bottle sturdier.

2. Or, a somewhat similar explanation, the mechanism that glass blowers used to hold the bottle while it was being made left this indentation when the job was done.

3. Bottles were made this way intentionally so the sharp crease around the conical shape would form a crevice where the wine's sediment could collect and solidify.

4. Finally, if you're a cynic, you may suspect that the indentation serves the same purpose as the cardboard packaging inside a candy bar wrapper: It makes the bottle look like it has more wine in it than it really does!

Take your pick; I don't think anyone knows the answer with absolute certainty. And if you've got another theory -- or, better still, a factual or historical reference point, please let me know!

30 Second Tasting Notes

A budget namesake from Bordeaux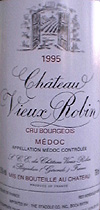 It's silly to buy a wine on the basis of a curious name or interesting label, of course, but knowing my wife would get a laugh out of a wine named "Old Robin," I couldn't resist bringing this recent arrival home. It was a reasonable risk, frankly. In my book, at least, the 1995 Bordeaux have been consistently pleasing, even in the relatively low-end range between $10 and $15.

Chateau Vieux Robin 1995 Cru Bourgeois Médoc ($14.99)
Very dark garnet color, almost opaque. Shy aromas at first, open up with a little air to reveal classic Médoc blackcurrant and cedar with a whiff of brown sugar. Fresh, tart, a bit austere; black fruit, firm acidity and soft tannins. Very well-balanced Bordeaux, will benefit from cellar time. U.S. importer: The Stacole Co. Inc., Boca Raton, Fla. (March 1, 1999)

FOOD MATCH: Just right with the traditional Bordeaux match: Lamb chops.


30 Second Wine Link

Michael McKinney's Into Wine page is on my bookmark list for regular visits. It's exceptionally stylish, attractive and informative, with many unusual features including "Wine & Health," "Wine & The Bible," and "A Collection of Toasts."

30 Second Advertising Partner

The Mid-Atlantic Wine Auction Company, a Delaware company incorporated in 1998, boasts more than 100 years collective retail expertise in the buying and selling of fine wines.

30 Second Administrivia

This free weekly E-mail publication is distributed to subscribers every Monday. The information it contains will later be archived online. Last week's edition is now available for your review.

You are on the subscription list because our records indicate that you registered for it during a visit to Robin Garr's Wine Lovers' Page. If for any reason you don't want to receive this publication, simply send E-mail to 'wine@wine-lovers-page.com' and we'll remove your name from the list.

If your E-mail program is having trouble handling the images in this edition, feel free to request that we switch you from the HTML to TEXT edition ... or vice versa. We also welcome feedback, suggestions, and ideas for future columns. Send us E-mail at wine@wine-lovers-page.com.

All the wine-tasting reports posted here are consumer-oriented. In order to maintain objectivity and avoid conflicts of interest, I purchase all the wines I rate at my own expense in retail stores and accept no samples, gifts or other gratuities from the wine industry.

More time for wine?

You don't need to wait for Mondays to read about wine! Drop in any time on Robin Garr's Wine Lovers' Page, where we add new tasting notes several times each week and frequently expand our selection of wine-appreciation articles, tips and tutorials.

If you'd like to talk about wine online with fellow wine enthusiasts around the world, we'd be delighted to have you visit the interactive forums in our Wine Lovers' Discussion Group. If you're from another part of the world and don't feel entirely comfortable chatting in English, visit our International Forum and introduce yourself in the language of your choice.

<!TODAY'S TEXT ENDS HERE!>