Uncapping "the" Prosecco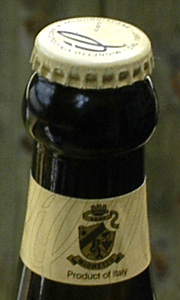 Amid the growing debate over screw caps and plastic stoppers as modern substitutes for the traditional natural cork in your wine bottle, here's an unexpected contender: The other day I ran across a light and frothy Italian Prosecco in a curvaceous bottle sealed with a beer-bottle-style "crown cap."
This light metal cap, easily popped off with a bottle opener, is lined on the inside with a disk of white, waxy waterproof plastic material that somewhat resembles the sturdy stuff that's used to make FedEx envelopes.
I'm not convinced this system would be suitable for a wine to be stored for years in a connoisseur's cellar; but for a drink-me-now quaff like Prosecco, it makes a lot of sense. It's quick and easy to open, and there's no fear of the musty "taint" that spoils a significant percentage of wines closed with natural cork.
Innovations like this tend to disturb traditionalists, but then, a quick look at the way this wine is being marketed suggests that traditionalists are not its target audience. Titled "Il" ("The") Prosecco, it's subtitled - in English - " 'The' Gentle Sparkling Wine," with the Italian word "Il" rendered in a stylish graphic. (One wonders whether it's possible to trademark the word "The.")
The company's slick website (there's a Web link in the tasting report below), features perky elevator music and Euro-trashy models who look barely old enough to drink, suggesting that this product is not aimed at "serious" wine enthusiasts. But don't let the packaging put you off: It's no Champagne, but then, it's not meant to be. It's a delightful summer sipper, fruity but dry and nicely structured, good for sipping ice-cold or washing down a light dinner on a steamy evening.
The crown cap is pictured above in our HTML/graphics edition. If you're a text-only subscriber and wish to view the picture, you'll find it in the archived edition at
http://www.wineloverspage.com/wineadvisor/tswa030716.html
---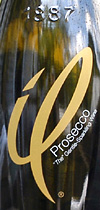 Mionetto non-vintage "Il" Prosecco del Veneto ($12.49)
Clear, almost watery pale with a glint of gold, this lightly sparkling wine froths in the glass, but the bubbles dissipate quickly. Its pleasant, delicate peachy aroma invites a taste, and the flavor shows peaches as well, yeasty and crisp, bubbles tickling the tongue even if they're not evident in the glass. Very fruity yet dry or nearly so, it's a refreshing quaff, delicious for summer sipping and fine with spicy fare. Closed with a beer-bottle-style "crown cap," not a cork or screwcap. U.S. importer: Mionetto USA Inc., NYC. (July 14, 2003)
FOOD MATCH: Fruity, bubbly and relatively light in alcohol, it's a first-rate aperitif, and goes well with a range of foods including such spicy fare as a Cajun andouille and tasso gumbo.
VALUE: Fair at this price, although another dollar or so would start approaching my threshold of resistance.
WHEN TO DRINK: Drink up while it's fresh ... bring it home, chill it, enjoy it, don't put it in the cellar.
WEB LINK: For serious wine information, check the winery's Website,
http://www.mionetto.it/english/il_english.htm
To view a slick commercial, with models and music (best with a high-speed connection), see:
http://www.ilsparkling.com/

---