Front or back?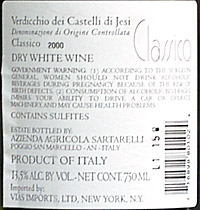 Front or back? The fine print and legalese would suggest that this is a "back label." But from a regulatory standpoint, this label - containing the full name and origin of the wine - is the "front label." The wine's official "back label" is pictured with the tasting note below.

How can a round bottle have a front or a back? It's the label, obviously, that determines which way the wine merchant will display wine on the shelf.

But sometimes, in the wacky world of wine regulations, what you and I would call the back label is legally the front.

How's that?

Let's turn to today's wine for an example. The colorful label that's most likely turned to the fore in the retail environment (pictured below in our HTML/graphics edition) is simple, even spare. It contains the maker's name, "Sartarelli," on a black band across the top. The main white section of the label shows a small bunch of golden grapes and the single word "Classico." And in tiny, almost indecipherable print at lower left you'll find the vintage, "2000."

What kind of wine is this? Where's it from? To learn all this, you'll have to turn the bottle around and look at the small print on the other label (pictured above for HTML/graphics readers). There you'll learn, with the help of bifocals or a magnifying glass, that this is Verdicchio dei Castelli di Jesi Classico, a white wine made by the Sartarelli winery from Verdicchio grapes, mostly, in the central ("Classico") region of Castelli di Jesi in Marche ("The Marches") on the Adriatic coast of eastern Central Italy.

From the standpoint of the U.S. Treasury Department's Alcohol and Tobacco Tax and Trade Bureau (TTB), which recently assumed regulatory authority over wine labels, both domestic and imported, from the old Bureau of Alcohol, Tobacco and Firearms (BATF), the label that contains required legal information about a wine - the region of origin, the grape variety where required, the percentage of alcohol and so forth - is the "front" label. Logos, decorations and art are irrelevant to the regulators, who don't really mind which label is turned forward on the shelf. (Similar regulations apply in just about every wine-producing nation.)

WEB LINKS: For just about everything you could ever want to know about what's required on the label for wines approved for sale in the U.S., see the government brochure "What the Wine Label Tells You" (in Adobe Acrobat PDF format) at:
http://www.ttb.gov/pub/alctob_pub/p51901.pdf

Want to see the official form that wineries must use to request federal approval for a wine label? This form, also Adobe Acrobat format, is online at:
http://www.ttb.gov/forms/pdfs/f510031.pdf

For a simpler, consumer-oriented explanation of wine labels, with examples from several wine-producing countries, see our Wine Label Decoder,
http://www.wineloverspage.com/wines/labels.shtml
---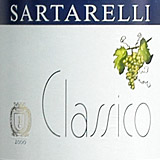 Sartarelli 2000 Verdicchio dei Castelli di Jesi Classico ($10.99)
Clear gold color, very pale. Warm, slightly oxidative white-wine aromatics: Subtle beeswax, almonds and honey. Mouth-filling and ripe flavors, white fruit and a hint of almond; snappy acidity in a long finish, fine with food. U. S. importer: VIAS Imports Ltd., NYC. (June 6, 2003)
FOOD MATCH: Fine with a simple Italian classic, fettuccine with white clam sauce.
VALUE: Well above the mean for complexity and balance at this price point.
WHEN TO DRINK: Good now, but its rather full body and ripe flavors suggest that it won't suffer from a few more years in the cellar.
WEB LINK: Sartarelli's Verdicchio Classico fact sheet (Italian only - the home-page links to English and German pages return errors) is online here:
http://www.sartarelli.it/prodotti/classico.htm
Curiously, you'll notice that the winery's Italian label, although stylistically similar to its U.S. label, contains all the front and back information in a single, wrap-around format.

---