Post card from Bordeaux:
A cellaring surprise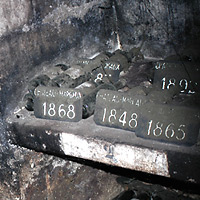 It was one of those winery-visit moments that stamps itself into a wine lover's memory.
As we toured the fabled Chateau Margaux in Bordeaux's Medoc region last week, our guide, Tina Bizard, turned a corner and pointed to a room guarded by sturdy iron bars and heavy locks: The chateau's wine cellar!
Unlighted, cool, frankly a bit on the musty side, the long room didn't seem much to look at, at first. But as we pushed our noses up to the spaces between the bars and stuck our camera lenses through, it became clear that treasure rested here. Not only Margaux's own vintages were stored on these thick, black and mold-crusted stone and concrete shelves, but some of the best wines of the winery's neighbors, including such storied names as Mouton, Latour and Lafite.
Some of these bottles had been lying there for decades, even a century or more, in a room that had been discreetly walled off during World War II in a successful effort to keep the Nazi forces that had occupied the region from pillaging it. Just tantalizingly out of arm's reach, one bin held 19th Century Margaux from the Civil War or earlier ... 1868, 1865, even a few stray bottles behind a brick inscribed "1848."
Wines more than 150 years old ... surely, for such an antique to have any chance of survival, it must have been kept under the most pristine conditions.
But this might surprise you: While the chateau's cellar has surely proven itself more than adequate for storing fine wines, it stops well short of the kind of temperature- and humidity-controlled perfection that many modern wine enthusiasts might consider mandatory.
Like many Bordeaux producers, Margaux's sprawling chais ("shays," above-ground structures used for wine production and storage instead of underground "caves") are neither heated nor air-conditioned. They rely on thick, windowless stone walls and the region's naturally temperate climate to hold year-round temperatures within a range that's safe for wine.
But high-tech precision is not an issue, said Bizard, adding that seasonal temperatures in the chai vary from as low as 12C (53F) in the winter to a summer high of 19C (66F), with humidity high enough to coat every surface - including the walls, the shelves, wine bottles and their labels - with molds in shades from black to green to gray.
If you're inclined to fret overmuch about keeping wine under perfect conditions that never vary from 55F (13C) or 70 percent humidity, there may be a lesson here at Chateau Margaux: Do protect your liquid assets from high or low extremes or sudden, dramatic shifts in temperature; and if you can't avoid high humidity, give your bottles a quick wipe every now and then. But bear in mind that Margaux's cellar has been good enough to store a ration of its nectar at ambient temperatures since 1848.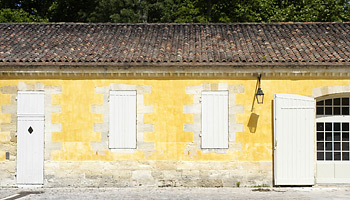 Like many Bordeaux producers, Chateau Margaux makes and stores its wines in above-ground chais like this one.
If you're not subscribing to The Wine Advisor in the HTML/graphics format that supports graphics, you can view my photos of the ancient bottles at Chateau Margaux and of one of the winery's "chais" in the archived copy of today's newsletter at
http://www.wineloverspage.com/wineadvisor/tswa030519.html
If you would like to download a large photo that I took of the historic chateau building at Margaux, suitable for use as your computer's background "wallpaper," I've placed a 1024x768 pixel photo online at
http://www.wineloverspage.com/wallpaper/margaux1024.phtml
TRAVEL NOTES: Now that we're back at home and resuming normal production, I hope to have a full wine, food and travel report with photos online this week. The "Travel Diary" will be online soon at
http://www.wineloverspage.com/wines/france2003.phtml
WINE NOTE: It was a rare treat to be able to sample first growths and other rare and expensive wines while visiting wineries in Bordeaux, but now it's time to return to the quest for good wines at more reasonable prices. Here's one from the good 2000 vintage in Blaye, a Bordeaux region that may not carry the cachet of the Medoc but that wins my affection for good value.
---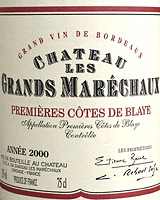 Chateau Les Grands Maréchaux 2000 Premières Côtes de Blaye ($12.99)
Very dark garnet color, with pleasant blackcurrant and herbal scents, typical of Bordeaux. Tannic and tart, rather austere in flavor; there's good body and plenty of fresh black fruit to carry it if you insist on drinking it now, but this one's a good candidate for the cellar. U.S. importer: Ex-Cellars Wine Agencies Inc., Solvang, Calif. (May 4, 2003)
FOOD MATCH: Rare grilled strip steaks tame the tannins and bring up the fruit.
VALUE: Fine value, particularly for Bordeaux of the excellent 2000 vintage.
WHEN TO DRINK: Tannic astringency balanced by fruit make this a candidate for improvement for five years or more under reasonable cellar conditions.
---
Castello Banfi's Cum Laude graduates "with honors"
Castello Banfi, Tuscany's premier vineyard estate, has released a distinctive new Super Tuscan cuvee. Called Cum Laude, Latin for "with honors," the wine combines 25% of a Banfi clonal selection of the region's historic Brunello grape, with 30% Cabernet Sauvignon, 30% Merlot and 15% Syrah, each vinified separately.
The first vintage of Cum Laude is 1999, rated excellent for the region and considered the best in Castello Banfi's 25-year history. The season was noted for lower than usual temperatures, abundant sunshine, and a harvest period undisturbed by rainfall. The resulting wine is complex with notes of blackberries, plum jam and aromas of licorice and pipe tobacco. Cum Laude, an elegant wine with dense, soft tannins, retails for around $35.
Wine Spectator magazine calls Cum Laude "a well-crafted red, with aromas of spice, meat and tar that turn to fresh fruit. Medium-bodied, with clean and fresh fruit, firm tannins and a crisp finish."
Castello Banfi, established in 1978 by American wine merchants John and Harry Mariani, has been named the unprecedented four-time "International Winery of the Year" and ten-time "Italian Winery of the Year" at VinItaly's annual International Enological Concourse in Verona.
http://www.castellobanfi.com/tastroom/cumlaude.html
Suggested Food Pairing with Cum Laude:
Arista Al Forno (Taverna Banfi Recipe)
Legend has it that this boneless pork roast got the name "Arista," a word used exclusively in Tuscany, when the Archduke of Tuscany held a banquet at which the Greek Patriarch was in attendance. After being served this dish, he exclaimed his delight with the Greek term "aristos," a praise of the highest caliber. The Tuscans mangled the pronunciation a bit, but the meaning is there, and the dish is truly exalted!
4 leaves of sage
4 sprigs of rosemary
peel of 1/4 lemon
pinch each of fine salt and freshly ground black pepper
1 boneless pork loin (1-1/2 lbs to 1-3/4 lbs - or 750 grams)
2-3 tablespoons extra-vergine olive oil
2 garlic cloves
6 oz (200 grams) Fontanelle Chardonnay from Castello Banfi
Finely chop the sage, rosemary and lemon peel, mix with the salt and pepper, and rub into the pork roast - you can alternatively make long but shallow incisions in the meat to rub the herbs into. Place the roast in a baking pan with the olive oil (coat the pan and sprinkle some on top of the roast), and cook for about 1-1/2 hours on low heat - about 325-350°F/160-175°C. Turn the roast and pour the wine over it. Increase temperature (to about 425°F/220°C) until the wine evaporates, approximately ten minutes. Remove from the oven and let sit for a few minutes before slicing and serving with its juices.
Serves 5
---
Penfolds Brings Red Wine Recorking Clinics to the United States
Penfolds, Australia's most famous wine, brings the ultimate in after-sales service to the United States with its Penfolds Red Wine Recorking Clinics. In October 2003, Penfolds will hold two Red Wine Recorking Clinics – in New York City on Oct. 24 and Chicago on Oct. 28. Penfolds has been conducting these clinics in Australia and the U.K. since 1991. In the last 12 years, Penfolds has opened more than 50,000 bottles of wine for over 7,500 consumers and trade. The clinics are popular with personal collectors and those that trade on the secondary market.
At the clinics, Penfolds winemakers will open and test any bottle of Penfolds red wine 15 years or older. After tasting, the Penfolds winemaking team will top, recork, re-capsule and certify that the wine is good, if the condition is found to be sound. Penfolds provides this service at no cost to the customer. To register for the clinic email usaquestions@penfolds.com or call 1-800-255-9966. To find out more about the clinics visit
http://www.penfolds.com/CellaringandService/wineclinics.html
Australia's most famous wine, Penfolds Grange, today holds iconic status around the world, and has been described by esteemed wine writer, Robert Parker, as a leading candidate for the richest, most concentrated, dry red table wine on planet earth. To stay in the know about events like the recorking clinics, sign up for the Penfolds quarterly newsletter – Work in Progress. This educational publication is full of tasting notes on new releases, including the much-anticipated 1998 Grange, information on the winery's history and heritage and events in your area where Penfolds is participating. To sign up, email usaquestions@penfolds.com or call 1-800-255-9966.
---
Sponsorship Opportunities
30 Second Wine Advisor sponsorships are limited to established wine-and-food-related businesses with a track record of customer service. For information about delivering your message to our 25,000 international readers, write
wine@wineloverspage.com.
---
Last Week's Wine Advisor Index
Because of my travels in France, The Wine Advisor was published only on Monday last week. We're home now, and the Wednesday and Friday editions and Thursday FoodLetter will resume. Here are links to last week's edition and the archives:
• Post card from Alsace: Grapes and the soil (May 12, 2003)
http://www.wineloverspage.com/wineadvisor/tswa030512.phtml
• Complete 30 Second Wine Advisor archive:
http://www.wineloverspage.com/wineadvisor/thelist.shtml
• Wine Advisor Foodletter archive:
http://www.wineloverspage.com/wineadvisor/foodlist.phtml
---