30 Second Wine Advisor: This week's sponsor
NextWine Showcases the Best of "What's Next"
http://www.nextwine.com
In This Issue
• Rude wine names
• Thierry and Guy 2001 "Fat Bastard" Vin de Pays d'Oc Shiraz
• Il Bastardo 2001 Sangiovese Rosso di Toscana
• Correction: Hannu who?
• Administrivia
Rude wine names
Today's topic makes me just a little nervous, because it involves the public utterance of a word that in my youth would have earned me a quick spanking if either of my parents had heard it pass my lips. So Mom, if you're listening, this is just part of my job, OK?
Our subject du jour, then, features wines named "Bastard."
The traditional term for illegitimacy seems to have been somewhat less taboo in other European languages than uptight English, and it has a long history that precedes the Victorian era in such wine words as Bastardo (a red Portuguese grape used in Port and Madeira), and the great French White Burgundy vineyard Batard-Montrachet.
But in light of my own speak-no-evil-or-get-your-mouth-washed-out-with-soap upbringing, I still have an instinctive tendency to avert my eyes when I notice Thierry and Guy's "Fat Bastard" Chardonnay or Shiraz in my friendly local wine shop.
Recently this surprisingly popular if modestly priced French import was joined on the shelves by an Italian import that apparently seeks a similar market: Il Bastardo, a generic Tuscan red.
What's this all about? It boils down to marketing, using mild shock to attract consumers' attention in a competitive world.
Fat Bastard, which seems to be only coincidentally connected with the hefty villain in the Austin Powers movies, turned up on the market a couple of years ago with a Chardonnay, followed in short order by a Shiraz that was initially called "Utter Bastard" but that soon switched labels to match its white-wine sibling.
The wine's English name, and the Languedoc producer's choice to use the Australian grape name "Shiraz" rather than the usual French "Syrah," suggest that the label is aimed at an English-speaking market. The back label, in tiny print, discreetly reports that it is "named after the British expression describing a particularly rich and full wine."
The winery Website, a high-tech exercise of tongue-in-cheek, offers a longer story, signed by an anonymous "FB" (which seems to be the persona of the hippopotamus that appears as the brand's tiny logo). By this account, French wine maker Thierry Boudinaud blurted out the name when he and his associate Guy Anderson, a British wine merchant, first tasted the Chardonnay.
"Upon tasting it, giddied by his own brand of French anticipation, he could all but utter gutturally, 'now that is a fat bastard.' A fitting British expression of the wine's depth and boldness, most certainly. ... And the wine was so named."
In contrast, the producer and importer of the spottily distributed Italian Il Bastardo seem to be all but anonymous.
The label brags that "This Sangiovese from Tuscany is produced by the Il Bastardo winery east of Firenze and is Rich, Fat and Luscious," but the fine print indicates only that the wine is "bottled by" the anonymously monogrammatic "RM" in Rufina, Italy; and it is imported by the similarly monogrammatic "HB Importers" of New York. It appears to be a bulk wine acquired and bottled by Renzo Masi, an otherwise admirable Chianti Rufina producer, given a colorful marketing spin to justify a price tag that the wine in the bottle wouldn't otherwise command.
Here are my notes on both of these bas ... er, wines.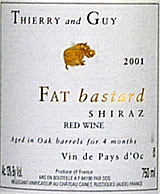 Thierry and Guy 2001 "Fat Bastard" Vin de Pays d'Oc Shiraz ($10.99)
This very dark blackish-purple wine shows garnet highlights against the light. Grapey and warm aromas add a whiff of fragrant black pepper and spice. Juicy fruit flavors and lemon-squirt acidity on the palate, snappy and fresh, come together to make a simple but quaffable red wine that's good with hearty fare. U.S. importer: Click Imports, Seattle. (Jan. 5, 2003)
FOOD MATCH:. Crossing international boundaries, this French table wine went well with a country Italian pasta dish, bucatini all'Amatriciana.
VALUE: Fair value at this price, but often discounted; a better buy at a dollar or two less.
WEB LINK: The Fat Bastard Website (which is presented entirely in "Flash" and requires the appropriate software plug-ins and, ideally, a high-speed Internet connection) is
http://www.fatbastardwine.com/.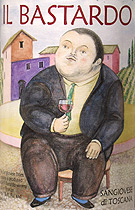 Il Bastardo 2001 Sangiovese Rosso di Toscana ($10.99)
Dark ruby in color, its black-cherry aroma is typical of Sangiovese, but a distinct vinegary note evokes memories of cheap pizzeria reds. There's a bit of unnecessary roughness around the edges of its grapey and rather simple fruit flavor, too. An old-fashioned country Italian quaffing red, it brings back memories of times past ... but a retail price over $10 gives new meaning to the term "Il Bastardo." U.S. importer: HB Wine Merchants, NYC. (Dec. 14, 2002)
FOOD MATCH: Taken to a covered-dish party, it went well enough to wash down meatballs, sausages and spicy buffet fare.
VALUE: Overpriced.

Correction: Hannu who?
I'm deeply embarrassed at having given the wrong surname for my Finnish online wine pal and artist Hannu Lehmusvuori in Wednesday's edition. Nettivuori, which I wrongly presented as his last name, is actually the name of his Website, which translates in English as "Net Mountain."
I apologize, and am grateful that Hannu, a man of good humor, was not offended by my careless mistake.
As mentioned, his Wine of the Week Website, which blends wine and art in the most creative way, is at
http://www.nettivuori.com/weeklywine.
Hannu is selling an artful, limited-edition 2003 Wine Calendar. For details, and how to buy it, click to
http://www.nettivuori.com/weeklywine/calendar.html.
Administrivia
To subscribe or unsubscribe from The 30 Second Wine Advisor, change your E-mail address, switch from weekly to daily distribution, or for any other administrative matters, click to http://www.wineloverspage.com/wineadvisor/admin.phtml. In all administrative communications, please be sure to include the exact E-mail address that you used when you subscribed, so we can find your record. If you must unsubscribe, please take a moment to tell us why you're leaving, and to offer any comments or suggestions you may have. We do not use our E-mail list for any other purpose and will never give or sell your name or E-mail address to anyone.
I welcome feedback, suggestions, and ideas for future columns. To contact me, send E-mail to wine@wineloverspage.com.
All the wine-tasting reports posted here are consumer-oriented. In order to maintain objectivity and avoid conflicts of interest, I purchase all the wines I rate at my own expense in retail stores and accept no samples, gifts or other gratuities from the wine industry.
Friday, Jan. 10, 2003
Copyright 2002 by Robin Garr. All rights reserved.
Subscribe to the 30 Second Wine Advisor
Wine Advisor archives