30 Second Wine Advisor: This week's sponsor
NextWine Showcases the Best of "What's Next"
http://www.nextwine.com
In This Issue
• Two good-value whites
• Hugues Beaulieu 2001 Coteaux du Languedoc Picpoul de Pinet
• Domaine de Pouy 2001 Vin de Pays des Côtes de Gascogne
• Looking for a 2003 wine calendar?
• Volunteers needed to help test graphic edition!
• Administrivia
Two good-value whites
Let's turn to France today for two excellent, affordable everyday white wines that for many of us require no introduction.
Year in and year out, I eagerly grab the new vintage of Hugues Beaulieu Coteaux du Languedoc Picpoul de Pinet and Domaine de Pouy Vin de Pays des Côtes de Gascogne as soon as they hit the local market, knowing that these simple but attractive wines will provide drinking pleasure and go well with food for a price that's right. I only wish this could be said of every wine in the $6 to $8 price range.
These wines gain in value, perhaps, because they come from what some might call humble origins: Both are produced in Southwestern France, well outside the more sought-after wine regions. And both are made from relatively unknown grape varieties: Picpoul in the Beaulieu, which is pronounced "Peek-pool" and translates as "lip stinger" because of its zippy acidity (also known as Folle Blanche); and Ugni Blanc ("Oo-n'yee BlaN") in the Domaine de Pouy, a grape more often used as a neutral base wine for Cognac (in Italy, the same grape is called Trebbiano).
These aren't wines to lay down for maturing. They are most enjoyable while young and fresh, so seek out the most recent vintage available, and drink them up over coming months. The 2001s, currently available in most markets, are drinking very well right now ... and the price is right.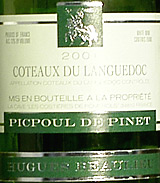 Hugues Beaulieu 2001 Coteaux du Languedoc Picpoul de Pinet ($7.99)
Pale straw color. Luscious pears in the aroma and flavor ... ripe, juicy pears, with a tangy snap of lemon-lime to provide structure and flavor interest. Bone-dry and crisp, fruit and zippy acidity in balance. U.S. importer: Kysela Pere & Fils Ltd., Winchester, Va. (Jan. 7, 2003)
FOOD MATCH: Fine with seafood, and an excellent match with a vegetarian dish, a cauliflower-potato gratin with Gruyere cheese.
VALUE: A consistent good value at well under $10.
WEB LINK: You'll find the importer's Website at
http://www.kysela.com/.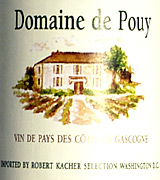 Domaine de Pouy 2001 Vin de Pays des Côtes de Gascogne ($6.99)
This clear, straw-color wine offers distinct pear and apple aromas, fresh and appetizing. Bone-dry and very fresh, pears and snappy acidity provide a simple but refreshing flavor that makes it a natural with a wide range of foods. U.S. importer: Robert Kacher, Washington, D.C. (Jan. 1, 2003)
FOOD MATCH: Crisp acid and fruit made a happy marriage with an Italian-style frittata.
VALUE: Hard to beat for this low-end price.
WEB LINK: The importer's Website is at
http://www.robertkacher.com/.

Looking for a 2003 wine calendar?
I have good news for those of you who've written to express your regret that we decided not to publish another WineLoversPage.com wall calendar for 2003: My Finnish pal Hannu Nettivuori, who publishes the artful Wine of the Week website, one of the first and still one of the most attractive wine-related destinations on the Internet, is offering his personal wine-art calendar for sale this year.
Hannu, who is an artist as well as a wine lover, offers 12 original art works in the calendar - one per month - plus an additional artwork on the cover to make a baker's dozen ... plus, as he says, you get "the luxury of learning the months and days in Finnish!"
It's an attractive and fun calendar, each month suitable for framing, and only 100 numbered and signed copies will be made. Quite a bargain at 20 Euros (approximately US$20), including delivery by first-class postal mail anywhere in the world.
To enjoy the Wine of the Week site, go to
http://www.nettivuori.com/weeklywine.
Or you can click direct to the Calendar page, with a form and links for online ordering with Visa or MasterCard, at
http://www.nettivuori.com/weeklywine/calendar.html.
Volunteers needed to help test graphic edition!


After a two-year break, I'm planning to resume The 30 Second Wine Advisor's HTML edition, an optional version that will offer photos, images, color and formatting in our E-letter for those who wish it.

I'll have more details soon, including information on how to request a change to the new edition. In the meantime, though, we're looking for a few dozen volunteers (or more) to help us test the new system before it goes into full production.

No special technical knowledge is necessary, but if you're willing to help by agreeing to let us send a few test issues to your E-mail box - and let us know if you have any problem receiving them - just drop me a note at wine@wineloverspage.com, and I'll put you on the test E-mail list.

Thanks!

Administrivia

To subscribe or unsubscribe from The 30 Second Wine Advisor, change your E-mail address, switch from weekly to daily distribution, or for any other administrative matters, click to http://www.wineloverspage.com/wineadvisor/admin.phtml. In all administrative communications, please be sure to include the exact E-mail address that you used when you subscribed, so we can find your record. If you must unsubscribe, please take a moment to tell us why you're leaving, and to offer any comments or suggestions you may have. We do not use our E-mail list for any other purpose and will never give or sell your name or E-mail address to anyone.

I welcome feedback, suggestions, and ideas for future columns. To contact me, send E-mail to wine@wineloverspage.com.

All the wine-tasting reports posted here are consumer-oriented. In order to maintain objectivity and avoid conflicts of interest, I purchase all the wines I rate at my own expense in retail stores and accept no samples, gifts or other gratuities from the wine industry.

Wednesday, Jan. 8, 2003
Copyright 2002 by Robin Garr. All rights reserved.

Subscribe to the 30 Second Wine Advisor Wine Advisor archives