<!TODAY'S TEXT STARTS HERE!>

30 Second Wine Tasting Tip:
How long does wine keep in an open bottle?

How long will wine keep once the bottle has been opened? This may be the one wine question I hear most often; and the short answer, I'm afraid, is, "not very long."

Wine, like fresh fruit, is perishable, and air is its enemy. Once you've taken out the cork and exposed the liquid to oxygen, it starts to deteriorate pretty fast.

If you aren't picky, with most everyday table wines you can jam the cork back into the half-finished bottle and keep it at room temperature for a day or two before its flavor starts to deteriorate seriously. Pop it in the fridge, and it might last for a week or more. Fortified wines like Port or Sherry may last a little longer, but much more than a week is pushing it.

Wine shops sell preservation systems -- one popular model sucks the air out of the bottle with a plastic pump and special stopper; another uses an aerosol can to squirt inert gas into the bottle -- but I don't find these alternatives work well enough to be worth the price.

A more expensive system, akin to the commercial Cruvinet found in wine bars, pumps canned nitrogen gas through plastic tubing into an opened bottle and uses gas pressure to dispense the wine through a spout. It works better than the other systems, but I'm not sure it's really an improvement on refrigeration.

And finally, if you're really insistent on keeping a half-bottle of wine, some wine fanciers have reported good results with carefully pouring half of the bottle into a clean half-bottle (375 ml.), filling it up to the top, and then re-stoppering it with a clean, sound wine cork.

Your best bet, though, is simply to finish your wine within a couple of days ... use the leftovers for cooking ... or invite friends over to share.

One reassurance: Even if your wine gets too old to enjoy, it can't hurt you. It may lose its flavor and become flat, dull and unenjoyable, but it won't turn toxic.

If you've got good ideas about keeping leftover wine, I hope you'll share them. Send me E-mail!

30 Second Tasting Notes

Two bargain Portuguese reds

With the single but significant exception of Port, the wines of Portugal haven't attracted much attention outside their nation's boundaries in recent years. Suddenly, however, I'm starting to see a number of tasty and affordable Portuguese wines at bargain prices on the local market. These two come from the Alentejo region, an agricultural plain -- sort of the Portuguese analogue to America's breadbasket Midwest -- across the Targus River from Lisbon. These wines are both a bit "rustic" and simple, but they make very pleasant quaffing and go well with food, and there's no quibbling with the bargain-level price.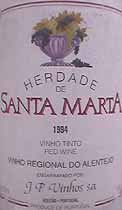 Herdade de Santa Marta 1994 Vinho Regional do Alentejo ($7.99)
Very dark ruby color. Black pepper and grapey fruit on the nose and palate. Juicy and ripe, it quaffs well; a good pizza or spaghetti wine, made from a blend of five grapes dominated by the Portuguese Periquita. U.S. importer: Admiral Wine Imports, Irvington, N.J. (Feb. 21, 1999)
FOOD MATCH: Worked very well indeed with a spicy but not fiery Cajun-style meatloaf.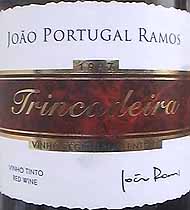 João Ramos 1997 Trincadeira Vinho Regional Alentejo ($9.99)
Made from the Trincadeira grape, a near relative of Periquita, this is a very dark ruby-colored wine with pleasant floral and red-fruit aromas. Full, juicy and soft, it seems to lack structure at first, but crisp, lemony acidity comes through in the finish. U.S. importer: Kysela Pere et Fils Ltd., Winchester, Va. (Feb. 22, 1999)

FOOD MATCH: The ripe, fresh fruit makes it an unexpectedly good match with corned beef and cabbage; it would also go well with ham.


30 Second Wine Link

If you enjoy reading about wine history, you will not want to miss The Origins and Ancient History of Wine, a presentation by the University of Pennsylvania Museum of Archaeology and Anthropology. One of my absolute favorite wine-related sites, thoughtfully and intelligently "curated," it is nothing less than a thorough yet readable overview of the history and archaeology of wine in ancient times.

30 Second Advertising Partner

Our newest advertising partner, "Châteaux, Hôtels and Restaurants of Périgord," comes highly recommended from people I trust. This French-based Website features the châteaux and restaurants of Périgord (or Dordogne), and offers travelers the opportunity, as its slogan says, to "sleep in a Chateau for less than $80 a night."

30 Second Administrivia

This free weekly E-mail publication is distributed to subscribers every Monday. The information it contains will later be archived online. Last week's edition is now available for your review.

You are on the subscription list because our records indicate that you registered for it during a visit to Robin Garr's Wine Lovers' Page. If for any reason you don't want to receive this publication, simply send E-mail to 'wine@wine-lovers-page.com' and we'll remove your name from the list.

If your E-mail program is having trouble handling the images in this edition, feel free to request that we switch you from the HTML to TEXT edition ... or vice versa. We also welcome feedback, suggestions, and ideas for future columns. Send us E-mail at wine@wine-lovers-page.com.

All the wine-tasting reports posted here are consumer-oriented. In order to maintain objectivity and avoid conflicts of interest, I purchase all the wines I rate at my own expense in retail stores and accept no samples, gifts or other gratuities from the wine industry.

More time for wine?

You don't need to wait for Mondays to read about wine! Drop in any time on Robin Garr's Wine Lovers' Page, where we add new tasting notes several times each week and frequently expand our selection of wine-appreciation articles, tips and tutorials.

If you'd like to talk about wine online with fellow wine enthusiasts around the world, we'd be delighted to have you visit the interactive forums in our Wine Lovers' Discussion Group. If you're from another part of the world and don't feel entirely comfortable chatting in English, visit our International Forum and introduce yourself in the language of your choice.

<!TODAY'S TEXT ENDS HERE!>