<!TODAY'S TEXT STARTS HERE!>

30 Second Wine Tasting Tip:
A taste of tannin

Take a sip of strong black tea, and notice that puckery sensation as it coats your mouth with an astringent fuzziness.

Now take a taste of a young Cabernet Sauvignon, and chances are you'll feel a similar sensation.

What you're tasting is tannin (tannic acid), a natural chemical that's sometimes found in tree bark, wood, and the skins, seeds and stems of some fruits - in particular some red wine grapes.

Tannins are used to "tan" animal hides to turn them into leather, and that's actually the process you feel when the tannins in tea or wine start to work on the proteins inside your mouth. Think about that the next time you enjoy a youthful Cabernet!

Tannins in wine come primarily from the grape, although aging wine in oak barrels can also impart a dose of the puckery stuff.

A healthy dose of tannins in a young wine can make it less than a pleasure to drink, and for this reason, certain wines - in particular red Bordeaux and other young Cabernet Sauvignons, the Nebbiolo-based reds of Northwestern Italy, and such less-widely known wines as the Tannat of Madiran - are customarily held in the wine cellar until they mature. During the maturation process, the tannins polymerize (combine into longer-chain molecules), and as a result of this process, the wine develops a bit of sediment in the bottle as its flavor evolves from harsh and astringent to mellow and complex. Tannins also act as antioxidants, naturally preserving the wine during its maturing years.

Not all tannic wines evolve into stylish maturity, however. If a wine is merely tannic without fruit in its youth, it isn't likely to become a thing of beauty with age. Balance is the key.

Finally, if you must "rob the cradle," as wine enthusiasts say of drinking an ageworthy wine before its time, this is the one case in which "breathing" - or better yet, decanting your wine with lots of splashing to mix it with air as you pour - may help soften its rough edges a bit. And serving a youthfully tannic wine with rare red meat will also go a long way to ameliorate that rough tannic astringency.

What's your tolerance for tannins? Would you rather hold your ageworthy reds or taste them as soon as you can? If you'd like to comment on this, send me E-mail at wine@wineloverspage.com. I regret that the growing circulation of the "Wine Advisor" makes it difficult for me to reply individually to every note, but I'll answer as many as I can; and please be assured that all your input helps me do a better job of writing about wine. Please feel free to get in touch if you'd like to comment on our topics and tasting notes, suggest a topic for a future bulletin, or just talk about wine.

If you're enjoying The 30 Second Wine Advisor, we hope you'll invite your wine-loving friends to register for their own free weekly copy at http://www.wineloverspage.com/wineadvisor.

30 Second Tasting Notes
A Cabernet with a touch of tannin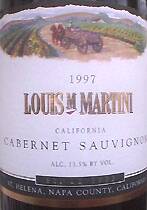 Louis M. Martini 1997 California Cabernet Sauvignon ($12.99)
Dark ruby, with a full, minty blackcurrant scent, characteristic California Cabernet Sauvignon. Juicy and ripe, appealing fruit flavors follow the nose, with tart fresh-fruit acidity and a light, palatable tannic "fuzz." Excellent value, and as is typical of Martini's Cabernets, far more ageworthy than its modest price suggests. (Feb. 27, 2000)

FOOD MATCH: Excellent match with garlicky roasted turkey legs; the dark, oily meat "tames" the tannins and brings the fruit forward.


30 Second Wine Link

If you're looking for a tannic California Cabernet - or planning a trip to the West Coast wine country for any reason - check out Eric Anderson's Wine Touring Page, http://www.grape-nutz.com/tours.html, with detailed information on winery tours and links to wineries for more than a dozen Golden State wine roads.

Wine Lovers' Voting Booth

Last week's survey about your preferences in buying or bringing wine to restaurants raised an intriguing follow-up question: Is "bring your own" (BYO) even a possibility for many of us? Somewhat to the amazement of our European cousins, BYO is difficult or illegal in many states of the U.S. and provinces in Canada. Some jurisdictions forbid BYO entirely, while others permit it only in restaurants with no liquor license. Even where BYO is legal, some restaurateurs forbid it, others welcome it, and some assess a "corkage" fee to cover the expenses of glassware and service.

To help us sketch a clearer picture of how BYO policies vary around the world, this week's Voting Booth asks: Which (of several choices listed) describes the least restrictive BYO option available at restaurants in the community or metropolitan area where you live?

We hope you'll drop by the Wine Lovers' Voting Booth, www.wineloverspage.com/votebooth, and join in the balloting.

30 Second Advertising Partner

California Wine Club, www.cawineclub.com, is the perfect, affordable way to get two different bottles of excellent wine every month, along with its fun and fact-filled newsletter Uncorked. Commercially unavailable, these wines are like secret treasures we hand-select from California's small, award-winning wineries. Join for as many months as you like, or use The California Wine Club as a special, unique gift for friends, family, customers and colleagues. You can reach the Club at the link above or, in the U.S., by calling 1-800-777-4443.

30 Second Administrivia

This free weekly E-mail publication is distributed to subscribers every Monday. Previous editions are archived on The Wine Lovers' Page. See www.wineloverspage.com/wineadvisor/thelist.shtml.

You are on the subscription list because our records indicate that you registered during a visit to Robin Garr's Wine Lovers' Page. If for any reason you don't want to receive this publication, simply send E-mail to 'wine@wineloverspage.com' and we'll remove your name from the list. We do not use this list for any other purpose and will never give or sell your name or E-mail to anyone.

If your E-mail program is having trouble handling the images in this edition, feel free to request that we switch you from the HTML to TEXT edition ... or vice versa. We welcome feedback, suggestions, and ideas for future columns. Send us E-mail at wine@wineloverspage.com.

All the wine-tasting reports posted here are consumer-oriented. In order to maintain objectivity and avoid conflicts of interest, I purchase all the wines I rate at my own expense in retail stores and accept no samples, gifts or other gratuities from the wine industry.

More time for wine?

You don't need to wait for Mondays to read about wine! Drop in any time on Robin Garr's Wine Lovers' Page, where we add new tasting notes several times each week and frequently expand our selection of wine-appreciation articles, tips and tutorials.

If you'd like to talk about wine online with fellow wine enthusiasts around the world, we'd be delighted to have you visit the interactive forums in our Wine Lovers' Discussion Group. If you're from another part of the world and don't feel entirely comfortable chatting in English, visit our International Forum and introduce yourself in the language of your choice.

Vol. 2, No. 6, Feb. 28, 2000

<!TODAY'S TEXT ENDS HERE!>

Subscribe (free) to The 30 Second Wine Advisor