<!TODAY'S TEXT STARTS HERE!>

30 Second Wine Tasting Tip:
Champage "shortage"?

Yes, I know the Millennium won't really arrive until Jan. 1, 2001. But all indications are that anyone who puts off celebrating is going to miss one whale of a party this coming Dec. 31, when the calendar rolls over like the odometer on your old jalopy.

Millennium fever is upon us, with symptoms ranging from a proliferation of "countdown clocks" to cults and ominous prophecies that the End Times are near. Here's one scary prediction that's been making the rounds: So many people are planning to pop a cork for this one-in-a-thousand celebration that the world might run short of Champagne by the end of '99.

Is this a serious threat? Perhaps, depending on how picky you are.

If only the genuine article will do -- the fine sparkling wine hand-made from Chardonnay and Pinot Noir grapes in the Champagne region around Reims, France -- then there's no question that millennial fever will create a strong demand. But most revelers will be happy with more affordable products, and you can be confident that the makers of budget sparklers are already ramping up production to take advantage of a good thing.

So, yes, shortages of luxury Champagnes are possible, and in the weeks before New Year's, it's possible that individual retailers may run short on inventory and have to restock. But the industry certainly shouldn't have any trouble supplying the demand for everyday bubbly.

Still, if you want to celebrate with something special, there's no reason not to be cautious and stock up early. Quality Champagne should last for at least a year, stored either upright or on its side in a cool, dark part of your house.

Happy Millennium!

30 Second Tasting Notes

Here are two midrange sparklers -- one very fine Champagne and a top-end California sparkler -- that ought to do justice to a Millennial celebration. (We ask the pardon of budget-seekers for devoting this week's edition to relatively expensive wines; next week I'll try to focus on something from the bargain bin.)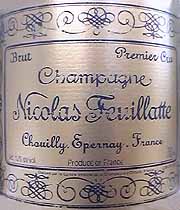 Champagne Nicolas Feuillatte non-vintage Brut Premier Cru ($26.99)
Very pale straw color, shows a constant stream of pinpoint bubbles in the glass. Perfumed apple fruit and a delicious hint of something like dark, bitter chocolate makes for a thoroughly appetizing aroma. Creamy on the palate, light and fresh, its flavors are clean, delicate and balanced; comparing it with the California bubbly is like contrasting a subtle watercolor to a Technicolor movie. They're both fine wines, but with both open on the table, this is the one that passes the "give me another glass" test. Outstanding, a match for much more pricey Champagnes. U.S. importer: Martin Sinkoff Wines Inc., Dallas. (Feb. 20, 1999)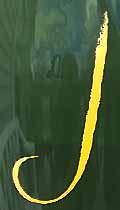 "J" non-vintage Sonoma County Sparkling Wine ($24.99)
Pale straw color, with an abundant fountain of tiny bubbles that lasts and lasts. Good crisp apple-like fruit aromas add an odd, almost buttery or tallowlike element, a background nuance that's not unpleasant but quite unusual. An almost frothy level of carbonation makes this a mouth-filling wine, with a good, fresh-apple and tropical fruit flavor. Far above the standard for California sparklers, it bears some resemblance to a buttery California Chardonnay ... with bubbles. (Feb. 20, 1999)

FOOD MATCH: Both sparklers made a very fine match indeed with pan-grilled veal chops finished with a splash of Bourbon and a bit of butter.


30 Second Wine Link

One of the joys of the World Wide Web is its international scope. This week let's travel to Finland to view one of the most charming and creative wine-related sites I've found: Hannu Lehmusvuori's Redwine of the Week brings together fine wine and fine photography in an innovative mix. Once you've taken a look at Hannu's innovative interpretations, you'll surely bookmark this site for frequent visits.

30 Second Advertising Partner

Most people who enjoy fine wine also fancy other quality beverages, and in my opinion, coffee doesn't get much better than Heine Brothers' Coffee. It's expensive coffee, frankly, but comparing it to the mass-market brands is like comparing a fine Bordeaux to jug wine, and for similar reasons: Proprietors Gary Heine and Mike Mays select the best grades of coffee beans, hand-roast them in small batches and ship orders only on the day it's roasted. Heine Brothers is my neighborhood coffee shop, and I'm drinking a cup of their finest Yemen Mocha Matari right now.

30 Second Administrivia

This free weekly E-mail publication is distributed to subscribers every Monday. The information it contains will later be archived online. Last week's edition is now available for your review.

You are on the subscription list because our records indicate that you registered for it during a visit to Robin Garr's Wine Lovers' Page. If for any reason you don't want to receive this publication, simply send E-mail to 'wine@wine-lovers-page.com' and we'll remove your name from the list.

If your E-mail program is having trouble handling the images in this edition, feel free to request that we switch you from the HTML to TEXT edition ... or vice versa. We also welcome feedback, suggestions, and ideas for future columns. Send us E-mail at wine@wine-lovers-page.com.

All the wine-tasting reports posted here are consumer-oriented. In order to maintain objectivity and avoid conflicts of interest, I purchase all the wines I rate at my own expense in retail stores and accept no samples, gifts or other gratuities from the wine industry.

More time for wine?

You don't need to wait for Mondays to read about wine! Drop in any time on Robin Garr's Wine Lovers' Page, where we add new tasting notes several times each week and frequently expand our selection of wine-appreciation articles, tips and tutorials.

If you'd like to talk about wine online with fellow wine enthusiasts around the world, we'd be delighted to have you visit the interactive forums in our Wine Lovers' Discussion Group. If you're from another part of the world and don't feel entirely comfortable chatting in English, visit our International Forum and introduce yourself in the language of your choice.

<!TODAY'S TEXT ENDS HERE!>