<!TODAY'S TEXT STARTS HERE!>

30 Second Wine Tasting Tip:
Logging your "Life List"

I spotted a hilariously bizarre line of bathroom graffiti years ago at an eatery along an Interstate highway somewhere in Wyoming. It read, "Roger Tory Peterson never saw a prothonotary warbler" ... and what does this have to do with wine, anyway?

Simple: It's my view that wine appreciation is just as much a hobby as, well, bird watching. And if a noted ornithologist like Mr. Peterson (who is to birds as Robert M. Parker Jr. is to wines) can derive pleasure from keeping a detailed "life list" of the birds he sees and where he saw them, then why shouldn't oenophiles -- pardon me, wine lovers -- do the same with the wines we taste?

I always bring an extra sense of anticipation to my first bottle of wine from a country or region I haven't experienced before, or when I take my taste of a wine made from a grape I hadn't previously encountered. That Japanese Cabernet that I picked up in Kyoto or the nondescript Peruvian red that my brother sent from Lima stand out in my palate's memory, not because they were great wines but because they were different. They illustrate the near-infinite diversity that makes wine more interesting than any other beverage. It's the same with grape varieties: For all our love of Cabernet, Pinot, Merlot or Chardonnay, it's a treat to switch now and then to a wine made from something like the Italian Refosco dal Pedunculo Rosso or the Spanish Xarel-lo or this week's pick, Teroldego.

Do you keep a "life list"? If you'd like to guesstimate your country, region or grape-variety totals or have a good story to tell about a very unusual wine, I'd love to hear from you by E-mail. Drop me a line at wine@wine-lovers-page.com, and I'll summarize the best reports in a later edition.

30 Second Tasting Notes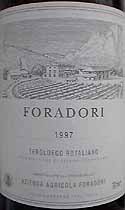 Here's an unusual entry worth recording if you're keeping a "life list" of grape varieties tasted. Teroldego Rotaliano ("Teh-RAWL-day-go Roe-TAH-lee-AH-no") is grown in the Rotaliano plain of Trentino in Northeastern Italy. In her excellent pocket-size book "Guide to Wine Grapes," Jancis Robinson describes it as "capable of producing deep-coloured seriously lively fruity wines with relatively low tannins for early drinking."

Foradori 1997 Teroldego Rotaliano ($15.99)
Inky dark reddish-purple. Deep black-fruit aroma, prunes and plums and hints of licorice. Soft and juicy fruit flavor, tar and smoke; somehow manages to find structure in its abundant fruit despite relatively limited acidity that would render a less fruit-filled wine "flabby." Good quaffing wine and a delight at the table. U.S. importer: Vias Imports Ltd., NYC. (Feb. 12, 1999)

FOOD MATCH: Roast chicken.


30 Second Wine Link

The Delvino Winery was founded by Louis Birner in Brooklyn, New York. According to the accounts gathered from the remaining family, in the early 20th century Birner and his family left their home in Romania to escape persecution. After trying the horse and harness business and then selling supplies for home beer and wine making during Prohibition, he opened a small winery in New York City. This charming Website tells the family's story and showcases a few images of its old equipment.

30 Second Advertising Partner

We highlight the Sydney International Wine Competition, our Australian advertising partner, this week on the occasion of its annual Awards Presentation on Valentine's Day. The Sydney International is the only major wine competition in the world that judges the best wines alongside complementary food. Its comprehensive Website lists all the wines that its judges rated as the world's best, along with recipes and descriptions of the foods that accompanied them. As great fans of the happy marriage of food and wine, we applaud Sydney International's unique insistence that these two life's essentials should be judged together and not separately.

30 Second Administrivia

This free weekly E-mail publication is distributed to subscribers every Monday. The information it contains will later be archived online. Last week's edition is now available for your review.

You are on the subscription list because our records indicate that you registered for it during a visit to Robin Garr's Wine Lovers' Page. If for any reason you don't want to receive this publication, simply send E-mail to 'wine@wine-lovers-page.com' and we'll remove your name from the list.

If your E-mail program is having trouble handling the images in this edition, feel free to request that we switch you from the HTML to TEXT edition ... or vice versa. We also welcome feedback, suggestions, and ideas for future columns. Send us E-mail at wine@wine-lovers-page.com.

All the wine-tasting reports posted here are consumer-oriented. In order to maintain objectivity and avoid conflicts of interest, I purchase all the wines I rate at my own expense in retail stores and accept no samples, gifts or other gratuities from the wine industry.

More time for wine?

You don't need to wait for Mondays to read about wine! Drop in any time on Robin Garr's Wine Lovers' Page, where we add new tasting notes several times each week and frequently expand our selection of wine-appreciation articles, tips and tutorials.

If you'd like to talk about wine online with fellow wine enthusiasts around the world, we'd be delighted to have you visit the interactive forums in our Wine Lovers' Discussion Group. If you're from another part of the world and don't feel entirely comfortable chatting in English, try our new International Forum and introduce yourself in the language of your choice.

<!TODAY'S TEXT ENDS HERE!>