<!TODAY'S TEXT STARTS HERE!>

30 Second Wine Tasting Tip:
Sending the wine back

Perhaps the ultimate stereotype of the arrogant wine snob is the fellow who swirls, sniffs and sips the taste of wine presented him in a fancy restaurant and then, with loud self-righteousness, sends the wine back, declaring it undrinkable and unfit.

Most of us prefer to avoid that kind of attention-getting behavior. Unless our wine is obviously "corked" (musty and dank) or "cooked" (flat and pruney from exposure to excess heat), it can be a tough decision to refuse the wine we ordered. This bold action requires us to pit our opinion against that of the wine steward, and it risks a controversy that could spoil an otherwise delightful evening out. It's not an easy choice.

In fact, most good restaurants will quickly and politely honor the diner's request to take back wine for any reason. After all, this - at least in theory - is what the "wine ritual" is all about. But if the wine isn't obviously spoiled, there may be some resistance, and sadly, a few restaurateurs will fight any effort to return the wine for any reason. In an ideal world, "the customer is always right," but in the real world the restaurant's reaction may vary widely from the ideal, and it's pretty much up to you to decide whether the issue is worth fighting over.

Ultimately, though, if you taste the wine and find it spoiled, you should return it and the restaurateur should take it back without any further question. If you simply decide that you don't like the wine because it isn't what you expected, you shouldn't be surprised if the restaurateur objects.

Have you had any interesting, informative or just plain humorous experiences with returning wine in a restaurant? Tell me your stories, by E-mail to wine@wine-lovers-page.com. I regret that the growing circulation of the "Wine Advisor" makes it difficult for me to reply individually to every note, but I'll answer as many as I can; and please be assured that all your input helps me do a better job of writing about wine. Please feel free to get in touch if you'd like to comment on our topics and tasting notes, suggest a topic for a future bulletin, or just talk about wine.

If you're enjoying The 30 Second Wine Advisor, we hope you'll tell your wine-loving friends to register for their own free weekly copy at http://www.wine-lovers-page.com/wineadvisor.

30 Second Tasting Notes
A bargain from Languedoc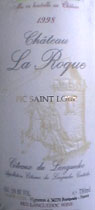 Chateau La Roque 1998 Coteaux du Languedoc Pic Saint-Loup Cuvee Les Vieilles Vignes de Mourvèdre ($9.99)
This unusual red wine from one of my favorite Languedoc wineries is made entirely from Mourvèdre grapes from old vines, and delicious fruit and earthiness make it a very good value for a penny under $10. Dark ruby in color, it shows fresh red-fruit and the pleasant earthy scents that I associate with this grape. Soft, juicy fruit flavors are consistent with the aroma, with light but sufficient acidity to provide balance. U.S. Importer: Kermit Lynch Wine Merchant, Berkeley, Calif. (Feb. 10, 2000)

FOOD MATCH: Just right with garlicky roast chicken.


30 Second Wine Link

"Most archaeologists agree that grape wine has probably been made for the last 10,000 years, and that mead and beer have probably been around for even longer. These were also the drinks of the ancient gods! Alcoholic Drinks of the Middle Ages, www.inetone.net/mshapiro/calcohol.html, is a comprehensive, somewhat scholarly source of documentation for all phases of the production of alcohol and its use in various drinks, including recipes for the production of medieval beverages.

Wine Lovers' Voting Booth

With the Valentine's Day season upon us, many wine lovers are looking forward to a romantic dinner for two with their sweethearts. This week's Wine Lovers' Voting Booth asks a seasonal question: When you go out to dinner in a restaurant, assuming a table for two, what are you most likely to do regarding wine? Drop by the Voting Booth, www.wineloverspage.com/votebooth, and cast your ballot.

A special bulletin for U.S. readers

We have received the following notice from the good folks at Wine Institute, the trade association of the California wine industry, and pass it along for your consideration. (Obviously, this applies to the U.S. citizens among our readers, although we hope our international readers will find it interesting.)

"Efforts are underway by certain private lobbying groups to roll back the existing wine labels that would direct consumers to balanced scientific information about the health effects of alcohol consumption - both the negative and the positive. Wine Institute encourages your participation in telling our government officials that consumers have the right to know and can be trusted to handle this scientific information. To promote the interests of full access and fair reporting, please send an E-mail message as soon as possible to: nprm.notice.884@atfhq.atf.treas.gov. E-mail comments must contain your name, postal mailing address, and E-mail address and should be received by Feb. 22, 2000."

The following sample E-mail message is offered for your consideration:

SEND TO: nprm.notice.884@atfhq.atf.treas.gov

SUBJECT: Notice 884--Directional health-related statements on wine labels

TO: Richard Mascolo, Chief, Regulations Division


Bureau of Alcohol, Tobacco and Firearms

Directing consumers to consult with their doctors or to refer to the U.S. Dietary Guidelines for Americans regarding the health effects of wine consumption constitutes a responsible and neutral message. Far from misleading the public, such statements are designed to educate and empower each individual to make fully informed choices regarding the use of wine. I urge you to continue to allow directional label statements to appear on wine containers.

I believe that wine is entitled to the use of health-related statements so that consumers can be directed to respected scientific research and government reports such as the U.S. Dietary Guidelines from which they can draw their own conclusions.

Sincerely,

[Your Name]
[Your Mailing address]
[Your E-mail address]

30 Second Advertising Partner

California Wine Club, www.cawineclub.com, is the perfect, affordable way to get two different bottles of excellent wine every month, along with its fun and fact-filled newsletter Uncorked. Commercially unavailable, these wines are like secret treasures we hand-select from California's small, award-winning wineries. Join for as many months as you like, or use The California Wine Club as a special, unique gift for friends, family, customers and colleagues. You can reach the Club at the link above or, in the U.S., by calling 1-800-777-4443.

30 Second Administrivia

This free weekly E-mail publication is distributed to subscribers every Monday. Previous editions are archived on The Wine Lovers' Page. See www.wine-lovers-page.com/wineadvisor/thelist.shtml.

You are on the subscription list because our records indicate that you registered during a visit to Robin Garr's Wine Lovers' Page. If for any reason you don't want to receive this publication, simply send E-mail to 'wine@wine-lovers-page.com' and we'll remove your name from the list. We do not use this list for any other purpose and will never give or sell your name or E-mail to anyone.

If your E-mail program is having trouble handling the images in this edition, feel free to request that we switch you from the HTML to TEXT edition ... or vice versa. We welcome feedback, suggestions, and ideas for future columns. Send us E-mail at wine@wine-lovers-page.com.

All the wine-tasting reports posted here are consumer-oriented. In order to maintain objectivity and avoid conflicts of interest, I purchase all the wines I rate at my own expense in retail stores and accept no samples, gifts or other gratuities from the wine industry.

More time for wine?

You don't need to wait for Mondays to read about wine! Drop in any time on Robin Garr's Wine Lovers' Page, where we add new tasting notes several times each week and frequently expand our selection of wine-appreciation articles, tips and tutorials.

If you'd like to talk about wine online with fellow wine enthusiasts around the world, we'd be delighted to have you visit the interactive forums in our Wine Lovers' Discussion Group. If you're from another part of the world and don't feel entirely comfortable chatting in English, visit our International Forum and introduce yourself in the language of your choice.

Vol. 2, No. 4, Feb. 14, 2000

<!TODAY'S TEXT ENDS HERE!>

Subscribe (free) to The 30 Second Wine Advisor