30 Second Wine Advisor: This week's sponsor
California Wine Club: Send some New Year's cheer!
(Plus a special FREE collectors' wine case for Wine Advisor readers ... see details below)
http://www.cawineclub.com/
In This Issue
• Happy New Year!
• Wine trends and "Two Buck Chuck"
• Cline 2000 "Oakley" Vin Rouge
• California Wine Club: Send some New Year's cheer!
• Last Week's Wine Advisor Index
• Administrivia
Happy New Year!
May your New Year be a happy and prosperous one, and may all your wishes come true! We're taking the day off on Wednesday again this week to celebrate New Year's Day, but The 30 Second Wine Advisor will be back on Friday for "daily" subscribers, and Wine Advisor FoodLetter subscribers will get their edition as usual on Thursday.
Wine trends and "Two Buck Chuck"
As the Old Year slouches sleepily toward the New, let's take a moment to examine one of the more unusual wine stories of 2002 ... and ponder whether it foreshadows possible good news for value-seeking wine enthusiasts in 2003.
I'm talking about Charles Shaw, a mysterious wine label that went on sale last February exclusively at the Trader Joe's grocery chain, which offered the usual varieties in its California stores for a remarkable $2 a bottle, prompting local wine wits to dub it "Two Buck Chuck."
It sold moderately for months, but began to develop "cult" status in the autumn, particularly after a wine-trade magazine, Wines & Vines, breathlessly reported that its tasting panel rated the Charles Shaw Chardonnay better than a $67 bottle that the editors declined to identify. After that, The Los Angeles Times reported earlier this month, it wasn't long before Californians were backing their SUVs and mini-vans up to TJ's stores and loading in Charles Shaw by the case.
Interesting, if inaccurate, rumors abounded: The wine had been dumped by an airline unable to serve it in flight without corkscrews ... Mr. Shaw, a wealthy philanthropist, decided to offer low-cost wine to make it accessible to the masses ... or, more cynically, the bargain was the result of a nasty divorce settlement.
In fact, the story is simpler, although the company behind the Shaw label, Bronco Wine Co., of Ceres, Calif. - a mass-marketer of inexpensive wines - isn't talking about the details. But what we're really seeing in Charles Shaw is the leading edge of a vast overproduction of wine grapes that's straining the capacity of producers not only in California but around the world.
With supply dramatically exceeding the demand for servicable, simple wine grapes, it's relatively easy to make wine in bulk for less than $1 per bottle. Add in another dollar for the cost of the glass bottle and cork, and an industrial-style producer can make a decent profit on volume at $2 a bottle, at least within California where the producer can sell direct to the retailer. (Indeed, Charles Shaw wines go for $4 to $5 in Trader Joe stores in other states where the upscale grocery chain has properties but must pass the wine through wholesalers on its way to the shelves.)
So is it nectar or is it swill? I haven't had the opportunity to judge for myself: We have no Trader Joe's stores nearby. Based on many reports from wine-loving friends in California and elsewhere, though, it's not poisonous, but, as you might expect for the price, it's not a wine for the ages. "It's good enough to cook with and even take a sip of but nothing I'd serve to guests," an wine-loving Angeleno pal, Jenise Stone, said of the Chardonnay. (Note also that Bronco has released a number of varieties from three different vintages, and substantial variation in quality has been reported.)
Will the real Charles Shaw please stand up? As it turns out, Bronco purchased the rights to a defunct California label. The original Charles Shaw was a banker-turned-winemaker who produced a pleasant Beaujolais-style Napa wine during the 1970s before giving up the business. As best I can determine, he has not commented in public about his new namesake wine.
So what, if anything, does the Charles Shaw phenomenon signify for those of us who like a bargain but also insist on having something interesting in our glass?
Just this: In the face of a shaky world economy when many people are starting to look more carefully at how we spend, the wine-grape glut may signal a retreat from the pricing craziness of the past few years. I'm already seeing an enticing softening of retail prices. As I noticed in a pre-Christmas report, for example, some 2000 Bordeaux releases from less-known properties are showing up at $10 where similar wines might have commanded $20 a year ago. I'll be watching this trend closely in the New Year, and look forward to reporting on real values as I find them.
WEB LINKS: You'll find the long, informative Los Angeles Times story about Charles Shaw at
http://www.latimes.com/features/food/la-fo-wine7dec07.story.
A lengthy registration process is required in order to read LA Times articles online, but there's no charge.
For the September Wines & Vines blurb on Charles Shaw vs. an unnamed $67 Chardonnay, click to
http://www.winesandvines.com/ink_sept_02.html.
Now, speaking of affordable (if not $2) wines that DO hold some flavor interest, here's today's tasting report: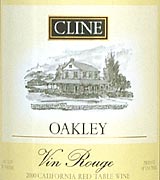 Cline 2000 "Oakley" California Vin Rouge ($7.99)
This affordable red table wine is made from a melange of Southern French grapes - Carignan, Mourvedre, Syrah, Grenache, Cinsaut and Alicante Bouschet - from 75- to 100-year-old vines dry-farmed on land near Oakley, Calif., about midway between the San Francisco Bay area and the agricultural Central Valley, a region that's not often mentioned in discussions of great wine. But the wine offers a lot of flavor for a low-end price: Dark ruby in color with purplish glints, it offers a burst of grapey fruit and earthy leather, ripe and fresh; so fruity that it seems sweet at first, but dries up and finishes unsweet and appropriately tart. The French name heralds its blend of grapes with their roots in the Rhone, Provence and Languedoc, and its bowl-of-fruit style offers a bow to Beaujolais; but soft, in-your-face fruit speaks of the New World. (Dec. 29, 2002)
FOOD MATCH: Fine with a meatless dinner crafted to match, a Euro-California blend of goat-cheese polenta topped with avocado and walnuts.
VALUE: Easy quaffing and distinct flavor interest for well under $10 spells good value, a trend worth following in 2003.
WINE LINK: Here's Cline's fact sheet on Oakley Vin Rouge:
http://www.clinecellars.com/vr2000.htm.

Wine Lovers' Voting Booth: New Year's resolutions
If you don't think time flies, consider this: Can it really have been three years since the calendar turned over to 2000? This week, as we prepare for a presumably more normal New Year's Eve, let's repeat the question we last asked during the week of Dec. 31, 1999, inviting you to tell us about your wine-related New Year's resolutions.
I hope you'll take a moment to drop by the Voting Booth,
http://www.wineloverspage.com/votebooth/,
to fill in your choices, and to compare your choices with those of other wine lovers around the world.
California Wine Club: Send some New Year's cheer
Did you leave someone off your holiday gift list? Why not send some New Year's cheer with a gift from The California Wine Club!
A gift of wine from the best of California's small, family-owned wineries is always appreciated! The California Wine Club delivers your greeting of New Year's cheer with two bottles of award-winning wine and Uncorked, a fun and entertaining 8-page newsletter.
Each month is just $32.95 plus shipping. Send as many months as you wish! Be sure to ask about their special discounts on gifts of 3, 6, 9 and 12 months.
SPECIAL FOR WINE ADVISOR READERS! Mention The 30 Second Wine Advisor and they'll also send your gift recipients a Collectors Wooden Engraved Wine Case - FREE!
Visit
http://www.cawineclub.com/
or call (800) 777-4443.
Last Week's Wine Advisor Index
The Wine Advisor's daily edition is currently distributed on Mondays, Wednesdays and Fridays (and, for those who subscribe, the FoodLetter on Thursdays). Here's the index to last week's columns:
• Red wine and chocolate (Dec. 27)
http://www.wineloverspage.com/wineadvisor/tswa021227.phtml
• Artisanal Champagne (Dec. 23)
http://www.wineloverspage.com/wineadvisor/tswa021223.phtml
• Complete 30 Second Wine Advisor archive:
http://www.wineloverspage.com/wineadvisor/thelist.shtml
• Last week's Wine Advisor Foodletter: Oyster stew (Dec. 26)
http://www.wineloverspage.com/wineadvisor/tsfl021226.phtml
• Wine Advisor Foodletter archive:
http://www.wineloverspage.com/wineadvisor/foodlist.phtml
Administrivia
To subscribe or unsubscribe from The 30 Second Wine Advisor, change your E-mail address, switch from weekly to daily distribution, or for any other administrative matters, click to http://www.wineloverspage.com/wineadvisor/admin.phtml. In all administrative communications, please be sure to include the exact E-mail address that you used when you subscribed, so we can find your record. If you must unsubscribe, please take a moment to tell us why you're leaving, and to offer any comments or suggestions you may have. We do not use our E-mail list for any other purpose and will never give or sell your name or E-mail address to anyone.
I welcome feedback, suggestions, and ideas for future columns. To contact me, send E-mail to wine@wineloverspage.com.
All the wine-tasting reports posted here are consumer-oriented. In order to maintain objectivity and avoid conflicts of interest, I purchase all the wines I rate at my own expense in retail stores and accept no samples, gifts or other gratuities from the wine industry.
Monday, Dec. 30, 2002
Copyright 2002 by Robin Garr. All rights reserved.
Subscribe to the 30 Second Wine Advisor
Wine Advisor archives