30 Second Wine Advisor: This week's sponsor
French Wine Explorers: Join a tour for FREE!
http://www.wine-tours-france.com/
In This Issue
• Red wine and chocolate
• Bonterra 1999 North Coast Cabernet Sauvignon
• French Wine Explorers: Join a tour for FREE!
• Administrivia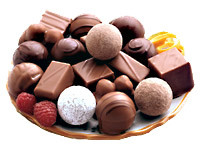 Red wine and chocolate
When someone asks me what wine goes with chocolate, my instinctive response is "don't do it!" The problem is not that a match is impossible, only that it's unlikely. As a general principle, the natural sweetness of sugar, fruit and other good things in the dessert course make wine - even sweet wine - taste sour in contrast.
Even if you like wine and you also like dessert, I generally advise serving them separately. Enjoy dessert, then enjoy an after-dinner wine, but do these things in order, not at the same time.
Of course there are exceptions to this rule. The classic exception is the rather rare French wine Banyuls ("Bahn-yool"), a Grenache-based, naturally sweet red wine from the Pyrennees, which fairly explodes like a strawberry-raspberry flavor grenade when it meets dark, rich chocolate. And some people favor fine Champagne and chocolates, although I suspect this is a case of luxury teasing the imagination as much as the palate.
But who would even bother to try a dry, austere and tannic red table wine as a possible match with chocolate?
Well, I might, and you might, too, if you actually enjoy learning about wine by experimenting with the unexpected. The other night, with a little Cabernet Sauvignon left in my glass after a hearty roast beef dinner, my eye fell on a plate of cookies and a box of chocolates.
Would it work? Well, sort of.
An analytical taste and sip quickly tested the hypothesis: A dark, not-too-sweet chocolate cookie actually made a decent flavor combination, somewhat softening the wine's tannins while bringing up its curranty and berry fruit and adding complexity to its slightly herbaceous cedary undertones. But a couple of tries from the candy box were less successful. Neither a chocolate-covered vanilla cream nor a truffle were impressive with the wine; in both cases the candy was simply too sweet for the wine, turning it into an unappealing beverage, thin and sour, salvaged only by a haunting cherry-berry fruitiness that lingered after the wine and chocolate were gone.
The real moral of today's story, of course, is not that wine and chocolate can be matched, if under the most specific of conditions; rather, it is that you should never be afraid to try new wine-tasting experiences, just to see what happens.
Here's the wine I had in my glass. The cookies were home-made, and the chocolates were from Dan's,
http://www.dans.com/.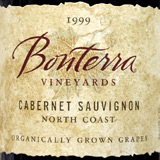 Bonterra 1999 North Coast Cabernet Sauvignon ($16.39)
This wine made from organically grown grapes shows a very dark blackish-purple in the glass. Black-fruit scents, plums and currants, add a hint of blueberries and a cedary note in a complex if not overly forward aroma. Full black fruit is more evident on the palate, tart and rather tannic, although it opens up to more complex and aromatic dark cherries and brown spices after an hour or so in the glass. Could use a little more time in the bottle to come together, but rare beef brings it around. (Dec. 25, 2002)
FOOD MATCH: Perfect with rare roast beef ... and, as noted, works surprisingly well with dark, not-too-sweet chocolate.
VALUE: Competitively priced in the mid-teens.
WEB LINK: You'll find the winery Website at
http://www.bonterra.com/home.html.

French Wine Explorers: Join a tour for FREE!
Our friends at French Wine Explorers, who I joined last June for a tour of the Southern Rhone and Provence and with whom I'll link up again this coming May for a trip around Bordeaux, have come up with a special end-of-the-year offer that sounds almost too good to believe:
If you can get together a group of 10 friends, relatives or colleagues to take a customized, private wine tour together with French Wine Explorers in 2003, you can come for FREE! Or just persuade SIX other people to sign up with you for one of French Wine Explorer's regularly scheduled tours, and once again, you come for FREE! This offer is good through June, 2003 for all the organization's 2003 tours.
For details about this special offer, send E-mail to info@wine-tours-france.com. To read about French Wine Explorers and its tours, visit
http://www.wine-tours-france.com/.
Administrivia
To subscribe or unsubscribe from The 30 Second Wine Advisor, change your E-mail address, switch from weekly to daily distribution, or for any other administrative matters, click to http://www.wineloverspage.com/wineadvisor/admin.phtml. In all administrative communications, please be sure to include the exact E-mail address that you used when you subscribed, so we can find your record. If you must unsubscribe, please take a moment to tell us why you're leaving, and to offer any comments or suggestions you may have. We do not use our E-mail list for any other purpose and will never give or sell your name or E-mail address to anyone.
I welcome feedback, suggestions, and ideas for future columns. To contact me, send E-mail to wine@wineloverspage.com.
All the wine-tasting reports posted here are consumer-oriented. In order to maintain objectivity and avoid conflicts of interest, I purchase all the wines I rate at my own expense in retail stores and accept no samples, gifts or other gratuities from the wine industry.
Friday, Dec. 27, 2002
Copyright 2002 by Robin Garr. All rights reserved.
Subscribe to the 30 Second Wine Advisor
Wine Advisor archives