30 Second Wine Advisor: This week's sponsors
Special announcement from Corkmasters.com:
What closures are in the best-selling wines?
Wine drinkers want to know what closures are in the best-selling wines. Find out more at corkmasters.com: Click through
http://www.wineloverspage.com/cork
French Wine Explorers: Join a tour for FREE!
http://www.wine-tours-france.com/
In This Issue
• Season's Greetings!
• Artisanal Champagne
• Champagne Chartogne-Taillet Brut "Cuvee Sainte-Anne"
• Champagne Egly-Ouriet Brut Tradition
• French Wine Explorers: Join a tour for FREE!
• Last Week's Wine Advisor Index
• Administrivia
Season's Greetings!
As people around the world gather with our families this month to celebrate Christmas, Hanukkah, Ramadan, Kwanzaa and other seasonal festivities, my warmest holiday wishes go out to you all, along with the hope that the New Year will be a happy and prosperous one for you. We'll take a holiday break, with no 30 Second Wine Advisor on Wednesday, but we'll be back on Friday for "daily" subscribers, and the Wine Advisor FoodLetter will go out as usual on Thursday for those who subscribe.
Artisanal Champagne
The word "artisanal" rings happy chimes for many of us who enjoy seeking out wines that aren't necessarily found on every grocery shelf. Coming to us from the Latin through the French, it means "made by an artisan - a skilled manual worker or craftsman," and the word at least implies a hand-crafted product of high quality, made with care.
An artisanal wine needn't be expensive - in fact, many such wines provide good value - but it offers the possibility of a wine with a distinct yet characteristic personality, one that at best will show the style of its region, shaped by the wine maker's individual hand.
Champagne in particular has seen an explosion of artisanal wines in recent years. Since the 1700s, much of the wine exported from this classic French wine region has been made by a few dozen major producers, who purchased grapes from small growers and turned them into wines sold under familiar labels: Moet et Chandon, Bollinger, Pol Roger, Taittinger, Veuve-Cliquot, and other "usual suspects."
Within the past decade or so, though, quite a few of Champagne's 5,000-odd individual growers have begun making and bottling wine under their own name and label. These "single-producer" or "artisanal" wineries offer the wine lover a new alternative, and many of them make wines of exceptional quality. Because production is small, they don't all have sufficient distribution to be available everywhere, but there are so many producers that most quality wine shops should be able to come up with at least a few.
Today's tastings focus on two exceptionally good single-producer Champagnes. You probably won't find them in neighborhood liquor stores, but both have sufficient exports that they should be available at many fine-wine shops in the U.S. and the UK and other countries outside France. To look for them, and others, try the excellent wine-search engine at
http://www.wine-searcher.com.
Champagne Chartogne-Taillet non-vintage Brut "Cuvee Sainte-Anne" ($24.99)
Pale gold, with a steady flow of pinpoint bubbles in the glass. Rich and full aromas, white fruit with a distinct note of cocoa, a characteristic that I often find in sparkling wines with a substantial amount of Pinot Noir in the blend. Flavors are consistent with the nose, cocoa and fresh fruit, full and intense. An exceptional Champagne, produced on 27 vineyard acres near the village of Merfy. It could compete with many larger producers' vintage cuvees. U.S. importer: Michael Skurnik Wines, Syosset, N.Y.; a Terry Theise Estate Selection. (Dec. 19, 2002)
FOOD MATCH: Brilliant with a light meatless dinner crafted to match fine sparkling wine: A "three-lily" risotto made with leeks, red onions and garlic, butter and Parmigiano.
VALUE: Champagne is not cheap, but this one dramatically exceeds expectations at $25, which is near the bottom of the range for this pricey genre.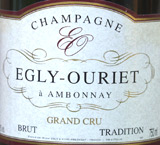 Champagne Egly-Ouriet non-vintage Brut Tradition ($30.99)
Clear light gold; a frothy mousse falls back fast, followed by streams of tiny, persistent bubbles. Exceptionally prickly on the nose and tongue, suggesting a high level of carbonation. Bold red-fruit scents, currants and berries, present a tasty but rather unusual aroma profile for a Champagne. Flavors are mouth-filling, tart and complex, abundant fruit that follows the nose. Exceptionally complex for a non-vintage Champagne, it's made from fruit grown in two "Grand Cru" villages: Ambonnay and Bouzy. U.S. importer: Vintner Select, Cincinnati; Michael Skurnik, Syosset, N.Y., North Berkeley Wine Merchant, Berkeley, Calif., and other regional importers. (Dec. 22, 2002)
FOOD MATCH: A fine, if cross-ethnic, match with an Italian classic, linguine with white clam sauce.
VALUE: Good value - by Champagne standards - in the $30 range.

French Wine Explorers: Join a tour for FREE!
Our friends at French Wine Explorers, who I joined last June for a tour of the Southern Rhone and Provence and with whom I'll link up again this coming May for a trip around Bordeaux, have come up with a special end-of-the-year offer that sounds almost too good to believe:
If you can get together a group of 10 friends, relatives or colleagues to take a customized, private wine tour together with French Wine Explorers in 2003, you can come for FREE! Or just persuade SIX other people to sign up with you for one of French Wine Explorer's regularly scheduled tours, and once again, you come for FREE! This offer is good through June, 2003 for all the organization's 2003 tours.
For details about this special offer, send E-mail to info@wine-tours-france.com. To read about French Wine Explorers and its tours, visit
http://www.wine-tours-france.com/.
Last Week's Wine Advisor Index
The Wine Advisor's daily edition is currently distributed on Mondays, Wednesdays and Fridays (and, for those who subscribe, the FoodLetter on Thursdays). Here's the index to last week's columns:
• Three non-Champagne bubblies (Dec. 20)
http://www.wineloverspage.com/wineadvisor/tswa021220.phtml
• More wine books for the holidays (Dec. 18)
http://www.wineloverspage.com/wineadvisor/tswa021218.phtml
• Bordeaux 2000: Beating the system (Dec. 16)
http://www.wineloverspage.com/wineadvisor/tswa021216.phtml
• Complete 30 Second Wine Advisor archive:
http://www.wineloverspage.com/wineadvisor/thelist.shtml
• Last week's Wine Advisor Foodletter: Mashed root veggies (Dec. 19)
http://www.wineloverspage.com/wineadvisor/tsfl021219.phtml
• Wine Advisor Foodletter archive:
http://www.wineloverspage.com/wineadvisor/foodlist.phtml
Administrivia
To subscribe or unsubscribe from The 30 Second Wine Advisor, change your E-mail address, switch from weekly to daily distribution, or for any other administrative matters, click to http://www.wineloverspage.com/wineadvisor/admin.phtml. In all administrative communications, please be sure to include the exact E-mail address that you used when you subscribed, so we can find your record. If you must unsubscribe, please take a moment to tell us why you're leaving, and to offer any comments or suggestions you may have. We do not use our E-mail list for any other purpose and will never give or sell your name or E-mail address to anyone.
I welcome feedback, suggestions, and ideas for future columns. To contact me, send E-mail to wine@wineloverspage.com.
All the wine-tasting reports posted here are consumer-oriented. In order to maintain objectivity and avoid conflicts of interest, I purchase all the wines I rate at my own expense in retail stores and accept no samples, gifts or other gratuities from the wine industry.
Monday, Dec. 23, 2002
Copyright 2002 by Robin Garr. All rights reserved.
Subscribe to the 30 Second Wine Advisor
Wine Advisor archives