30 Second Wine Advisor: Today's sponsor
Give your favorite wine lover Robert Parker for the holidays!
In This Issue
• Three non-Champagne bubblies
• Bisol "Crede" Prosecco di Valdobbiadene Brut
• Foreau Vouvray Brut
• Graham Beck Robertson (South Africa) Brut
• Give your favorite wine lover Robert Parker for the holidays!
• Administrivia
Three non-Champagne bubblies
It's starting to look a lot like Christmas, as the old song goes, and New Year's Eve is not far behind. Accordingly, it's time for a seasonal look at sparkling wines. (Actually, sparkling wine is good at any time, but that's a theme for another article, some time when bubbly is not in season.)
Today's tasting reports feature sparkling wines from three different parts of the world. Monday, we'll return to this topic with a couple of fine, good-value genuine Champagnes from artisanal producers.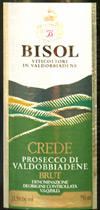 Bisol non-vintage "Crede" Prosecco di Valdobbiadene Brut ($15.99)
This clear, straw-colored Italian sparkler pours with a quick mound of foam; a fountain of bubbles persists in the glass. Citric, lemony and fresh, the carbonation is a bit nose-tingling at first. Crisp and tart, prickly and mouth-filling, it's a relatively simple wine but clean and balanced, easy to quaff and good with food. U.S. importer: VIAS Imports Ltd., NYC. (Dec. 17, 2002)
FOOD MATCH: Worked well to wash down a Marcella Hazan classic, fricasseed chicken with egg and lemon.
VALUE: Prosecco takes quite a price hike as it crosses the Atlantic, but $16 places it competitively against other sparkling wines in the same range in the U.S.
WEB LINKS: To reach the importer's pages on Bisol and its Prosecco, click to
http://www.viaswine.com/frame_prodotti.htm,
then follow the links to "Veneto" and then "Bisol Desiderio & Figli."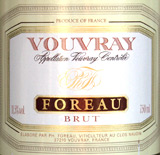 Foreau non-vintage Vouvray Brut ($14.99)
This one from the Loire Valley is a favorite in our household; this is the third time I've tasted it in the past year-and-a-half. Labeled "Methode Traditionnelle" ("traditional method") now that European regulations no longer permit the more explicit "Method Champenoise" on non-Champagne sparklers, it's a clear straw color with relatively scanty bubbles, offering appealing aromas of fresh cooking apples and rising bread dough. Crisp and tart, it shows more prickly carbonation on the palate than the bubbles suggest, with white fruit and an array of earthy flavors (including an odd note of clean but damp laundry) that point to its use of Chenin Blanc in place of the Champagne varieties. A fine wine and an excellent value, with idiosyncratic flavors that will appeal particularly to lovers of Loire whites. U.S. importer: Vintner Select, Cincinnati, and other regional importers. (Dec. 19, 2002)
FOOD MATCH: Very good indeed with a "three-lily" risotto loaded with leeks, red onions and garlic.
VALUE: Very good value, a sparkler with unusual character for its price point.
WEB LINKS: Neither Philippe Foreau nor Vintner Select appears to have a Website.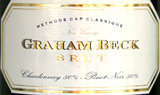 Graham Beck non-vintage Robertson Brut ($12.99)
Pale gold, with a frothy mousse that falls back fast. Fresh and fruity, clean if rather delicate scents in the "melon" sector of the aroma wheel. Dry fresh and cleansing, the flavors are subtle but deep, clean and long. The South African producer hints at a Champagne connection with the description "Methode Cap Classique" ("Classic Cape Method") on the label ... in French. U.S. importer: Robant LLC, Lexington, Ky. (Dec. 17, 2002)
FOOD MATCH: Excellent with the egg-lemon chicken mentioned above.
VALUE: Exceeds expectations at this price point. Very good value.
WEB LINKS: You'll find the Graham Beck Website online at
http://www.grahambeckwines.co.za/

Give your favorite wine lover Robert Parker for the holidays!
This year there are more ways then ever to give your favorite wine lover Robert Parker for the holidays!
• A gift subscription to eRobertParker.com. The New York Times says eRobertParker.com has "something for everyone, whether the dedicated consumer, the wine geek obsessed with comparing vintages or merely the culinary/oenophile voyeur." A year-long gift subscription is $99. Your gift will be announced via a personalized email message on the date you chose. Visit
http://www.eRobertParker.com
for details and secure online ordering.
• The 2002 Deluxe Edition of Robert Parker's CD-ROM - This classic now includes 10 years of Robert Parker's wine reviews in easy-to-search electronic form, plus wine prices from the 2002 edition of The Wine Price File, updated Internet wine links, and the new edition of Robert Parker's wine-cellar management software, all for $149.95 plus shipping and handling. Current registered users may upgrade for $49.95. Visit
http://www.winetech.com
for details and secure online ordering.
• The Wine Buyers Guide - The new 6th edition of Robert Parker's classic general wine reference book (1,696 pages), his complete, easy-to-use reference on recent vintages, prices, and ratings for more than 8,000 wines from all the major wine-producing regions of the world. Autographed copies available for $60 (hardcover), $30 paperback $30 (plus shipping). Visit
http://www.erobertparker.com/WAStore/
for details and secure online ordering.
Administrivia
To subscribe or unsubscribe from The 30 Second Wine Advisor, change your E-mail address, switch from weekly to daily distribution, or for any other administrative matters, click to http://www.wineloverspage.com/wineadvisor/admin.phtml. In all administrative communications, please be sure to include the exact E-mail address that you used when you subscribed, so we can find your record. If you must unsubscribe, please take a moment to tell us why you're leaving, and to offer any comments or suggestions you may have. We do not use our E-mail list for any other purpose and will never give or sell your name or E-mail address to anyone.
I welcome feedback, suggestions, and ideas for future columns. To contact me, send E-mail to wine@wineloverspage.com.
All the wine-tasting reports posted here are consumer-oriented. In order to maintain objectivity and avoid conflicts of interest, I purchase all the wines I rate at my own expense in retail stores and accept no samples, gifts or other gratuities from the wine industry.
Wednesday, Dec. 18, 2002
Copyright 2002 by Robin Garr. All rights reserved.
Subscribe to the 30 Second Wine Advisor
Wine Advisor archives